Does this sound familiar?
It's 8am at ABC Trucking Company, and there's already a flurry of activity going on. Drivers are milling around waiting for the day's delivery schedules. Dispatchers are talking over one another, guessing at potential delivery times. Paperwork is piling up high, threating to start raining paper, and the punch of calculator keys rings out sharply. And all of this happens before one load is even delivered…
The main goal of any company who relies on drivers and commercial motor vehicles (CMVs) to haul freight and make deliveries is to get drivers out of the yard with the right loads, on time, headed to the right destination. When you add in all the planning that needs to be done for each day – routes, driving hour calculations, customer expectations, and ensuring Federal Motor Carrier Safety Regulations (FMCSR) compliance – guessing shouldn't be your primary tool.
A more reliable tool is an ELD solution like the LogBook platform. When it comes to increasing productivity, the critical step of planning shouldn't be left to paper. Manual paperwork, no matter how long it may have been "working," not only impacts productivity but also has impact that can trickle down to drivers and customers. Since the FMCSA announced the infamous eld mandate, a lot of talk has surrounded the notion that implementing an ELD solution will negatively impact a fleet's productivity, impacting the flow of revenue. We're happy to say that's our customers report that that's not necessarily the case.
Rather than focus on the negative ELD talk, let's talk about the benefits an ELD solution has on productivity:
Accurately monitor driver status and hours: easily see how much time a driver has left in their day as well as whether they are on duty, driving or off duty, allowing you to assign loads and deliveries to drivers with enough driving time left in their day
Reduce paperwork and manual processes: access electronic logs stored in the cloud, eliminating the need for paper logs which run the risk of being incomplete, lost or never submitted
Save time on reporting: quickly run summarized, actionable reports on driver logs, HOS violations, vehicle inspections and unassigned miles with just a few clicks, saving time by avoiding manual spreadsheets and making quick, accurate decisions
56% of surveyed customers were able to see improvement against key productivity goals by more than 10%1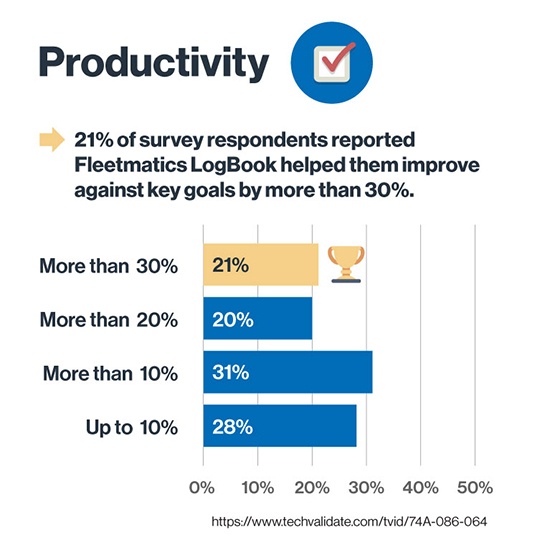 "Knowing the HOS [violations] are available in 'near real-time' enables our fleet managers to know how many more loads can be shipped daily. This is a huge increase in utilization."2 – Philip Burress, Fleet Manager, Wall Timber Products
Though navigating the details of the mandate has been challenging for fleets in many different ways, knowing there are benefits of using an ELD solution, especially positively impacting productivity, makes a difference for your drivers, your office staff and your overall business.
Sources
1 https://www.techvalidate.com/tvid/9C6-CE3-6E3
2 https://www.techvalidate.com/tvid/023-187-F6B
Brad Penneau
With a career in transportation safety spanning 30 years, Penneau's experience includes progressively responsible safety, regulatory compliance, and training in (and in support of) the trucking industry. Biography.
Find out how our platform gives you the visibility you need to get more done.  Free Demo.