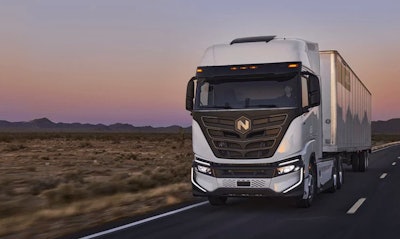 Nikola
It's no secret that government regulations have played a starring role in the growing popularity of all-electric trucks, but some in that nascent space would like to see Uncle Sam take even more of a commanding lead.
WattEV CEO Salim Youssefzadeh made it clear at a recent meeting hosted by the North American Council for Freight Efficiency that he'd like to see legislative action pressuring utilities to complete projects faster. He said in most cases it takes roughly 18 months for a utility to provide power to a commercial charging site in California.
WattEV will be opening its first multi-truck charging depot at the Port of Long Beach on May 15. The 5 megawatt site will be able to charge 60 electric trucks a day. WattEV has plans to open additional charging depots this year in California but Youssefzadeh is concerned that without increased legislation fleets could be in for a long wait before utilities provide power to those chargers.
"We already have the ACT [Advanced Clean Transportation] and the ACF [Advanced Clean Fleet] rules that are forcing the OEMs to manufacture and the fleets to start using. There's no rule to force the utilities and that's a big bottleneck for everyone," Youssefzadeh told a packed room during NACFE's Run on Less Electric breakfast which was held last week in conjunction with the Advanced Clean Transportation Expo in Anaheim, California.
Youssefzadeh went on to say that electric truck orders are piling up without adequate charging infrastructure in place to support them.
"If you look at the HVIP [Hybrid and Zero-emission Truck and Bus Voucher Incentive Project] numbers, a lot of people had placed orders for trucks that they couldn't take delivery on because the depots weren't ready," Youssefzadeh continued. "They didn't have a place to charge them and that's a huge issue."
Various factors at work
Southern California Edison, which worked with WattEV to power up their charging depot in Long Beach, is keeping a close eye on legislative action.
"There are a couple of bills being proposed in the State of California and the California Senate," said Chanel Parson, SCE's director of electrification. "Some of them are looking even to penalize utilities for extended times to energize sites.
In a letter last month to California's Assembly Utilities & Energy Committee, SCE, San Diego Gas & Electric and Pacific Gas & Electric all voiced their opposition to Assembly Bill 50 stating in part that the bill seeks to "penalize a utility for not meeting limited, arbitrary, unrealistic timelines that must be set before the project scope is even known and regardless of whether or not factors outside of the utility's control led to an extended project time, and even if all practical measures are taken."
The two-page letter written to committee chair Eduardo Garcia goes on to point out various factors that the utilities say is out of their control:
"While we understand the growing frustration with delays in new customer electric energizations and are committed to solutions, legislation must properly balance oversight with the extremely complex factors outside of an electrical corporations control, including sufficient funding, growth in customer applications beyond what was projected, dynamic customer behaviors, supply chain limitations or availability or materials, customer obligations and responsibilities, safety standards and protocols, various permitting and regulatory requirements, and more."
Parson explained that amid increased requests for charger electrification, it's often equipment shortages and permitting issues that drag out projects for several months. Equipment orders that once had a three-month lead time have been pushed out.
"Now folks are quoting us 40 weeks, 50 weeks, 60 weeks for some of these pieces of equipment that are critical to completing these projects," Parson said.
Permitting is another factor. Local governments known as authorities having jurisdiction or AHJ, Parson said, have varying process times when it comes to granting charger permits.
Though there's already legislation in place intended to streamline permitting to a 45-day process which Parson supports, some AHJs are still having trouble keeping up with demand.
"They might be short-staffed for example and so maybe they have better processes but they just don't have enough people to process these," Parson said. "I have a project right now where, normally with this particular AHJ, we know it takes about a year to get. We requested for that clearance 16 months ago and we still don't have it."
Parson doesn't see increased government regulations necessarily helping to speed up charger deployment. Instead, she thinks it would be more productive if all concerned parties convened to discuss challenges and possible solutions.
"From the fleet owner perspective, the utility perspective, the government perspective and the supply chain perspective, let's figure out what our roadblocks are, what our hurdles are and let's figure out how to fix them," she said. "Is it providing more resources for AHJs to get permits faster? Do we just change the permitting process?
"And supply chain…how can we make sure that we have enough equipment in the supply chain and materials to execute these projects so that we're not waiting six months or a year for a piece of equipment that's critical to get the job done?" Parson continued. "So I think rather than having government mandates requiring that we must execute something in a certain amount of time, efforts would be more fruitful to identify where the bottlenecks are and then figuring out how we actually fix and address them."