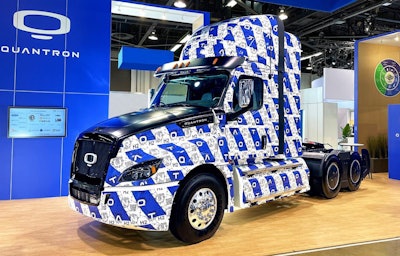 Quantron
The product roadmap for Quantron AG is quickly unfolding in the hydrogen fuel-cell truck space in the company's first four years of operation. Since its 2021 partnership with Ballard Power – maker of the FCMove MD and XD fuel cell systems – the Augsburg, Germany-based hydrogen fuel-cell solutions provider already has introduced the QLI FCEV medium-duty truck and the QHM heavy-duty cabover tractor for the European market.
When Quantron US was established as a subsidiary in 2022, it was just a matter of time before the company would introduce a conventional hydrogen fuel-cell variant for the North American market. The industry got its first glimpse of the Quantron FC8 at the 2023 ACT Expo earlier this year in Anaheim. Now, Quantron says it is readying the FC8 for launch early next year.
What stands out about Quantron's new North American tractor, at least on paper, is a range promise of 750-plus miles under maximum load with 80 kg of hydrogen storage at 700 bar of pressure. By comparison, the FC8's European QLI and QHM siblings have ranges of 280 miles and 435 miles, respectively.
Richard Ansell, vice president of marketing for Quantron US, said the company is working to increase hydrogen storage to 120 kg, which would extend the FC8's range well above 1,000 miles.
"Our goal is to be the range leader," said Ansell. "Trucking is all about efficiency, and that means maximum payloads and limited downtime and quick refueling."
As part of the company's asset-light OEM strategy, the Quantron FC8 consists of a number of sourced components, including a 200-kWh capacity battery pack from Xerotech and fuel cells from Bosch. The FC8 is powered by two 200kw eAxles from Accelera, the zero-emissions power business segment of Cummins. Overall, the tractor yields just under 1,000 pounds of payload capacity compared to a conventional diesel tractor.
To meet expected demand, Quantron US is ramping up a 30,000-sq. ft. production facility in Auburn Hills, Michigan, that when operating at full capacity can output 1,000 trucks per year. Production is set to begin in the first half of 2024. Ansell said Quantron US has a framework agreement with a major North American logistics provider for delivery of 500 tractors and is in discussions with several other major fleets.
Michael Perschke, CEO of Quantron AG, said that while the FC8 is the company's major focus for the North American Class 8 market, the company might introduce a hydrogen fuel cell solution for North America based Quantron's European product offering.
"[Customers] are realizing [battery-electric] Class 3 and 4 deliveries don't generate the degree of service they need, running 14 to 16 hours a day and charging takes too much time and the electric grids are not ready," said Perschke.
Quantron, FirstElement Fuel partner to create fuel cell ecosystem
Quantron AG has evolved from a retrofit provider to an asset-light OEM and now as a full systems provider for its clients, including hydrogen fueling infrastructure.
"Quantron is here to solve the chicken and the egg problem of the hydrogen economy," said Perschke. "We are not only providing trucks, we are trying to fix how to source the energy. We have become a smart OEM by having platform strategies."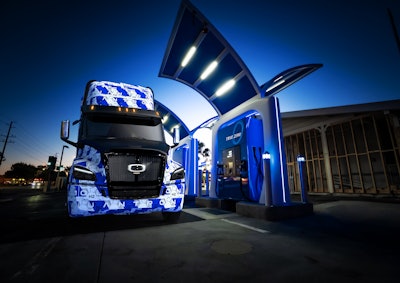 In Europe, that philosophy has led to Quantron-as-a-Service – a platform that provides options for the vehicle, leasing and financing, service and maintenance, insurance and fueling infrastructure – essentially building and managing the full suite of supply chain considerations for the customer on a price-per-kilometer basis
In North America, that fueling infrastructure piece of the QaaS puzzle is provided by FirstElement Fuel, a California-based network of hydrogen stations designed for hydrogen fuel-cell electric trucks.
The commitment between the two companies inked at the 2023 ACT Expo assures that future Quantron customers will have access to hydrogen refueling throughout FirstElement's 40-station network.
"We are very excited at the progress that Quantron is making with their product," said Shane Stephens, founder and chief development officer for FirstElement Fuel. "I think by working with them and their rollout plans that we can really help overcome the [early adoption] issue, and FirstElement Fuel has the real-world experience and competence to deliver and have infrastructure ready for Quantron's rollout."
FirstElement Fuel is opening its first dedicated commercial heavy-duty truck station in the Port of Oakland later this fall. The True Zero H2 station will be capable of dispensing 15,000 kg of hydrogen per day, serving roughly 150 to 200 trucks per day.
"This will be the first example in the world of high-flow fueling," said Stephens. "We'll be able to refuel trucks with up to 80 kg of hydrogen storage capacity in under 10 minutes."