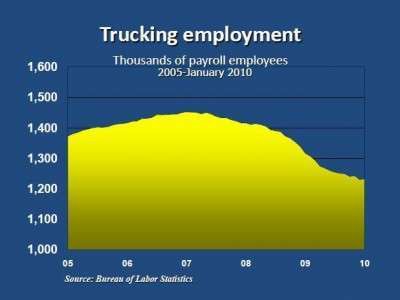 The trucking industry added 2,500 jobs in January, but the job loss in December turned out to be far more severe than preliminary estimates. Revised figures released Friday, Feb. 5, by the U.S. Department of Labor's Bureau of Labor Statistics show that trucking lost nearly 13,000 jobs on a seasonally adjusted basis in December. The preliminary data release a month ago estimated that the for-hire trucking industry had lost 3,300 jobs in December.
Other BLS revisions to its historical data change the recent picture slightly. For example, the prior figures showed a 500-job increase for for-hire trucking in September; instead, new figures show a loss of 1,400 jobs that month. On the other hand, the revised figures show a gain of 2,500 jobs in November, while the old numbers indicated a loss of 3,600 jobs.
Trucking employment in January was down more than 84,000, or 6.4 percent, from January 2009. BLS preliminary numbers show total payroll employment in trucking of more than 1.23 million in January. According to the latest BLS numbers, the trucking industry has lost more than 220,000 jobs – or 15.2 percent – since seasonally adjusted trucking employment peaked in January 2007 at more than 1.45 million.
The BLS numbers reflect all payroll employment in for-hire trucking, but they don't include trucking-related jobs in other industries, such as a truck driver for a private fleet.