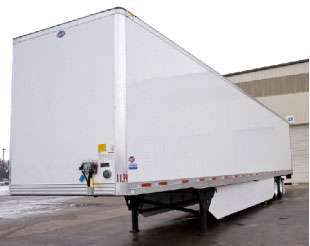 Green side skirts
Utility Trailer Manufacturing Co. has designed two U.S. Environmental Protection Agency SmartWay-verified side skirts. The Utility Side Skirt 120 (USS-120) and Utility Side Skirt 160 (USS-160) are made with UV-protected one-piece fiberglass-reinforced plastic and galvanized high-tensile steel braces designed to be virtually indestructible and can be "bent" back to their original shape if damaged. For optimal durability, the bracing system has been designed to allow the side skirt to flex both inward and outward. Both side skirts also are designed for exceptional strength and performance.
The USS-120 is SmartWay-verified to achieve greater than 4 percent fuel savings, and the USS-160 is SmartWay-verified to achieve greater than 5 percent fuel savings; actual fuel economy gains may vary for both designs. Additionally, EPA SmartWay has classified the USS-160 as an advanced side skirt, which allows truckers to use them without any other aerodynamic device on dry vans. Both devices also are California Air Resources Board-compliant for California operation; the USS-120 as a standalone device is CARB-compliant for refrigerated trailers only.
Utility Trailer Manufacturing Co.
Visit www.ccjdigital.com/info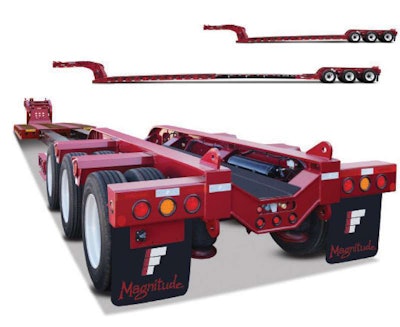 Versatile heavy-haul trailer
Fontaine Trailer's Magnitude 55MX heavy-haul trailer, designed to handle a wide variety of hauling jobs with ease, features a modular design for added convenience and versatility. Fabricated with 100,000-pound minimum-yield steel flanges, the durable Magnitude 55MX boasts a 29-foot clear deck length in the retracted position and extends to 50 feet. The loaded deck height is 20 inches with 6-inch ground clearance.
The trailer also includes several features that save time. The versatile gooseneck includes all the necessary connections to add the optional flip box to achieve 125-inch swing clearance. The adjustable ride-height locks mechanically to provide the ideal deck-to-fifth wheel relationship for any specific hauling job. The ramped bogie features a modular connection designed to match the right equipment for the task at hand. Also included are a built-in toolbox and storage compartments.
Fontaine Trailer
Visit www.ccjdigital.com/info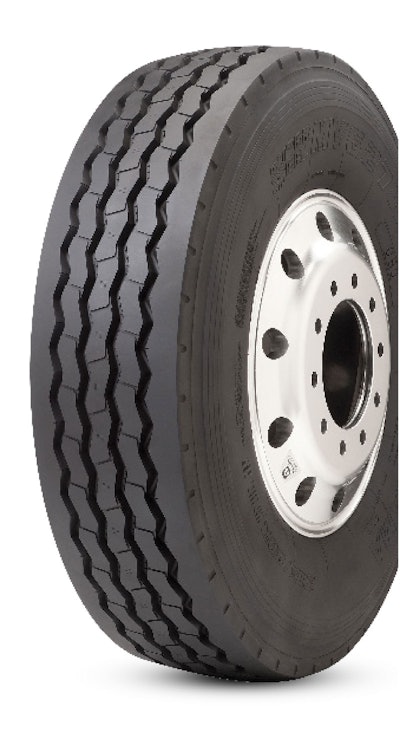 All-position waste, sanitation tire
Yokohama Tire's MY627W all-position waste and sanitation tire replaces the Y773 and offers features designed to deliver longer tread life, added durability and reduced operating costs. Specially designed for vehicle operations that require a high load-carrying capacity per tire, the MY627W is highly retreadable, with a tread compound that resists chips and cuts. A wide outside rib with extra-wide serpentine grooves resists tears, while its surface shape helps improve traction. Sidewall indentations help dissipate heat during stop-and-go driving to prolong casing life and maintain the rubber's integrity. An angled double-wave outside groove helps sustain rib rigidity and reduce stone penetration. Sidewall armor provides an extra layer of durable rubber, helping to protect against damage from curbing and prolonging the tire's life. The wider tread distributes wear across a larger surface area, providing enhanced traction and longer mileage.
The MY627W tire will be available in June in 315/80R22.5 size (part number 62701), load range L.
Yokohama Tire Corp.
Visit www.ccjdigital.com/info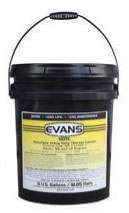 Heavy-duty thermal coolant
Evans Cooling Systems now has one-gallon containers for its proprietary waterless Heavy Duty Thermal Coolant for vehicles and equipment powered by heavy-duty diesel engines. The lifetime HDTC – also available in 5-gallon pails, 55-gallon drums and 275-gallon totes – boils at 375 degrees Fahrenheit, 150 degrees warmer than the operating temperature of the engine, which permits engines to operate safely at higher-than-conventional temperatures and enables fuel-saving strategies that include higher-temperature thermostats and reduced fan-on time. HDTC also offers corrosion protection with an environmentally safe formula.
Evans Cooling Systems
Visit www.ccjdigital.com/info
Clutches, clutch components
TRP Aftermarket Parts now offers a line of clutches and clutch system components that are designed with minimal resistance to make shifting easy and less fatiguing for all makes of medium-duty and heavy-duty trucks. The Easy Effort is a heavy-duty coil-spring clutch with nine springs — six coil springs inside the casting with three assist springs — for higher-torque engines, while the Soft Pedal diaphragm-style clutch features a lower bearing load and reduced pedal effort when compared to angle spring-designed products. Both clutches are available in 14- and 15.5-inch versions; the 15.5-inch version of the Easy Effort clutch features a strap design for smooth energy transfer, and it also comes with a 5⁄8-inch socket adjuster that allows technicians to quickly and simply adjust the clutch.
A more economical option for older-model vehicles is the Angle Spring Clutch, and for medium-duty trucks, the company offers standard- and stamped-steel one- and two-plate clutches for single-disc and two-disc applications. Standard clutches are manufactured with ceramic-facing friction material.
All TRP clutches made with Kevlar material also are available for vocational trucks such as log haulers, refuse haulers, dump trucks and cement trucks that frequently roll back and forth.
TRP Aftermarket Parts
visit www.ccjdigital.com/info
NG engine oil
Shell Lubricants' Rotella T3 NG Energized Protection oil uses a customized combination of high-performance additives to adapt and protect under the range of pressures and temperatures found in compressed natural gas (CNG) and liquefied natural gas (LNG) engines. The oil is suitable for applications such as buses and trucks fitted with Cummins, Detroit Diesel, Mahindra and Hyundai engines designed to run on 100 percent CNG or LNG, particularly those preferring relatively low-ash formulations. Currently available in drums, totes and bulk, Shell Rotella T3 NG engine oil features the company's proprietary Energized Protection, which is formulated to control acid, deposits and wear.
Shell Lubricants
visit www.ccjdigital.com/info
Drive axle air-ride suspension
SAF-Holland's Neway ADZ Series Drive Axle Air-Ride Suspension for vocational trucks and tractors has been engineered for applications including construction, mixers, logging, mining, oilfield, refuse, fire apparatus and heavy haul. The ADZ, which is approved for 100 percent offroad duty cycles, is a nontorque-reactive suspension with a parallelogram trailing arm design. The suspension is offered in 23,000- and 26,000-pound capacities and is engineered for independent single suspension mounting that allows for single-, tandem- or tridem-axle truck or tractor applications.
The streamlined ADZ eliminates components to reduce maintenance, improve durability and lower weight, increasing load capacity and reducing fuel consumption for improved operational efficiency. The Integral Lower Module, a one-piece assembly, includes cast equalizing beams permanently assembled to the transverse beam with no fasteners. As compared to traditional torque rod and track bar arrangements that transmit forces to the center of the crossmember, the ADZ's V-Rod Upper Control Arm directs lateral forces toward the crossmember and frame rail junction, resulting in improved bushing life, uniform roll rate and a lighter- weight crossmember.
SAF-Holland
visit www.ccjdigital.com/info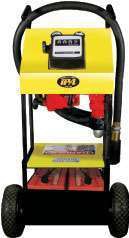 Mobile fuel transfer unit
Innovative Products of America's Mobile Fuel Transfer Unit is designed to transfer fuel up to nine hours and pump fuel from tanks, drums or storage containers at a rate of 20 gallons per minute. Welded on a steel frame and powered by two Group 31 batteries, the unit has a resettable flow meter with a lifetime tally, two 6-foot hoses (extension hoses optional) and a fuel-dispensing nozzle. An in-line filter and water separator help eliminate condensation problems.
Innovative Products of America
visit www.ccjdigital.com/info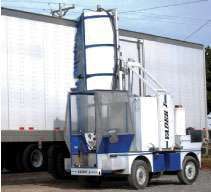 Mobile trailer washer
The Vader I Series 5000 by JIM Mfg. Inc. is a mobile self-contained brush-washing trailer-cleaning system that captures, reclaims and recycles water for the next wash, with clean water always used for rinsing. At only 6 to 8 minutes per trailer, as many as 20 trailers can be washed using a single tank of water. The unit uses a shielded brush action to remove road film, soot and chemical deposits, and comes with a wand with a reel-up hose so the user can detail rims, mudflaps and other hard-to-reach areas. The Vader I Series 5000 can be operated by any employee that can handle a forklift.
JIM Mfg. Inc.
visit www.ccjdigital.com/info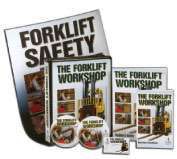 Forklift training program
Designed to involve forklift operators and address the training needs of operators with different levels of experience, J.J. Keller & Associates' Forklift Workshop is a workshop-style training program to help trainers conduct effective hands-on forklift safety training, plus fulfill the classroom training requirements of the Occupational Safety and Health Administration's 29 CFR Section 1910.178(l).
In the workshop format, operators will watch a video presentation demonstrating proper forklift safety techniques in action. It covers forklift basics, inspections, picking up a load, traveling with a load, placing a load, parking, charging and refueling, maintenance and modifications, and working in a truck, trailer or railcar. Trainers will be able to reinforce learning using the Trainer Tools CD-ROM containing workshop-style elements that offer activity-based training, including:
• Practice tools, problem-solving activities and knowledge-based challenges that engage trainees and help them absorb and retain the material;
• Training exercises and learning activities intended for use in the classroom and the actual work environment, ranging from easy to moderate to challenging so that trainers can mix and match; and
• A PowerPoint presentation, frequently asked questions, additional quizzes and answer keys, and situational narratives that challenge trainees to identify solutions to real-world situations, plus clip art, posters and a training log.
A Trainer's Guide, Operator's Handbook, wallet cards, awareness poster and sample forms round out the program. A preview of the video is available online at jjkeller.com/28721. The Spanish version will be available in May.
J.J. Keller & Associates
visit www.ccjdigital.com/info

Flexible LED lighting
Truck-Lite's Flex-Lite line of LED lighting products is designed to allow for flexible mounting with versatile wire options without the need for additional accessories. The line features two robust thermoplastic housing designs, both allowing for a flexible mounting surface to be molded directly around the lens. The design of the "winged" version allows for a wide array of mounting options and is suited for the corner radius on trailer and body applications. The "nonwinged" version is suited for the aftermarket because of its versatility to immediately replace failed lamps without tools or additional parts and its ability to cover holes left behind from initial installation.
The lamps are affixed to the surface with a heavy-duty peel-and-stick adhesive designed to hold up to weather, impact and heat entrapment while maintaining a strong hold. Available with both a rear-exit and side-exit wiring housing style, the lamps allow for both installation without a wiring feed hole – for installation against any flat surface – and a clean installation with power and ground wires feeding into the vehicle or trailer body.
Truck-Lite
visit www.ccjdigital.com/info
Combo nosebox
Phillips Industries' Charge-Box, a Sta-Dry nosebox with both single- and dual-pole charging sockets, offers flexibility to provide power to trailers with liftgates, which commonly have either a single- or a dual-pole connector. The nosebox has an impact-resistant noncorrosive nylon housing with steel-reinforced mounting collars. The single- and dual-pole sockets with solid brass pins are enclosed in zinc die-cast housings for added durability. Mounting holes at each socket location are elongated for adaptability, and each socket lid has a stainless-steel hinge pin and spring to facilitate long life.
Phillips Industries
visit www.ccjdigital.com/info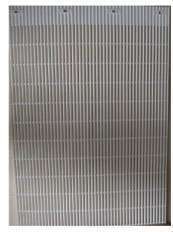 Aerodynamic mudflap
Mudguard Technologies' V-Flap mudflap is designed to provide aerodynamic efficiency by using a hydrodynamics technique to control the amplification of splash by separating water and air before they turn into mist. Vertical vanes help prevent sailing, while vertical channels help direct water and road debris to the ground. The mudflap allows air to pass through a vertical perforation that is in unison with the air displaced by rotating tires, minimizing wind resistance and helping to improve fuel economy; the removal of hot air and pressure also helps reduce tire delamination. During winter weather, the mudflap's agitation helps dislodge ice buildup. The mudflap is designed with stronger mounting holes and to mount on existing brackets.
Mudguard Technologies
visit www.ccjdigital.com/info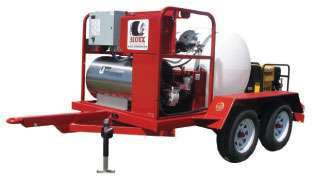 Portable steam cleaners
Sioux Corp.'s trailer-mounted steam cleaners are used for removing oil and grease from heavy equipment; thawing and de-icing equipment, pipes, valves, drains and culverts in cold weather; cleaning and sterilizing facilities and equipment; and de-gassing tanks. The steam cleaners are designed for easy operation and include a generator and water tank for remote use where there are no utility connections. The units will produce 2 or 4 gpm steam at 250 psi and 320 degrees Fahrenheit. For cold locations, the units can be started before use, allowing warm water to circulate and preventing freezeup. All Sioux mobile steam cleaners come with an antifreeze circulation package to simplify winterization. The generator also can provide remote power for lighting and tools.
Sioux Corp.
visit www.ccjdigital.com/info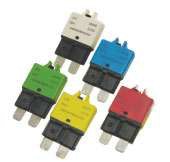 Manual-reset low-profile fuses
Del City's manual-reset low-profile fuses are designed to fit into most ATC/ATO fuse panels and are color-coded with industry-standard fuse coding for easy and proper amperage rating identification. The thermal breakers, built to meet SAE J553 and J1171 standards for ignition protection, are rated for 28V CD and have an optimal operating temperature of -40 to 185 degrees Fahrenheit.
Del City
visit www.ccjdigital.com/info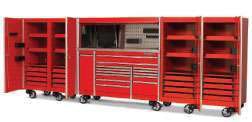 Storage unit attachments
Snap-on Tools has released right-side (KELN301AR) and left-side (KELN301AL) attachments for its Epiq tool storage units. The add-ons provide more than 4,300 square inches and almost 33,000 cubic inches of storage capacity. The storage system, built with a proprietary standing seam and corner gusset design, features a load capacity of 4,000 pounds. The system includes six pull-out bins and is expandable to 13 bins from top to bottom. It comes with a reversible door with over-swing opening and an optional LED light. Users can add lockers to the attachments.
Snap-on
visit www.ccjdigital.com/info n