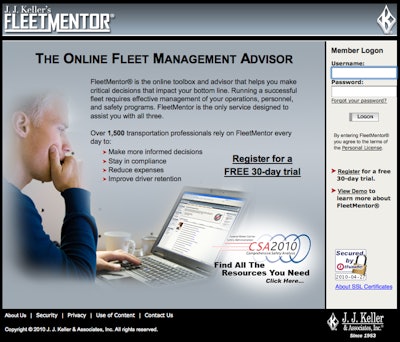 FleetMentor, the online fleet management adviser by J.J. Keller & Associates, has been enhanced with the integration of the company's library of interactive training courses. Subscribers now have access to the course library, which includes topics covering driver/DOT, hazardous materials, construction, workplace safety and more.
J.J. Keller says this enhancement to FleetMentor provides transportation professionals with the tools they need to supplement classroom and field training with interactive self-based learning for employees and drivers on a variety of subjects, including Comprehensive Safety Analysis 2010, roadside inspections, hours of service, distracted driving, cargo securement and more. FleetMentor subscribers can purchase training points at a 20 percent discount from regular J.J. Keller online training courses.
J.J. Keller FleetMentor provides a comprehensive suite of training tools and resources to assist transportation professionals in creating an effective and successful compliance program. The suite includes an integrated training recordkeeping tool, more than 300 complete training programs (both interactive online and instructor-led), webcasts and other resources.
"The addition of the online training to FleetMentor is exciting for our subscribers – it gives them another resource within the service to help them prepare for CSA 2010," says Rustin Keller, corporate Internet products manager. "Online training is an affordable option for FleetMentor subscribers to educate their employees and drivers to ensure that they are in compliance with all applicable regulations."