The EOBR Rule
Logging a milestone
A new FMSCA Regulation requires some carriers to track drivers' hours of service electronically rather than on paper logs.
It's just the beginning.
By Avery Vise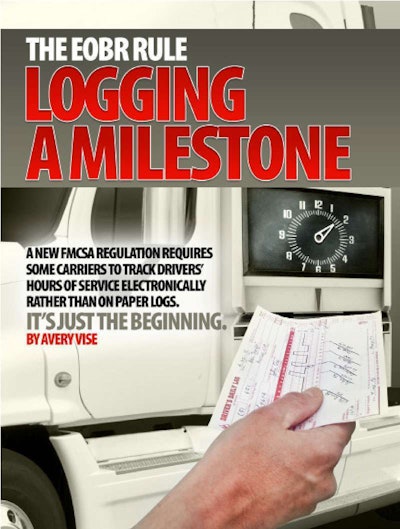 Although truck drivers have been subject to federal regulation of their work hours for more than 70 years, it wasn't until last month that the federal government declared that any group of motor carriers must use a device rather than paper logs to monitor those hours.
In a final rule published April 5, the Federal Motor Carrier Safety Administration decided that serious violators of major hours-of-service (HOS) regulations must install electronic onboard recorders (EOBRs) in all their trucks and use them to track compliance. Compared to FMCSA's January 2007 proposal, the final rule on electronic driver logs strengthens the remedial mandate by having it apply to far more motor carriers. The rule also changes performance specs substantially and leaves incentives for voluntary adoption intact.
The rule takes effect on June 4, 2012, giving EOBR suppliers time to adjust to the new performance standards. Truck owners that want to use EOBRs or that are forced to do so won't necessarily have to install new hardware, however; major fleet management systems offer electronic logs as an option, usually for a small additional monthly fee per unit. The new performance standards will be required for EOBRs installed in commercial motor vehicles (CMVs) manufactured on or after June 4, 2012, regardless of whether those EOBRs are installed voluntarily or subject to a remedial directive.
"We think it's a good public policy approach," says Dave Osiecki, senior vice president of policy and regulatory affairs for the American Trucking Associations. "It does capture more carriers, which is something we advocated."
The Commercial Vehicle Safety Alliance, which represents state and provincial motor carrier law enforcement agencies, sees the rule as "a step in the right direction," even though it "still falls far short," says Stephen Keppler, interim executive director. "We have been pretty vocal that we have been advocating a universal mandate for some time." CVSA also has worries over the rule's performance specifications and the law enforcement community's readiness to handle them.
FMCSA also used the final rule to elaborate just a bit on its plans to require even more motor carriers to use electronic logging. The agency sees the major step it took last month as just the beginning of widespread log conversion from paper to electronics.
One strike, you're out
In the final rule, FMCSA chose to mandate EOBRs on motor carriers that are shown in a single compliance review to be in serious noncompliance with any major HOS regulation. Carriers won't have an opportunity to correct deficiencies in their compliance before facing an EOBR mandate.
Crash rates for targeted carriers are 40 percent higher than the general population.
Beginning in June 2012, FMCSA will require a carrier to install EOBRs in all of its vehicles if a safety audit finds that the carrier has a violation rate of 10 percent or greater for any major HOS regulation listed in a new Appendix C to part 385. (See "What draws an EOBR?" page 59.) Those carriers must use the devices for HOS recordkeeping for two years.
The final measure is significantly more stringent than the regulation proposed in January 2007 when the agency planned to mandate EOBRs based on a review of HOS records during each of two compliance reviews conducted within a two-year period. FMCSA estimates that nearly 5,700 interstate carriers will be required to use EOBRs. Carriers that would be subject to mandatory EOBRs if the rule were in place today have 40 percent higher crash rates than the general carrier population, FMCSA says.
When the agency issued the proposed rule in January 2007, it estimated that about 930 motor carriers would be subject to mandatory EOBRs. Those carriers have crash rates that are 90 percent higher than the general carrier population, according to the agency's analysis.
Under the new rule, carriers generally will have 60 days to comply with a demand that they install and use EOBRs, although there is a provision for another 60 days if FMCSA finds that a carrier is making a good-faith effort to comply with a remedial directive. But passenger carriers and carriers hauling hazardous materials would have only a nonextendable 45 days to comply.
"It may be a challenge for some carriers to equip their trucks within the timeframes provided," argues Osiecki.
Carriers that must use recording devices as a result of poor HOS compliance will be allowed to use devices meeting the old standard if they already have vehicles equipped with them and can establish that their drivers understand how to use them. Carriers voluntarily using recorders may continue to use already-installed devices meeting the previous standards for the remainder of the vehicle life.
FMCSA has adopted an appeals process for remedial directives and proposed unfitness determinations. Filing a request for administrative review within 15 days will stay the government's actions until FMCSA rules on it. The agency will consider appeals filed after 15 days but within 90 days, although FMCSA won't necessarily issue a final determination before the recorder mandate takes effect.
Appeals are limited to error findings relating to the compliance review immediately preceding the notice of remedial directive, and corrective action will not relieve the carrier of EOBRs. This differs from the current safety rating process in which a carrier's corrective action could lead to an upgrade in its safety rating. The agency could decide to improve a carrier's safety rating as a result of the installation of EOBRs, but the company would have to keep using EOBRs.
More carrots, please
The mandate in FMCSA's new rule is limited to a small fraction of the motor carrier community, but the agency would like to see much wider adoption of electronic logs. So the proposed rule included a couple of regulatory incentives for voluntary installation of compliant EOBRs, and FMCSA retained those incentives in the final regulation. First, carriers adopting electronic logs won't have to retain supporting documents related to on-duty driving time. Second, after the traditional targeted review of drivers' HOS compliance, FMCSA will conduct random reviews of carriers' drivers for purposes of determining these carriers' safety ratings if the focused audit results in HOS violations exceeding 10 percent.
Under current audit procedures, the sampling of driver logs is far from random. FMCSA instructs its auditors to start with drivers known to have problems. So a randomly selected sample for the purpose of setting the safety rating is significant. But the incentive is limited only to the review for purposes of establishing a safety rating if HOS violations exceed the 10 percent threshold. And FMCSA is still free to take enforcement action or levy civil penalties based on what it finds in the initial review of drivers' HOS records.
The American Trucking Associations had recommended that carriers voluntarily adopting EOBRs receive credit for doing so in SafeStat and, implicitly, in the Carrier Safety Measurement System, which is slated to replace SafeStat on Nov. 30 as part of the transition to FMCSA's new Comprehensive Safety Analysis 2010 program. (See "FMCSA delays full CSA 2010 rollout," page 18.) ATA had suggested that FMCSA relieve carriers voluntarily installing EOBRs from the added weight given HOS violations in establishing safety ratings. ATA also recommended some productivity enhancements such as extending the 14-hour on-duty period to allow for rest breaks and allowing more flexibility in use of the sleeper berth.
In the final rule, FMCSA said that it would not be in the public interest to count patterns of HOS violations the same as other violations in setting safety ratings. "To do so would effectively allow motor carriers to continue in operation with a Satisfactory safety fitness rating and 100 percent HOS noncompliance as long as deficiencies were not documented in other areas of the motor carrier's operation." The agency didn't comment on ATA's other recommendations.
Are these incentives enough to spur interest in voluntary adoption of EOBRs? "Not even close," Osiecki says. "The incentives are very disappointing." Again, one possibility would be putting positive credits into CSA 2010 for voluntary installation, ATA says. Or FMCSA could reinstate for voluntary EOBR users the flexibility drivers had before the 2005 rule change to split their 10-hour rest period in a sleeper berth. "We're disappointed that wasn't even discussed in the preamble," Osiecki says. ATA last month was considering a petition for reconsideration on the issue of incentives.
What is an EOBR?
The final major element of FMCSA's regulation addresses what exactly constitutes an EOBR – what specific functions an electronic logging device must perform. The new performance specs replace the current standards for automated onboard recording devices (AOBRDs) that have been in place since 1988, when satellite-based location was barely heard of in trucking. Computers had little processing power and storage. Wireless data transmission was expensive. And certainly there was no opportunity to leverage Internet connectivity to run software from remote computers.
The new EOBR performance standards capitalize on great leaps in technology since that era. For example, FMCSA is requiring that EOBRs automatically record the CMV's location at each change of duty status and at intervals while the CMV is in motion. Drivers will be able to add information to the EOBR record, but the recorder will maintain the original information and track annotations. And in a change from both the proposed rule and existing standards, a driver will transmit HOS data through a USB cable or wireless connection rather than show the inspector a printout or a computer display.
Perhaps the most significant change in performance specs from the proposed rule was FMCSA's decision to retain the existing requirement that recorders be synchronized to the vehicle's engine electronics. The agency had opened the door to nonsynchronized devices – such as Global Positioning System (GPS)-enabled phones or portable devices – as cheaper alternatives.
But numerous suppliers, carriers and others pointed out various problems with solutions that didn't link the data firmly from the device to data coming from the vehicle itself. Several noted, for example, that nontethered devices could be turned off or left behind, allowing drivers to work when the logs showed them as not driving. Others argued that it would be easier to block the GPS signal with a handheld device.
Another major objection: Even if the driver didn't try to tamper with or defeat the device intentionally, GPS alone isn't accurate enough to measure the distance traveled by a CMV. FMCSA tested that argument and, indeed, found that distance as measured by GPS ranged from about 2 percent to more than 10 percent less than actual distance as measured by properly calibrated odometers.
So in the end, FMCSA was persuaded that the engine synchronization requirement should stay even though that requirement disqualified some of the least expensive potential devices. But while the agency's decision effectively bars GPS-enabled phones as EOBRs on a standalone basis, it doesn't prohibit a cell phone as part of an EOBR solution. (See "Running the numbers," page 66.)
In another major shift, FMCSA backed away from its proposal that an EOBR record location once a minute while the vehicle is in motion. The agency said it weighed the enforcement value against the operational costs to carriers and the privacy impact to drivers. "FMCSA believes the 60-minute interval strikes the appropriate balance between improving the accuracy and reliability of duty information without creating a costly administrative burden on the covered motor carriers and without intruding unnecessarily upon the privacy of drivers," the agency said in a privacy impact analysis.
The proposed once-a-minute standard "seemed like total overkill," says Brian McLaughlin, chief operating officer for PeopleNet.
The costs and inconvenience posed by that proposed standard were significant, says Tom Cuthbertson, director of industry solutions for Xata Corp. "It would have been a question of how do you transfer 9,000 position reports a week," he says. "Storing it might not be a large problem, but transferring it would have been a cost issue. And the question was 'What would they do with it?' " (For more on EOBR performance specs, see "Performance anxiety?," page 62.)
Next on the horizon
FMCSA disclosed several months ago that it planned to conduct another rulemaking to expand the scope of mandatory EOBRs once this current rule was finalized. In the preamble to the final rule, FMCSA said it "recognizes that the potential safety risks associated with some motor carrier categories, including passenger carriers, hazardous materials transporters and new entrants, are such that mandatory EOBR use for such populations might be appropriate." Also, FMCSA acknowledged that it will be difficult to get carriers to use EOBRs voluntarily and that a more universal approach might create a more level playing field.
So why didn't FMCSA simply broaden the mandate in the April 5 rule? Aside from whether a broad mandate would be justified on a cost-benefit basis, FMCSA said it could not adopt a broader mandate in the final rule because the scope of the rulemaking was limited to a compliance-based regulatory approach implemented through a remedial directive.
The Department of Transportation currently expects to publish a proposed rule as early as December that would broaden the EOBR mandate and address HOS supporting documents. That schedule could change, however, due to a lawsuit filed by ATA in January to force the government to expedite its long-overdue rulemaking concerning supporting documents. (See "ATA sues to get reporting documents rule," February 2010.) ATA and DOT in March agreed to hold off on the lawsuit while they discussed a settlement.
One reason ATA sued for a supporting documents rule is the enforcement policy FMCSA adopted in December 2008 to treat satellite positioning data as supporting documents in a compliance review. That decision overturned a policy that had been in place for more than a decade not to seek GPS data in an audit without clearance from higher-level officials. The Federal Highway Administration – FMCSA's predecessor – had adopted that policy so as not to discourage carriers from using advanced technology.
In effect, under the new policy, if a carrier uses a fleet management system that includes GPS or other location technology, FMCSA holds carriers accountable for knowing what electronic logging would tell them routinely. Fear of what damning information an audit might unearth could drive many carriers to adopt EOBRs as a compliance management tool long before FMCSA completes the next rulemaking.
When the GPS policy first came out, some customers simply wanted GPS disabled so they wouldn't have to deal with the enforcement issue, McLaughlin says. But other carriers decided that if FMCSA was going to look at GPS data, they should adopt electronic logs so they could manage compliance better. The high-risk position was in the middle – no control on logging but data exposure, he adds.
CSA 2010, which FMCSA expects to implement fully in 2011, could prove to be a more significant factor in driving interest in voluntary adoption of EOBRs. That initiative aims to give the government greater visibility into HOS compliance, which is a big part of one of the seven Behavior Analysis and Safety Improvement Categories, or BASICs, that CSA 2010 addresses. EOBRs could be vital in managing the increased accountability.
"I think you will see continued adoption of EOBRs specifically because of CSA 2010," says Norm Ellis, vice president of sales, services and marketing at Qualcomm Enterprise Services. PeopleNet also is seeing great demand for electronic driver logs because of the upcoming switchover to CSA 2010.
And that's precisely what FMCSA would like to see, too. "One objective of CSA 2010 is to leverage the capabilities of existing technologies to make compliance and enforcement efforts more effective and efficient," the agency said in the final rule. "FMCSA believes policies that encourage the adoption of EOBRs are consistent with CSA 2010."
The EOBR Rule
Performance anxiety?
Questions remain on tampering, self certification and enforcement readiness
Companies that market electronic logging generally seem pleased with the performance specifications the Federal Motor Carrier Safety Administration adopted for electronic onboard recorders (EOBRs) last month, but many see areas where more clarification or perhaps regulatory changes are needed.
The Technology and Maintenance Council's task force on onboard recorders last month established two working groups to review possible changes or clarifications. One group, which is headed by Dave Kraft, senior manager of government affairs for Qualcomm, is addressing the interface between drivers and law enforcement officials. The other group, headed by Brian McLaughlin, chief operating officer of PeopleNet, is reviewing other questions of interpretation, clarification or changes to the rule.
Meanwhile, some of the most significant issues that have emerged are the potential for tampering, the adequacy of vendor self-certification and the readiness of law enforcement to deal with EOBRs based on FMCSA's performance standards.
Data security. "There's a big gap in the security of the data," says Stephen Keppler, interim executive director of the Commercial Vehicle Safety Alliance, which represents state and provincial motor carrier law enforcement agencies. Driver identification is a related issue, he says. "How are we going to ensure they are the right drivers?"
The single largest hole in the final rule is the lack of adequate measures to prevent tampering, says Jerry Gabbard, vice president and general manager of the North American commercial vehicles and aftermarket business unit for Continental Corp. Continental acquired onboard recorder supplier Siemens VDO in 2008 and is still studying the North American market for EOBRs. "There is no way to detect if the driver has altered the data," Gabbard says. "We will now have electronic comic books rather than paper comic books."
Siemens had recommended a European standard known as "common criteria" that specifies the number of hours it would take for a professional hacker to get into the system. FMCSA responded that the standard "would go far beyond what is necessary for monitoring HOS compliance." But FMCSA didn't specify any measures for ensuring data integrity, leaving that task to carriers and their EOBR providers.
McLaughlin agrees with FMCSA that the "common criteria" standard isn't warranted, but he believes some specific minimum level of data security is desirable. A standard data transport definition and encryption routine should be sufficient, he says.
Self-certification. CVSA had pushed for a strong third-party certification program. "If you are going to have a performance-based approach, you need that," Keppler says. Gabbard says that without third-party certification, "you will invite a lot of device manufacturers that do not properly address the rule."
McLaughlin thinks FMCSA was right to stick with self-certification, but he believes there should be a central registry of EOBR suppliers. Carriers ultimately bear the risk in court and enforcement proceedings if they choose a system that isn't compliant, and they need a resource for qualified vendors, he says. "Without that, these guys will be flying blind." A registry would offer the opportunity for carriers to adjudicate complaints in the event they believe an EOBR is not compliant.
Vendors self-certify today without a registry, and it's not a big problem, McLaughlin says. But with thousands of carriers facing mandatory EOBRs, there could be a rush of inexperienced and unqualified new entrants to take advantage of the opportunity.
Law enforcement readiness. In concept, EOBR suppliers find the approach FMCSA is taking on the law enforcement interface attractive. "The advantage is the EOBR and law enforcement device don't have to be technologically compatible," says Qualcomm's Kraft. All systems will be required to generate a flat file in a format that can be read by software that FMCSA will supply to law enforcement agencies. The ability to transmit that data wirelessly as well as by USB cable also provides a good transition to the wireless roadside inspection concept that FMCSA is developing, Kraft says.
In the near term, however, the question is whether officers at the roadside will even have computers by June 2012 on which to run that software or read those files.
"There are a good number of inspectors that don't have computers," says Keppler. Buying computers and cables is hardly a top priority in most states these days, he adds. With budget constraints driven in part by the fact FMCSA has yet to finalize new Unified Carrier Registration fees, states are furloughing people. States can use Motor Carrier Safety Assistance Program funds on the necessary technology, but that doesn't necessarily solve the problem, Keppler says. "MCSAP funds are not a bottomless pit."
In addition to those thorny issues, there are a host of smaller questions. For example, Kraft asks how EOBRs are to record use of the truck as a personal conveyance. Or, asks McLaughlin, what do you do about synchronization to engine electronics if the engine predates electronic engines?
And FMCSA should clarify its intent regarding temperature, says Tom Cuthbertson, director of industry solutions for Xata Corp. The rule specifies an operating environment temperature range of -40 Celsius to 85 Celsius, about 170 degrees Fahrenheit. Cuthbertson isn't sure FMCSA really means that the EOBR must be able to operate within that range. "There's a difference between survivability and operability," he says. "A driver can't even be in a vehicle at 170 degrees."
The EOBR Rule
Running the numbers
The value of life, EOBR-ready devices support a broader mandate
When the Federal Motor Carrier Safety Administration ran the numbers on its January 2007 proposed rule regarding electronic onboard recorders (EOBRs), the total estimated costs and benefits basically were a wash, netting out to less than the amount needed to buy five new Class 8 tractors each year.
In the regulatory analysis accompanying the final rule, however, the $610,000 in total net annualized benefits had swelled to $8 million for the exact same regulatory approach. And FMCSA estimates the net benefits for the more stringent final rule, which affects several thousand more carriers, at about $43 million a year. How can that be?
Part of the answer lies in a Feb. 5, 2008, memorandum from the Department of Transportation to its modal agencies telling them to estimate the economic value of preventing a human fatality at $5.8 million. The previous value, which was used to analyze the proposed rule, was $3 million. So the benefits realized by reducing fatalities soared. In addition to safety benefits, FMCSA accounted in both the proposed and final rules for the savings carriers would realize because they no longer would have to purchase and process paper logs.
Another major change in FMCSA's economic analysis relates to the fact that a large number of trucks already have the hardware needed for electronic logging. That's because most of the major suppliers of fleet management systems – such as Qualcomm, PeopleNet and Xata – offer electronic logging applications for a small upcharge. While FMCSA acknowledged this reality in its analysis of its proposed regulation, it chose not to capture any savings as a result, assuming instead that each carrier affected would purchase a standalone EOBR.
In the analysis of the final rule, however, the agency assumed that over a 10-year period, an average of 26 percent of power units already affected would have fleet management systems installed. For those, the assumed cost for EOBRs was just $92 a year, based on the amount that Qualcomm charged for hours-of-service (HOS) monitoring. FMCSA also took into account devices that already meet existing standards that still can be used as long as the truck is in service.
For carriers that would have to acquire EOBRs, FMCSA assumed the costs of what it had identified as the least expensive system meeting its performance specs – the RouteTracker, which is sold by Xata Turnpike. RouteTracker features a small GPS device wired to the engine's electronics as required under both the new and existing standards governing electronic HOS loggers. A smartphone or handheld device syncs with the RouteTracker device using Bluetooth and runs software that accesses driver logs through a Web-based application.
The device, software and sufficient data storage to meet FMCSA's requirements would run about $45 a month, not counting the cost of the cell phone and wireless phone service, the agency projects. FMCSA also assumes that on average users would need to pay $100 per power unit for an upgraded phone. The total package would average $568 a year over 10 years, the agency says.
Greater than the cost of EOBRs themselves is the cost of operational changes that would be needed once carriers had to operate strictly to HOS regulations as a result of EOBRs. FMCSA pegged the additional labor and equipment costs due to lost productivity at $78 million a year. n
What draws an error?
The new Appendix C to Part 385 lists the major violations of hours of service (HOS) and driver log rules that will lead to mandatory electronic onboard recorders in the event that the auditor finds during a compliance review a violation rate of 10 percent or greater regarding one or more requirement. In addition to those listed below are HOS regulations specific to operations in Alaska.
All carriers
• Failing to require driver to make a record of duty status;
• False reports of records of duty status;
• Failing to require driver to forward, within 13 days of completion, the original of the record of duty status;
• Failing to preserve driver's records of duty status for 6 months; and
• Failing to preserve driver's records of duty status supporting documents for 6 months.
Carriers of property
Requiring or permitting driver to:
• Drive after having been on duty 16 consecutive hours;
• Drive more than 11 hours;
• Drive after the end of the 14th hour after coming on duty;
• Drive after having been on duty more than 60 hours in 7 consecutive days;
• Drive after having been on duty more than 70 hours in 8 consecutive days;
• Restart a period of 7 consecutive days without taking an off-duty period of 34 or more consecutive hours; and
• Restart a period of 8 consecutive days without taking an off-duty period of 34 or more consecutive hours.
Carriers of passengers
Requiring or permitting driver to:
• Drive more than 10 hours;
• Drive after having been on duty 15 hours;
• Drive after having been on duty more than 60 hours in 7 consecutive days; and
• Drive after having been on duty more than 70 hours in 8 consecutive days.
Logging through time

1939 – The Interstate Commerce Commission requires truck and bus drivers – except those operating within municipal limits – to maintain a "Driver's Daily Log" of their compliance with the newly adopted hours-of-service regulations. CCJ reported in November 1939 that "few operators, if any, have a good word to say for the driver's log." Drivers complained about the inconvenience. "Not only that, the log is too complicated, it takes too much time of drivers and clerks, and the general complaint is that it is impractical from the standpoint of enforcement."
1952 – The ICC revises the format of the daily log, reducing the number of drivers' duty status categories from 15 to four.
1977 – The Presidential Commission on Federal Paperwork recommends the elimination of driver logs. The Office of Management and Budget begins pushing the Department of Transportation and the Federal Highway Administration to modify the logs or kill them.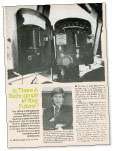 1978 – FHWA's Bureau of Motor Carrier Safety funds a study of possible alternative methods of monitoring HOS compliance, including tachographs – mechanical and electromechanical devices that measured various vehicle motion parameters – and trip sheets. The following year, the agency funds a one-year pilot program to test the effectiveness of both methods.
1980 – FHWA exempts drivers and carriers operating within a 100-mile radius of their starting point from the requirement to maintain standard driver logs.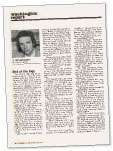 1981 – BMCS Director Ken Pierson declares: "It's fairly clear that drivers' logs will not be with us much longer." In December, CCJ Washington Editor Leo Abruzzee declares that the driver's daily log is on its deathbed. "Within six months, those arcane forms that have bedeviled millions of drivers and clerks will almost certainly be replaced by a simpler, less cumbersome system of recording hours of service."
1982 – The driver's log name officially changes to "Driver's Record of Duty Status,"

or RODS.
1985 – Frito-Lay Inc. becomes the first motor carrier to receive a waiver to use onboard computers – specifically the Cadec 300 it had been using for fleet management since 1983 – in lieu of requiring drivers to complete handwritten logs. Nine other motor carriers later receive waivers.
1986 – The Insurance Institute for Highway Safety petitions FHWA to mandate automatic onboard recordkeeping systems. The agency denies the petition a year later.
1988 – FHWA issues a final rule allowing motor carriers to use automatic onboard recording devices (AOBRDs) instead of handwritten logs. The agency specifies the performance capabilities but not the device's technology, which could be electric, electronic, electromechanical or mechanical.

1990 – Following a study of every crash in a 12-month period in which a truck driver was killed, the National Transportation Safety Board recommends that FHWA require automatic tamper-proof onboard recording devices to identify commercial truck drivers who exceed hours-of-service regulations. Eight years later, NTSB officially classified the recommendation as "Closed – Unacceptable Action," but the safety oversight agency continues to call for mandatory recorders and adds them to its Most Wanted List in 2008.
1995 – The Interstate Commerce Commission Termination Act orders a rulemaking on hours of service, including consideration of "automated and tamper-proof recording devices."
IIHS again petitions for mandatory onboard recorders for hours-of service compliance, this time joined by Advocates for Highway and Auto Safety and others.
1997 – In a bid to encourage motor carriers to adopt advanced technology, FHWA adopts a policy not to seek data from advanced information technologies, such as Global Positioning System (GPS) data, as part of compliance reviews. Auditors must obtain explicit permission from higher agency officials to request data if they believe existing supporting documents are inadequate.

1998 – FHWA announces a voluntary pilot program allowing carriers to use GPS technology as an alternative to handwritten logs or AOBRDs. In June, the agency and Werner Enterprises agrees to test such a system. The carrier continued to operate the Werner Paperless Log System after some modifications and a series of exemptions until the Federal Motor Carrier Safety Administration declares in January 2009 that the exemption no longer was necessary because the system now obtains sufficient information directly from the truck's electronic control module.
2000 – As part of proposed changes to HOS regulations, the newly created Federal Motor Carrier Safety Administration plans to phase in over several years a mandate that long-haul and regional carriers use electronic onboard recorders for compliance. Congress blocks a final HOS rule in the waning days of the Clinton administration.
2003 – FMCSA issues a major rewrite of the HOS regulations that have been in place largely unchanged for nearly 65 years, but it drops the earlier proposal to mandate EOBRs.
2004 – The U.S. Court of Appeals for the District of Columbia Circuit vacates the 2003 final rule on grounds unrelated to EOBRs, but it observed that Congress had expected FMCSA, at a minimum, to collect and analyze data on the costs and benefits of requiring EOBRs. Less than two months later, the agency issues an advance notice of proposed rulemaking seeking information on a range of issues related to EOBRs.
2005 – The American Trucking Associations endorses mandatory EOBRs subject to numerous conditions.
2007 – FMCSA Administrator John Hill holds a press conference to announce the agency's proposal to require EOBRs for operations engaged in a pattern of HOS violations as determined by two compliance reviews within a two-year period. The proposal also would update the 1988 AOBRD standards and provide regulatory incentives.
2008 – FMCSA formally reverses its 1997 policy limiting the use of advanced information technologies during agency investigations, saying that the policy no longer was needed since advanced information technologies had become widely accepted. On Christmas Eve, FMCSA issues an internal enforcement memorandum declaring that it now considers GPS data a supporting document that motor carriers must retain if they use devices that produce the data.
2010 – FMCSA adopts a final rule mandating EOBRs on carriers that are found in a single audit to be in serious violation of one or more major HOS regulations. The rule also replaces the outdated performance standards for recorders and finalizes the incentives it had proposed. FMCSA also reaffirmed its plans to conduct another rulemaking to consider a broader EOBR mandate.
For more on FMCSA's EOBR rule, including past articles, petitions for reconsideration, links to key documents and the latest developments, go to www.ccjdigital.com/eobr.