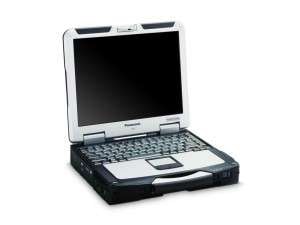 Panasonic Solutions Co., manufacturer of Panasonic Toughbook mobile computers, has introduced the Panasonic Toughbook 31. Engineered to be the most powerful fully-rugged notebook computer on the market, the Toughbook 31 has an Intel Core i5 or i3 processor, 1,100 nit touchscreen display and rugged certifications beyond MIL-STD-810G and IP65. The new device enables superior data access and productivity for any mobile professional facing extreme environments, the company says, in industries such as transportation, telecommunications, construction, mining, utilities and energy.
The availability of discrete graphics from an ATI Radeon HD 5650 card delivers significant improvements in 3D graphics, important for GIS and other graphic-rich applications. Additional processing power using the Core i5 is made possible by a unique new hybrid cooling system that keeps the internal temperature down while still maintaining optimal protection from liquids, dust and other environmental hazards. "The Toughbook 31 combines the best of three worlds – mobility, performance and ruggedness," says Erik Reid, mobile client marketing director, Intel Corp.
The Toughbook 31 includes a 13.1-inch XGA LCD touchscreen and is available with Panasonic CircuLumin technology, allowing for full-circle viewability from the brightest sunlight to pitch darkness. The notebook features the brightest standard screen available, at 1,100 nits, but can drop as low as 2 nits for concealed nighttime use.
By leveraging Panasonic's advanced battery technology, the Toughbook 31 offers up to 11 hours of battery life despite its brighter screen and more powerful processor. New LED backlighting generates lower power consumption and delivers superior performance in cold weather. Charging time also has been significantly reduced; the battery fully charges up to 47 percent faster than its predecessor, the Toughbook 30.
The Toughbook 31, like all Toughbook mobile computers, helps maximize mobile productivity through a variety of embedded wireless technologies. Each device combines Wi-Fi 802.11a/b/g/n and Bluetooth v2.1 +EDR, with an option for WiMAX capability and Gobi2000 mobile broadband technology from Qualcomm. With Toughbook 31's new optional built-in webcam, workers can transmit video in real-time from anywhere back to their field office or dispatch, the company says.
In accordance with customers' requests, the Toughbook 31 maintains a platform footprint virtually identical to past flagship products, allowing customers to upgrade Toughbook computers without replacing vehicle docks and significantly lowering the total cost of ownership, the company says. The Toughbook 31 also supports numerous security features, including options for an insertable SmartCard reader and fingerprint reader, using biometrics to protect mission-critical data.
Links to videos showing the devices durability and capabilities can be found on Toughbook's YouTube channel.