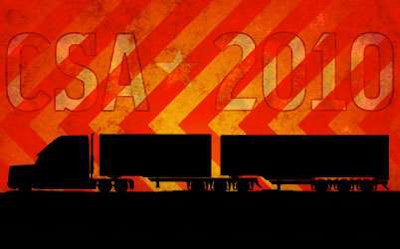 TMW Systems announced that it would be making available a free service for its carrier customers designed to help them monitor and manage their critical Comprehensive Safety Analysis 2010 safety scores and data. The new government safety scoring program promises to affect many carriers significantly, and TMW says it saw the need to provide its customers with powerful tools to help protect themselves in the evolving regulatory environment.
TMW says its new Web-based service, named "CSA Management," gives carriers extended capabilities for analyzing and transforming all of their Federal Motor Carrier Safety Administration safety rating data for further insight and action, including government data challenge. While the CSA program and government website is still in limited rollout in a few states, subject to ongoing changes, TMW is offering CSA Management at no charge, first to its customers in CSA test states then expanding access as the reach of the government program grows. Customers not in CSA test states also may request the application in order to familiarize themselves with the available FMCSA data in advance of full access to the CSA integrated scoring program.
All TMW customers may take advantage of the free CSA Management application, subject to limited availability, in tandem with the government's gradual program rollout in selected states. Once they have obtained log-in access to their own safety data and ratings on the government's CSA 2010 website, customers of any TMW software product who are active on support and maintenance with the company may request access to the free CSA Management application through their TMW technical support channels.
"TMW products have long incorporated features that help carriers to keep their drivers safe and to improve vehicle health monitoring to minimize inspection violations," says David W. Wangler, president and chief executive officer of TMW Systems. "Our CSA Management online service will further help carriers monitor their all-important CSA safety ratings to stay on top of potentially negative trends, identify specific problem areas requiring attention and even spot data inaccuracies that may warrant challenge. Together with our enterprise operations software and our fleet maintenance applications, we expect CSA Management to help carriers better protect their governmental safety standings as well as promote a culture of safety within their day-to-day operations."
Wangler also notes that an emphasis on regular safety promotion practices, driver review and coaching to help prevent inspection violations, driver accidents and citations would do the most to protect carriers from CSA interventions or to respond proactively if such interventions occur.