Leaner and meaner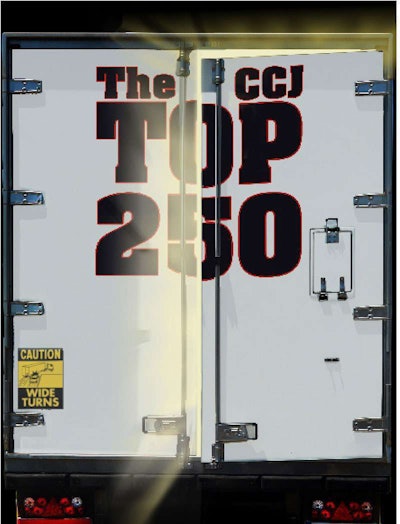 Several tough years position leading carriers for profitability
Only 14 CCJ Top 250 carriers posted revenue gains in 2009.
Click here for a copy of the 2010 CCJ Top 250 as a PDF.
Years don't get worse than 2009 for the trucking industry. Revenues for the carriers in the CCJ Top 250 that reported those figures were down more than 18 percent from 2008. Excluding package giants UPS and FedEx, whose vast scope can distort the performance of the trucking industry as a whole, revenues plunged more than 22 percent.
Lower revenues naturally have meant smaller fleets. Excluding UPS and FedEx, the number of power units reported for the 2010 CCJ Top 250 are down more than 6 percent from the 2009 ranking. And with lower utilization and trucks parked for lack of freight, the driver force is down nearly 10 percent. This follows declines of a similar magnitude reported by carriers in the 2009 CCJ Top 250 ranking.
The upside of all of this pain is that trucking companies are leaner and poised for profits as the economy recovers. Reports in July from publicly traded trucking companies show this to be the case.
Down but not out
Given that the average carrier in the CCJ Top 250 saw revenues drop by more than 20 percent in 2009, you might expect quite a few to go under. But in fact, only three carriers in the 2009 CCJ Top 250 no longer are operating. The largest of those – and the most publicized as well – was Tulsa, Okla.-based Arrow Trucking Co., which was forced to shut down a few days before Christmas last year.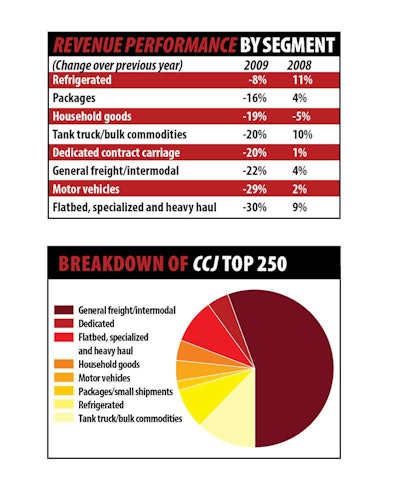 Arrow Trucking's failure wasn't the only one to lead to litigation, however. In January, the Department of Labor sued the owners of Aurora, Ill.-based Mid-States Express, which was No. 210 in the 2009 CCJ Top 250, for allegedly failing to protect the interests of the participants and beneficiaries in the company's 401(k) and health plans. Finally, Sitton Motor Lines, No. 239 in the 2009 ranking, ceased operations in a more orderly fashion in November 2009.
Only 14 CCJ Top 250 Carriers posted revenue gains in 2009.
There have been several mergers and acquisitions involving CCJ Top 250 carriers over the past year. The largest probably is No. 35 Universal Truckload Services Inc.'s acquisition of Pacer International's over-the-road trucking operation. Other notable transactions include Trimac's acquisition of Holly Hill, S.C.-based StarTrans Inc., helping to move Trimac up 13 spots to No. 47; Joplin, Mo.-based Active Transportation's merger with Jack Cooper Transport, which moved up to No. 65 in the 2010 CCJ Top 250 ranking; and The Dependable Companies' purchase of Matheson Fast Freight from Matheson Trucking. Dependable moved from No. 167 in the 2009 ranking to No. 118 this year.
Misery loves company
If there's any consolation to how bad 2009 was for trucking, it's that the pain virtually was universal. Only 14 of the 165 CCJ Top 250 carriers reporting revenue numbers for both 2008 and 2009 posted revenue gains. And only 21 of the remaining carriers saw revenue drop by less than 10 percent.
Nor did any segment of the industry do well. Refrigerated carriers posted the best revenue performance because their revenues fell by only 8 percent. This is quite a reversal from last year; even though 2008 wasn't a good year, all segments were up in revenue over 2007 except household goods.
Flatbed carriers took the hardest hit in year-over-year revenue performance as a continued weak housing market combined with a decline in commercial construction projects that had remained relatively strong through 2007 and 2008. Aside from refrigerated, the only segments that saw revenue declines less than 20 percent were package/small shipment carriers and household goods carriers, which just barely missed the 20 percent threshold at a 19 percent decline.
One positive trend – or perhaps one that's less negative – exposed by comparing 2009 revenues to 2008 is that some portion of the decline comes from sharply lower fuel surcharge revenues. In 2008, the average retail price of diesel topped out at $4.76 per gallon and averaged $3.80; the average price in 2009 was $2.47 a gallon.
For a copy of the CCJ Top 250 as a PDF, click here.
ABOUT THE CCJ TOP 250
CCJ has ranked the top for-hire trucking companies since the late 1960s. The CCJ Top 250 is the most comprehensive ranking of carriers. Our ranking takes into account not only the revenues posted by a trucking company but also its fleet size and employment base. The size of a carrier's fleet indicates its level of investment, while driver employment and owner-operator arrangements suggest a carrier's value as a supplier of jobs.
Rankings based strictly on revenues often capture activities that have only an indirect relationship to transportation. Another advantage of blending revenue, equipment and drivers is that it allows for a reasonable way to capture trucking companies that decline to disclose revenue.
For a detailed explanation of the CCJ Top 250 ranking methodology, see page 70. In addition to detailed information on the CCJ Top 250, the package includes rankings of Top 250 carriers by power units, drivers and revenue, as well as a ranking of carriers within their industry segments.