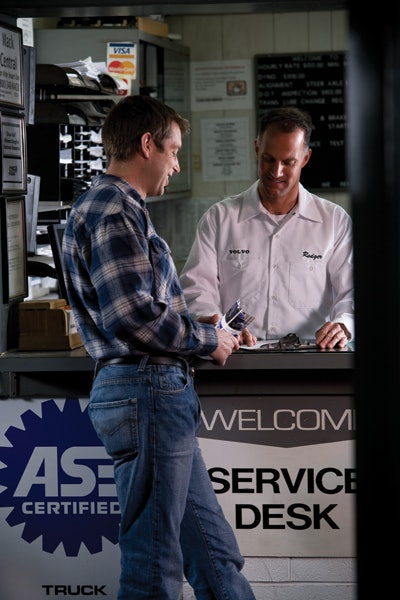 Volvo Trucks North America says it has improved fleet service management by connecting MVASIST service technology with Volvo Action Service. Volvo Trucks North America says that with technology partner Decisiv, it has improved fleet service management by connecting MVASIST service technology with Volvo Action Service (VAS), the company's roadside assistance network. MVASIST is a Web-based system that lets fleet managers, service providers and now the VAS support center work together throughout the write-up and repair process.
"MVASIST allows dealers to deliver what fleet executives say they need, including clear communication on the status of a repair, accurate estimates and invoices, and consistency between service facilities," says Eric Kananen, Volvo Trucks North America parts and service manager. "By integrating MVASIST with the existing Volvo Action Service, fleets have the tools to manage costs, reduce downtime and maximize performance for every truck they operate."
If a breakdown occurs, Volvo customers contact VAS, which arranges for towing or repair at a nearby Volvo service center. Then, instead of a time-consuming exchange of phone calls, e-mails, faxes and messages, the service center communicates directly and accurately with the fleet decision-makers. MVASIST keeps together all information and communication about a truck service event in one online folder to streamline communications and the service write-up process.
With a complete record of in-context communication between service provider and customer available online, all involved in the service event are on the same page, helping to reduce misunderstandings and delays and resulting in consistent, complete and professional estimates of service recommendations, including standard repair times, regardless of which dealer in the Volvo network performs the service.
At the same time, MVASIST makes dealer service personnel aware of fleet and vehicle-specific information, such as warranty coverage, previous service performed and negotiated parts pricing. The fleet manager has the ability to authorize or deny service steps, share information and options, and receive status alerts during the entire service event.
With MVASIST, fleets also benefit from proactive maintenance. A service adviser can recommend needed maintenance, and fleet managers can see the vehicle's history and decide on additional service while the truck is in the shop. Fleets also can tailor their system to ensure that their standards are met and routine inspections and maintenance are streamlined.
"When communication is accurate and easy, we know that customer service improves, vehicle repairs and maintenance are handled properly, and fleet managers save time," Kananen says. Full participation in MVASIST among Volvo dealers is expected by the end of 2010.