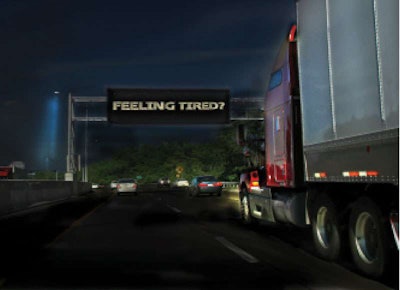 Above and beyond
More carriers are saying HOS compliance isn't enough when managing driver fatigue.
EDITOR'S NOTE: This is the third of a three-part series on combating driver fatigue. Other stories in this series address technologies for managing driver fatigue and electronic logs.
Since converting to electronic logs – a process that began in January 2009 – C.R. England no longer is missing between 7 and 10 percent of its logs, as was the case when the company was using paper. The company's out-of-service rate also dropped 75 percent last year.
But rather than limit the benefits of this technology to compliance, the nation's largest refrigerated carrier also began to feed hours-of-service data into its load optimization platform. This advanced technology matches drivers to loads and identifies opportunities to swap or relay loads should drivers unexpectedly run out of hours while en route. C.R. England saw increases in both asset utilization and on-time service.
The Salt Lake City-based fleet also began feeding electronic HOS information into an advanced risk management platform. This technology uses predictive modeling to determine safety and fatigue scores for each driver. The scores are displayed in applications that load planners, dispatchers and driver and safety managers use on a daily basis. The company eventually may use the safety and fatigue scores as one of the criteria for matching drivers to loads, says Mark Fillmore, director of accident prevention.
As the final installment in a three-part series on managing driver fatigue, CCJ examines how fleets like C.R. England are using technology to go beyond mere compliance with HOS rules. For some carriers, managing driver fatigue is central to daily operations in both planning and executing loads.
Taking control
Dispatch systems and electronic logs help both fleets and drivers plan more effectively and reduce fatigue. But these technologies by themselves leave the decision up to the driver as to when and where to obtain rest. Some fleets also take into consideration factors other than drivers' HOS as part of managing the risks associated with fatigue.
"I am more worried about a driver that has been inactive too long as opposed to the driver that is working himself or herself to exhaustion – we just do not allow that scenario as part of staying compliant," says John Coppens, vice president of operations for Little Rock, Ark.-based Maverick Transportation.
Maverick has a diverse fleet of flatbed, temperature control, bulk tanker, glass and machinery transport operations. All drivers returning to work after six consecutive days off are flagged automatically by management software and are considered out of service until a fleet manager has spoken with the driver and determines he is ready to return.
Maverick's fleet and safety managers also are starting to monitor drivers' work schedules to look for abrupt changes that might indicate fatigue. Drivers typically start their 10-hour break between 8 p.m. and 10 p.m., but a traffic delay or customer service requirement might cause a driver to start his break at 2 a.m. or 2 p.m. instead.
"We need to be worried about the change," Coppens says. Fleet managers will be alerted to these types of changes so they can contact drivers proactively and make sure drivers understand the risks. "Drivers need to be aware of the situation they are going into so they can make reasonable safe calls about how to run that and to make sure to get rest."
"I am more worried about a driver that has been inactive too long as opposed to the driver that is working himself or herself to exhaustion."
In May 2001, Hogan Transport took the decision away from drivers as to when and where to obtain rest between the hours of 11 p.m. and 4 a.m. The St. Louis-based company hired a fatigue supervisor to work nights and now requires drivers either to call or to check in through mobile communications if they plan to drive between that timeframe.
During the check call, the fatigue supervisor reviews what the driver has done during the day before granting permission to continue driving. The supervisor verifies the information using past movement activity data from the company's Qualcomm mobile computing platform.
The supervisor then uses his judgment. Even if a driver has been on the road only for three hours, the supervisor may decide to shut him down for a few hours if he determines the driver is too tired. With about 1,000 drivers, the fatigue supervisor communicates with about 250 drivers a night.
The process itself has made drivers schedule better since they know they have to check in. "It has caused them to be more aware of fatigue," says Tom Lansing, vice president of safety and driver services.
Since taking this hands-on approach to fatigue management, Hogan Transport has reduced fatigue-related accidents by 88 percent a year.
Automated schedules
Any hands-on approach to managing driver fatigue involves manual work. Technology can be used to automate many of the decisions that involve assigning loads to drivers and making adjustments to drivers' work schedules based on attributes such as fatigue.
Load optimization systems use advanced algorithms that consider drivers' HOS and other key fatigue-related variables in matching drivers with loads.
Celadon, a 2,600-truck carrier based in Indianapolis, feeds HOS information to Driver&Load, a load optimization platform from Manhattan Associates. Celadon presently does not use electronic logs; driver hours are calculated separately by an application that uses mobile communications positions from the driver's last eight days.
Driver&Load optimizes loads based on driver hours and other variables. If a driver has two hours remaining in the late afternoon, the system may match the driver to pick up a load that allows him to take a break that evening and still make the delivery on time the next day, says Chris Clay, director of customer service.
Besides using drivers' hours, Driver&Load can use driver fatigue scores and any other piece of information that is captured electronically to feed its optimization engine. Users can make adjustments in the software to dictate what drivers can and cannot do.
Using Driver&Load helps Celadon prevent situations where drivers are waiting for the next load assignment if they are empty in the late afternoon, Clay says. The sooner that drivers know their next load assignment, the sooner they can begin planning where and when they will stop for rest. By contrast, a driver that is waiting on his next load assignment is not able to plan ahead.
About 25 times a day on average, Celadon needs to repower loads because of drivers running out of hours and other unforeseen circumstances. The company is using Manhattan's Drop&Swap program to make those arrangements.
The 2010 version of Driver&Load has a new feature called End Route Assignment (ERA) that incorporates the functionality of Drop&Swap. The feature is designed to give load planners visibility to trucks with extra time that either are coming into their region or are passing by.
TMW Systems offers the MatchAdvice load optimization and TripAlert execution systems. By integrating with electronic logging and fleet dispatch software systems, MatchAdvice and TripAlert capture drivers' current hours along with existing stops on their current assignments and all preplanned assignments. By running this data through a predictive model, the optimization software can determine the available hours that each driver will have upon reaching his destination.
If TripAlert determines that drivers will not have enough hours to complete an assignment, the exception shows up as a service failure. At that point, load planners can begin looking for other trucks to repower the load without causing other issues. Likewise, if a driver has an extra two hours after completing an assignment, MatchAdvice automatically will look for a suitable load assignment.
Predicting the future
An advanced approach to fatigue management involves the use of predictive modeling to calculate a fatigue risk factor by driver. A growing number of fleets are using such a model from FleetRisk Advisors, a company that provides predictive analytics and decision support technology to transportation companies.
"When their time is up, they know they are going to bed."
– Tom Schmidt, vice president, Gordon Sevig Trucking Co.
FleetRisk developed a Web-based application called the DrivingCenter that captures HOS information from electronic logging systems and feeds it into a predictive fatigue management system from Circadian Technologies. The model produces a fatigue score and alertness curve for each driver in a fleet.
The alertness curve shows the level of fatigue for each driver over a seven-day basis. It also shows on a daily basis the periods of time that the driver will be the most alert and the least alert based on his work schedule.
Dupre Logistics has been using Circadian's fatigue scores for nearly 10 years. The Lafayette, La.-based company – which operates 350 trucks in both local and over-the-road operations – uses electronic driver logs on the Qualcomm MCP 100 platform to capture and feed data automatically to the Circadian system.
For Dupre's local operations, precise regularity in start times is a major factor in the fatigue score; local drivers start their 12-hour shifts at 4 a.m. and 4 p.m. For over-the-road operations, driving between 1 a.m. and 6 a.m. is one of the main factors; Dupre tries to limit drivers to no more than two hours during this timeframe.
Other variables used to determine fatigue scores include consecutive days working and time off. Typically, the main reason for high fatigue scores are due to drivers not starting on time or ending on time. At that point, Dupre managers will discuss the issue personally with the driver to get him back on schedule.
While drivers know best if they are fatigued, they also have other factors that are pushing them onward. "Even if they are tired, they will talk themselves out of it because they know they need to make a big check," says Reggie Dupre, president. Since the company has taken a proactive approach to managing driver fatigue, its accident severity and frequency rate has gone down "tremendously," Dupre says.
Averitt Express obtains driver fatigue scores through FleetRisk's DrivingCenter website. High fatigue scores are marked, and each day fleet managers develop an action plan for the best way to improve the scores. After having a discussion with at-risk drivers, managers either stay with the recommended action plan or change it as necessary. They also work closely with load planners to identify drivers who exhibit high fatigue scores in order to evaluate potential load assignments.
"Together with the load planner, they will decide whether or not it is prudent to leave a particular driver on a given assignment or remove that driver from the load and reassign it to another driver," says Danny Crooks, vice president of corporate transportation for the Cookeville, Tenn.-based company. "It becomes a collaborative effort to make sure we provide the service level the customer is expecting while keeping safety as our primary driving concern."
In the last three months of using this process, Averitt's preventable accidents have dropped by more than 13 percent from the same period last year, but Crooks says all of the improvement may not be attributable to lowering the fatigue score. "It is safe to say that there is a direct correlation between our reduction in accidents and the fact that our average fatigue scores are down 15 points since we started the program."
In times past, fleet executives and managers entrusted drivers to make their own decisions about when and where to obtain rest. Attitudes have changed in recent years. Today, a growing number of technology-savvy fleets are able to identify fatigue and take proactive steps to combat it by going above and beyond compliance with HOS rules. n
On the lookout
Electronic logs, dispatch systems help bring visibility to fatigue
Fatigue is a complex problem to detect, let alone manage. Electronic logs and dispatch software systems can bring some visibility to situations where fatigue might be adding risk. Most commercial dispatch software systems include drivers' hours-of-service information in screens used to plan and execute driver-load assignments. McLeod Software's LoadMaster dispatch system has two columns in its Order Planning and Driver Management screens that show the number of hours that drivers have available today and for the next two days based on the 70-hour/eight-day work rule.
Drivers can refresh these fields automatically by updating their available hours for each day by using a "macro" or form message through onboard computing and mobile communications systems. If electronic logs are used, LoadMaster can receive immediate updates on changes in drivers' duty status so that available hours for on-duty and drive time are displayed in LoadMaster.
Carriers that use electronic logs still may want drivers to use a macro to update their planned time of availability, or PTA, in the LoadMaster dispatch system. PTA lets load planners and driver managers know when drivers will be available to start on the next load assignment.
Electronic logs are not the only source of accurate HOS data for dispatch systems. PCS Software, which develops the Express dispatching system, soon will release an iPhone application that has a mobile driver log interface. When drivers record their duty status changes on their iPhone, the Express dispatching system is updated instantly. PCS Software will use the iPhone's GPS and fuel purchase data in Express to verify HOS data.
Having accurate HOS information also helps drivers become more accountable in their own trip planning, fleet executives say. Electronic logs make it impossible for drivers to be creative with their logbooks.
Gordon Sevig Trucking Co. (GSTC) implemented PeopleNet's eDriver Logs application in December 2009. Drivers and fleet managers for the Walford, Iowa-based fleet have visibility to the same information. Driver hours are displayed in the company's dispatch software system and in the cab. As long as drivers depart on time and do not make any unnecessary stops while en route, they do not need to worry about the consequences of running out of hours.
"When their time is up, they know they are going to bed," says Tom Schmidt, vice president. If they do run out of hours, drivers are asked to contact the office in advance so the fleet can fix the problem, either by arranging for a new appointment or staging a relay.
Xata gives customers the option of using tools within its Driver Logs application such as real-time alerts and reports, or to integrate the data directly with dispatch software.