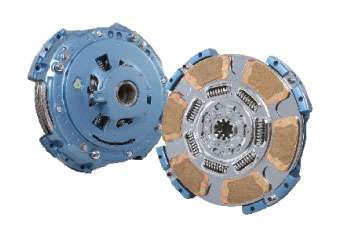 Heavy-duty clutches
Eaton Corp. says its Advantage Series of heavy-duty clutches feature numerous product improvements and enhancements that allow for 50,000-mile service intervals replacing current 25,000-mile intervals, and a 2-year/unlimited mileage aftermarket warranty replacing the current 1-year/unlimited mileage warranty. Eaton will continue offering customers two 15.5-inch heavy-duty clutch options, with the enhanced manually adjusted Eaton Easy Pedal Advantage clutch replacing the Eaton Easy Pedal clutch, and the enhanced self-adjusting Eaton Solo Advantage clutch replacing the Eaton Solo clutch. The Advantage Series clutches have an enhanced release bearing design that features a more robust bushing material and a redesigned release bearing housing with three grease fittings for added flexibility in setting up a lubrication path regardless of release fork design. Additional features of the bearing housing include a more efficient grease reservoir that allows for extended grease intervals, composite slingers that better retain grease and keep out contamination, a redesigned casting for improved strength and wider thrust plates that help increase the contact area with release forks to enhance performance.
Eaton Corp.
Visit www.ccjdigital.com/info
Nitrogen tank cart
Tire Service Equipment Manufacturing Co. Inc.'s NG-2 Nitrogen Tank Cart is designed to offer a less expensive alternative to tire service providers wanting to offer nitrogen tire service. The portable tank cart can be moved anywhere in the shop to service vehicles and allows tire filling directly from gas cylinders up to 10 inches in diameter and up to 60 inches high. The cart, equipped with four 25-foot hoses and quick-lock air chucks, can service up to four tires at one time and only requires each tire to be hooked up once. The fully programmable control unit then is set to the specified tire air pressure along with the desired number of purge cycles, from 0 to 9. The cart, which has an operating range of 0 to 145 psi, is equipped with a top-off feature. The rechargeable 12V DC system provides up to five hours of continuous operation.
Tire Service Equipment Manufacturing Co. Inc.
Visit www.ccjdigital.com/info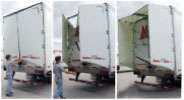 Aerodynamic trailer tail
ATDynamics' TrailerTail Model 2011 features ultralight thermoplastic composite material and collapsible origami architecture. The aerodynamic fairing, designed for installation at a trailer's rear to address rear drag, can improve fuel efficiency by as much as 6.6 percent, according to the company, citing third-party testing. ATDynamics is providing a 90-day risk-free offer.
ATDynamics Inc.
Visit www.ccjdigital.com/info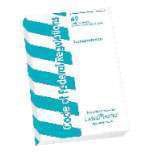 Early 49 CFR
Labelmaster is offering the Early 49 CFR Parts 100-185 Hazmat Transportation Regulations in the same format as the government release, but with additional features that help make it easier to find needed information. The updated edition includes revisions to lithium battery requirements and to the hazmat table, and also contains requirements for markings, labels, placards, shipping papers, training, emergency response and performance-oriented packaging standards. Domestic regulations for highway, rail, air and water are included.
Labelmaster
Visit www.ccjdigital.com/info
Fuel filtration systems
Cummins Filtration's latest two Diesel Pro fuel filtration systems are Fleetguard FH235 with a flow rate of 60 GPH (230 L/H), and FH236 with a flow rate of 90 GPH (341L/H). The Diesel Pro processors are designed to offer additional uptime in extreme environments and demanding applications by removing more than 95 percent of free and emulsified water and hard particles down to 2 microns from diesel fuel systems. The Diesel Pro Series fuel system uses Cummins Filtration's proprietary StrataPore media, while the patented Seeing is Believing technology lets users know when to change the EleMax filter element. Key redesigned features include a clear bowl that indicates when to drain, and an improved collar that allows for easy filter change. The upgraded series is available in multiple configurations to fit a variety of applications.
Cummins Filtration
Visit www.ccjdigital.com/info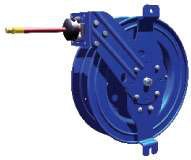 Guide arm for retractable hose reel
Coxreels has added a multiposition guide arm to its spring-retractable Side Mount Series of reels for added hose control. The SG Series has a two-bolt mounting pattern to facilitate easier installation on a vertical flat surface and is suited for tight spaces, including tool benches, service vehicles, tool boxes, vehicle lifts, walls and beams. The outfitted guide arm and roller assembly are designed to be moved easily to one of six different positions with a standard ½-inch wrench. The side mount reels handle up to 50 feet of ¼-, 3/8- and ½-inch hose for low-, medium- and high-pressure uses, and for welding applications, up to 75 feet of ¼-inch twin line of oxyacetylene or T-grade welding hose. The models are available in standard spring retraction and EZ-Coil controlled retraction for greater operator and workplace safety by retracting up to 80 percent slower than conventional spring-driven reels.
Coxreels
Visit www.ccjdigital.com/info
Tire chains
Kinedyne's rugged Grip Link line of heavy-duty tire chains is engineered to stand up to the most demanding road conditions, including mud, snow, sleet and hail. Available in V-Bar and Square Link tire chains for highway use, and Stud chains for offroad conditions, the high-strength carbon-steel chains are case-hardened for extra-long wear-life and are manufactured to exceed industry performance standards. The Grip Link chains – designed for simple, easy installation via step-by-step instructions – are available in two widths, 22.5 inches and 24.5 inches, and come in single and dual-triple tire designs. Each set features twist-tightening cams to provide for easier overall tensioning and adjustment. The chains are available year-round and are sold in "Easy Carry Easy Store" plastic or metal pails that feature color-coded labels specifying the product's width and design.
Kinedyne Corp.
Visit www.ccjdigital.com/info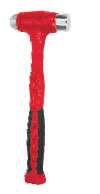 Ball peen hammers
Snap-on's ball peen hammers help provide maximum power with minimal effort to do more jobs quickly and efficiently. Available in a range of sizes – 8-, 16-, 24-, 32- and 40-ounce – the hammers can be used for a variety of repair jobs, including brake rotors, brake drum removal, ball joints, tie rod removal, tires, seal installations and loosening oil pans and covers.
Outside the hammer, the polished steel head has a large, tough striking surface and a torpedo-shaped peening surface. The compact head design is engineered for concentrated power delivery, while the microcellular grip conforms to hand shape and reduces vibration, the thumb rest allows users to choke up in a tighter work area, and the flared end helps prevent the hammer from slipping.
Inside the hammer, the internal steel canister features a free-flowing steel shot design to improve dead blow action and reduce rebound.The composite handle shank is lightweight and strong as steel, and offers improved balance while defusing shock, dampening vibration and flexing back into shape.
Snap-on
Visit www.ccjdigital.com/info
Transmission protectant
Penray has added Transmission MVP (Multi Vehicle Protectant) to its Performance Products professional automotive product line. The synthetic technology protectant and modifier is compatible with almost all ATFs and is formulated to enhance Dexron/Mercon to help protect technology in present-day transmissions. The fluid is designed to reduce component failure while improving performance and increasing vehicle longevity.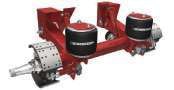 Large-diameter trailer axle
Hendrickson Trailer Suspension Systems' lighter-weight Intraax AAT integrated trailer suspension system now features the company's Large Diameter Axle (LDA). The switch to LDA increases the outer diameter from 5 inches to 5¾ inches while slightly reducing the axle wall thickness. This reduction, combined with the increased diameter, creates a more efficient use of material, increasing axle strength while reducing weight and increasing bending and torsional stiffness. The integration of LDA on AAT 23K models also allows customers to continue using a wide bushing pivot connection while enjoying a 19-pound weight savings over current 5-inch AAT 23K axle models. To accommodate more robust applications, AAT 25K and 30K models will combine the LDA technology with a thicker axle wall for applications that require the higher 25,000-pound axle rating; this thicker axle wall, combined with the company's axle-beam connection, weighs 30 pounds less than current Intraax AAT 25K/30K models.
Hendrickson Trailer Suspension Systems
Visit www.ccjdigital.com/info
Penray
Visit www.ccjdigital.com/info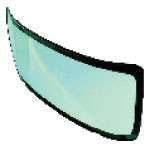 Windshield glass
TRP Aftermarket Parts' line of high-quality windshield glass is manufactured and tested to OEM specifications to ensure optimal optical quality, safety, surface contour and fit to increase the life of the windshield, improve safety by ensuring protection from road debris and help avoid damage from water leaks. The glass is available for all makes of Class 6-8 trucks and tractors, including Ford, Freightliner, Kenworth, Peterbilt, Mack, Navistar, Sterling, Volvo and Western Star. TRP also offers wiper blades and butyl installation tape.
TRP Aftermarket Parts
Visit www.ccjdigital.com/info
Aerodynamics system for trailers
SmartTruck's UT-6 Trailer UnderTray aerodynamics system is designed to reduce drag by managing airflow underneath and above the trailer. The system is designed to be installed in as little as three hours and provide a fuel efficiency gain of at least 8.5 percent with the base system and more than 11 percent with the full system, which involves wheel skirts and other items. The system is made of durable polyethylene plastic designed to withstand road debris, chemicals, ice and other abrasions, and to last as long as the trailer.
SmartTruck
Visit www.ccjdigital.com/info
In-cab scale display
Air-Weigh's in-cab display option for its LoadMaxx series of truck and tractor scales includes all of the scale's features in a rectangular 1.8-by-3.3-inch package. The 0.8-inch-thick display can be mounted on a flat surface with permanent adhesive tape; an optional dash swivel mount offers additional mounting locations. The display is suited for quick retrofits or vehicles where mounting the original round gauge display in the dash is not practical.
Air-Weigh
Visit www.ccjdigital.com/info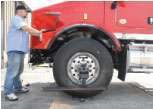 Mobile alignment system package
Bee Line's mobile alignment system package is a variation of its LC7000 Series computer alignment gauging system and includes the same features, including the ability to: gauge toe, rear tracking and camber; self-calibrate, helping the equipment remain accurate; and align wheels to the centerline of the chassis, maximizing tire life. The mobile version of the package includes a laptop computer running Bee Line's WindSpeed alignment software instead of a large cabinet and desktop PC. The equipment can be transported in a van or trailer, making it suitable for performing alignments on location.
Bee Line
Visit www.ccjdigital.com/info
Climate control technology for buses
Thermo King's Slim Line Rooftop A/C unit (SLR) for shuttle and school buses combines an environmentally friendly low refrigerant charge and an ultra-low lightweight rooftop design that can be installed in the middle of a bus for more uniform airflow. The modular design helps reduce installation time, while the system's configuration allows for 90 percent of the maintenance to be performed from inside the bus. The ultra-low profile uses structural foam molding, weighs 130 pounds and measures less than 6 inches above the roof and 3½ inches inside the vehicle.
Thermo King
Visit www.ccjdigital.com/info
Nitrogen tire inflation system
ISG Fleet's Nitrogen Tire Inflation System includes a nitrogen generator, receivers, automatic digital inflators, a nitrogen purity analyzer and tools for deflation and inflation. ISG will provide a site evaluation and recommend the most efficient system to match a fleet's tractor and trailers to nitrogen. ISG also will provide onsite training and review, as well as ongoing offerings.
ISG Fleet
Visit www.ccjdigital.com/info

LED auxiliary micro strobes
Del City's LED auxiliary micro strobe lights are suited for emergency, warning and safety applications. Each light includes a stainless-steel bezel and rubber grommet for quick mounting within a 1-inch hole. The lights – designed for maximum illumination and a life expectancy of up to 100,000 hours – are rated to 50 mA max draw at 12.8V DC. Each light has 11 selectable flash patterns and is available in four different colors.
Del City
Visit www.ccjdigital.com/info
Sliding axle spring kits
Phillips Industries' sliding axle spring kits are designed to be strong enough to secure heavy hoses and to be easy to use and replace. The kits include Phillips' Qwik-Snap hose holder with a scissor design that allows for cable and hose replacement in seconds. Qwik-Snap holders are designed to be easy to open and close even with gloved hands, and with a positive lock are strong enough to stay connected at more than 80 pounds of pulling force. Heavy-duty springs are designed to hold air lines with ease and are produced from pregalvanized hard-drawn wire for improved recoil memory and longer life.
Phillips Industries
Visit www.ccjdigital.com/info
Power management solution
Waytek's Low Voltage Disconnect Switch is a solid-state electronic module designed to protect batteries from excessive draw by limiting the drain due to auxiliary loads. The unit is designed to automatically disconnect loads that are powered when the ignition key is off before the battery is discharged too low to prevent a vehicle start. The solution is suited for on-highway, off-highway and military equipment.
Waytek
Visit www.ccjdigital.com/info n