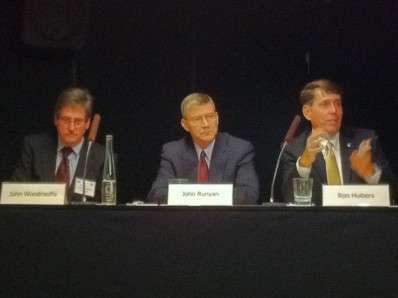 On Wednesday, Dec. 1, fleet executives gathered in Washington, D.C. for "The Future of Freight Transportation," an event hosted by Volvo Trucks North America, the American Trucking Associations and the Swedish Embassy. Leading topics focused on truck productivity, safety technology and carbon emissions as the country's aging infrastructure and future regulatory policies threaten to limit freight movement in the coming years.
Infrastructure upgrades and use of heavier trucks are two key components to help freight tonnage meet the demands of the future. "One strategy that should be well understood and considered is the ability to use more productive trucks as part of the transportation mix," said Ron Huibers, senior vice president of sales and marketing for Volvo Trucks North America. Huiber said potential solutions include use of heavier trucks and developing truck-only lanes.
Citing increased highway congestion, tougher truck emissions standards and the likelihood of spikes in diesel prices, John Runyan, executive director of the Coalition for Transportation and Production, outlined a plan to reform vehicle weight limits. The Safe and Efficient Transportation Act, a bill currently in front of the House Ways and Means Committee, would grant individual states the right to adopt 97,000-pound six-axle trucks. If passed, the legislation would allow a 17-percent increase in ton-miles per gallon compared to conventional 80,000-pound trucks and save 2 billion gallons of diesel fuel annually, said Runyan.
Another challenge, said John Woodrooffe, director of the University of Michigan Transportation Research Institute's Transportation Safety Analysis Division, is developing sustainable productivity – moving as much freight as possible per truck more safely while limiting infrastructure consumption. One option is the use of long combination vehicles, essentially two 53-foot trailers per power unit, benefits of which would include productivity gains of up to 44 percent, improved safety, reduced fuel consumption and emissions and lower shipper costs, Woodrooffe said. "Truck productivity is limited by policy, not technology," he said. "To the extent possible we need to let science guide the policy."
Addressing issues involving truck safety, Anne Ferro, administrator of the Federal Motor Carrier Safety Administration, shared her views on the evolution of truck safety in the near future. "We look to technology to get us to that next level in safety," said Ferro. "The challenge of moving freight safely in the future is ensuring safety is built into the supply chain sooner than it is today in many instances. Safety should not come into the supply chain at the roadside or in the aftermath of a crash."
Taking a cue from the National Highway Transportation Safety Administration, Ferro announced FMCSA's intention to publish a draft five-year rule plan in the next six to eight months that outlines the agency's future agenda.
For more information from "The Future of Freight Transportation", visit www.moreproductivetrucks.com.