Preventable or Not
Doe messes up Muffy's Mustang
Cautiously piloting his tractor-trailer along sunny two-lane Second Avenue at the posted speed limit of 35 mph while intermittently burping from the huge morale-boosting helping of "Kid Flesher's Awesomely Hot Two-Gun Chili" he'd wolfed down at Tommy's Texas Diner, John Doe reflected on a Channel 19 revelation recently provided by Billy Bob Goldfarb, a westbound doubles driver.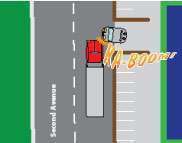 According to Goldfarb, Uncle Sam was poised to unveil a new version of the Federal Motor Carrier Safety Regulations, featuring a question-and-answer format, whose final draft was a whopping 750 pages long! Holy eye strain, Batman, 10-4? Suddenly, Doe's reverie was … "Ahhhhgg!" SCREECH!! KA-BOOM!!!
Oh no! Without warning, a gray-primed 1999 Mustang driven by teenager Muffy Mulquist had blindly and hastily exited a high-fenced apartment complex, only a few yards in front of Doe's tractor! While he'd pounced on the brakes immediately and had tried to steer out of harm's way, the Mustang's left front fender was a mangled mess. Mercifully, Mulquist was shaken up but otherwise unscathed.
Since Doe contested the preventable-accident warning letter from his safety director, the National Safety Council's Accident Review Committee was asked to render final judgment. NSC immediately ruled in Doe's favor, noting that there was no way he could have anticipated Mulquist's maniacal maneuver or avoided ramming her car with only a split-second warning.
IN BRIEF
* The Department of Transportation appointed three medical experts to the Federal Motor Carrier Safety Administration's Medical Review Board: Dr. Brian Morris, All One Health Resources Inc., Boston; Dr. Albert James Osbahr III, Catawba Valley Medical Center, Hickory, N.C.; and Dr. Gina Pervall, John Hopkins University Applied Physics Laboratory Services, Baltimore.
* According to data compiled by the National Highway Traffic Safety Administration, post-mortem testing results show the level of drug involvement among fatally injured drivers increased from 13 percent in 2005 to 18 percent in 2008 and 2009.
* NHTSA proposed a safety regulation to eliminate blind zones behind light vehicles with a GVWR of up to 10,000 pounds; 10 percent of new vehicles must comply by September 2012, 40 percent by September 2013 and 100 percent by September 2014. The 60-day comment period began Dec. 7.
* FMCSA's Office of Analysis, Research and Technology will host a free public forum at the Transportation Research Board's 90th Annual Meeting on Jan. 25 in Washington, D.C. Topics will include wireless roadside inspection pilot test preliminary findings, a CSA 2010 update, a Smart Roadside Initiative overview, fostering effective safety cultures at motor carriers, FMCSA data quality improvement efforts and more.
* Ryder hosted a North American Border Security Conference to share security and customs compliance best practices among customers, business partners and government security agencies. Participants also received an update on the Customs-Trade Partnership Against Terrorism (C-TPAT).
FMCSA amends rules for brokers of household goods
The Federal Motor Carrier Safety Administration amended its regulations to require brokers that arrange the transportation of household goods in interstate or foreign commerce for consumers to comply with certain consumer protection requirements. Under the final rule, brokers must provide on their advertisements and websites their U.S. Department of Transportation number, estimates of expected moving charges and brokerage fees, FMCSA pamphlets containing tips for successful moves and the consumer's rights and responsibilities, and broker policies concerning deposits, cancellations and refunds.
FMCSA says the rule – issued in response to the Safe, Accountable, Flexible, Efficient Transportation Equity Act: A Legacy for Users (SAFETEA-LU) and a petition for rulemaking from the American Moving and Storage Association – is intended to ensure that individual shippers who arrange for transportation of household goods through brokers receive necessary information regarding their rights and responsibilities.