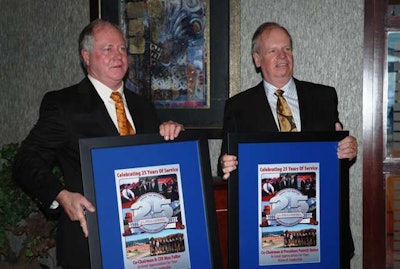 Marking its 25th anniversary, U.S. Xpress executives are looking ahead with optimism that the trucking industry will gain momentum in the coming months despite some obvious hurdles. U.S. Xpress Co-Chairmen Max Fuller and Patrick Quinn hauled their first load of freight under the company name on Jan. 21, 1986. The company started with 48 trucks and today has more than 8,000 trucks, 22,000 trailers and annual revenue of more than $1.5 billion.
"To use a technical term Bill Strauss with the Chicago [Federal Reserve] uses, it stinks," Fuller quipped about the current trucking climate. "If you look at [Gross Domestic Product] running at 3.2 percent, you'd think that business would feel a lot better. The reason it doesn't feel better right now is the inventory rebuild component that has really affected the economy this past year."
Fuller said if you take the inventory rebuild component out of the equation, the GDP is really running at about 1 percent, and that's what most businesses are feeling. Using Strauss' forecast, the GDP should hit 4 percent sometime in the second quarter, and business confidence will improve.
"At 4 percent, the consumer will kick in, businesses will kick in, and we'll start consuming some of this inventory that has built up," Fuller said. "We should then right-side to what GDP is running at, so we've got a lot of confidence that as we get into the second quarter and the balance of this year and even into 2012, business is going to be extremely good."
Both Fuller and Quinn say issues such as Compliance Safety Accountability, rising fuel prices, increases in new truck costs, driver shortages and wages will challenge fleets to grow and stay competitive. Quinn says CSA, the Federal Motor Carrier Safety Administration's new safety compliance program, will make it especially tough to fill driver seats.
"We're optimistic where we'll be going this year," Quinn added. "But the capacity issue will make for some tight spots and interesting situations. There may be some freight that sits for a day or two longer than some shippers would like for it to in order to get it moved."
While this will make it tougher for fleets, good drivers will have an advantage. "A driver with a really clean record in a year or two could become like a free agent in the sports arena," Quinn said. "He can command higher wages because he's proven to be compliant. So there is a definite advantage for drivers to be compliant."
As part of the 25th anniversary at its headquarters in Chattanooga, Tenn. – which included dignitaries and long-tenured employees – U.S. Xpress also announced its gold sponsorship of the Wounded Warrior Project, a nonprofit organization that provides programs and services to severely injured service members during the time between active duty and transition to civilian life.