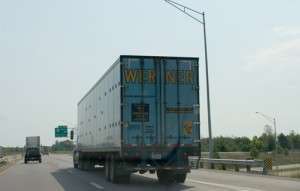 Werner Enterprises Inc. on Wednesday, Jan. 26, reported improved revenues and earnings for the fourth quarter and year ended Dec. 31. For the fourth quarter, total revenues were $463 million, a 5 percent improvement from $440 million during the same 2009 period; and net income was $24 million, up 34 percent from $18 million. For the full year, total revenues were $1.82 billion, up 9 percent from $1.67 billion in 2009; and net income was $80 million, up 41 percent from $56.6 million.
The Omaha, Neb.-based company says it achieved significantly improved results in 2010 compared to 2009. "We would like to take this opportunity to thank all of our associates for their hard work, dedication and continued commitment to further improvement in 2011," the company said.
Werner said the safety regulatory landscape for the trucking industry is changing rapidly, and it believes these changes will impact the trucking industry significantly. "We also believe we are well prepared and positioned to adapt to these anticipated regulatory changes and achieve continued success," the company said.
Werner said it remains committed to maintaining its truck count at about 7,300 trucks. "Our primary objectives continue to be expanding our operating margins and improving our returns on assets, equity and capital, while staying true to our expanded portfolio of services for our customers," the company says.
Werner said the driver recruiting and retention market became more competitive beginning in the second quarter of 2010, which continues into the first quarter of 2011. "We anticipate that the driver market will become more challenging during 2011," the company said. "While historically higher national unemployment rates have aided our driver recruiting and retention efforts, we believe that an improved freight market, extended unemployment benefit payment programs and changing industry safety regulations are tightening driver supply. While we are not immune to fluctuations in the driver market, we continue to believe we are in a better position in the current market than many competitors because over 70 percent of our driving jobs are in more attractive shorter-haul regional and dedicated fleet operations that enable us to return these drivers home more frequently."