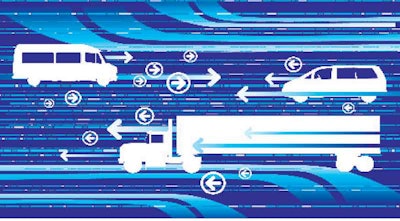 Fleet dispatch software now using more graphical and intuitive means to increase user efficiency
Within a few minutes, nearly anyone can become efficient at using an application designed for a smartphone, tablet computer or most other popular consumer devices. The rich graphics, touchscreen displays and easy-to-navigate menus are designed to be intuitive.
Even though dispatch and transportation management software (TMS) systems are much more complex than a consumer app, they also now are becoming more intuitive and user-friendly.
In the past decade, TMS systems have evolved from systems used for tracking orders, billing customers, running periodic management reports and paying drivers and contract carriers. Today's systems do all of this in a highly automated real-time fashion while providing advanced decision support and alert monitoring.
Software developers continue to add new features that shorten the learning curve and increase user efficiency. Screens can be configured for each user from the start. Several also are including on-demand – and in many cases, free – training resources accessible within the software so users can learn to use new features at their own pace.
Keeping the green screen
Innovative Computing Corp. released one of the first TMS systems shortly after IBM released the AS/400 operating system in 1988. Software development on the so-called "400" platform began to give way in the mid- 1990s to the more graphical Windows-based platforms.
Since the late 1990s, software companies that provide Java- and Windows-based systems have been more successful in signing new customers. One reason is because the 400 platform – with its text-based or "green screen" display – has become unfamiliar to the "younger generation" of employees.
Melton Truck Lines uses the ICC system to collect and process a high volume of data efficiently in a stable environment. The Tulsa, Okla.-based company also uses various Windows and GUI-based applications to extract data from its 400 platform to make it easier to analyze, monitor and present the information graphically to end users, says Randy Rhines, senior vice president of information technology.
Going graphical
By comparison, companies that use the latest Java- and Windows-based TMS systems typically do not use third-party software to analyze or present information to users. The screens can be customized to individual user preferences.
Also, newer screen designs are made to fit wider monitors such as the 22- or 24-inch varieties. "Now you can display a lot more information on one screen," says Tom Heine, president of Aljex Software.
As part of the implementation process, software developer TMW Systems will customize the screens and workflow for each end user for its TMWSuite software system. A company's customer service representative can enter data for orders in the manner with which he is most familiar.
Custom data fields and reports also can be added to screens in TMWSuite on the fly with a Microsoft integrated reporting module. Also, any data presented in TMWSuite in a grid format can be exported directly into a spreadsheet application if users want to import other information for further analysis, says Matt Ruth, vice president of implementation.
Based on the input and insight of its more than 540 customers, McLeod Software has built a best-practices model it calls "role-based cockpits" to helps users be more effective in their jobs.
"There are lots of elements that contribute to this (model), from keystrokes to menus, to screen density, to lookup capability, to layout, to multiple windows, and even the ability to customize it on a user-by-user basis to fit an individual's working styles, strengths and patterns," says Mark Cubine, vice president of marketing.
McLeod Software also includes a search bar feature in the software. Users can add bits and pieces of data in the search bar, and matches are returned with the screens where the data is located. Users then double-click to pull up the type of data record they are seeking, rather than navigate through a menu, says Robert Brothers, manager of product development.
Asset- and nonasset-based transportation companies using the LoadMaster and PowerBroker TMS platforms are able to train new employees in a much shorter time period, Cubine says. Some customers have reported a reduction in training from months to weeks. "It really is that dramatic," he says.
TransCore's Keypoint logistics software for brokers lets customers tailor the way screens look and work for each user, such as naming and rearranging fields. The company also has a full-time staff member, a "user experience manager," that focuses on ways to improve the usability of the software for all users, says Steve Blair, general manager of transportation software.
Delivery on demand
A growing trend for software developers is to offer TMS platforms via the Web through a subscription basis or software-as-a-service (SaaS) model. Applications developed for distribution over the Internet also are called "cloud computing" and "thin client" mainly because the only hardware required are devices that can support a browser.
The SaaS model typically can deliver software at more competitive pricing than installed or "premise-based" software because all future upgrades, data backups and system maintenance are included as part of a monthly or annual subscription. The SaaS model also may offer advantages in both cost and speed of implementation – especially for smaller fleets.
One of the perceived drawbacks of the SaaS model, however, is that users cannot customize screen displays and certain functions since all software clients effectively lease the same version of the software. For this and other reasons, larger fleets may view premise-based software as the only option for a TMS if they have custom requirements.
The SaaS model has grown significantly among smaller fleets. Bob Evans was sold on the idea of using a Web-based TMS system while he was running his own trucking company on spreadsheets and QuickBooks financial software. For his 25-truck company, investing in a system with more features than he needed did not make sense. "It was a bit of a challenge to find a good technology worthwhile to switch to," he says.
So in 2005, Evans hired a developer to build a Web-based dispatch software system that he launched commercially after further development. The system, MassLogics, is marketed to small and mid-size carriers on a subscription basis for $50 per user per month.
MassLogics was designed to be intuitive and user-friendly. The system requires minimal navigation because each screen – from order entry through dispatch – is designed to contain all of the information needed for that specific function.
After an order is saved into the system, users quickly can see information about the order/shipment number – such as revenue and pickup date – in subsequent screens by placing the cursor near the order number. The software has a feature called "hovering" that pops up a small window with key information about the order.
"Each feature is developed with the type of mindset that it has to be usable by a large mass of folks in trucking, and simple enough to translate what they do in the real world," says Evans, president of Richmond, Va.-based MassLogics.
Depending on how the SaaS model is set up, transportation companies that use a Web-based TMS system can customize screen designs and features for their individual business requirements.
The brokers, carriers and 3PLs that use the Vision TMS system by Aljex Software can turn on or off about 500 different features or "switches" according to their needs. A feature soon will be added that will allow users to drag and drop screen headings to create different views of data on demand. Users can save these screen views for the next time they login, Heine says.
"Aljex has done a tremendously good job to allow you to set up your preference profiles," says Kathi Laughman, director of solutions for Crane Freight Service, a nonasset-based provider of ground and logistics services. The Houston-based company has used Aljex Software for about 18 months to manage a variety of supply-chain services for its customers. "It is really more of a hosted solution than a subscription-based piece of software."
Free training
In the past, training and implementation costs were a significant portion of the investment in a new TMS system. Today, software vendors often will include training at no extra cost because customers need little to get started.
PCS Software offers the Express TMS software for dispatch, accounting, safety, maintenance and other functions. When a customer purchases a new system, the company charges for onsite training only. Online training through webinars and Web-Ex often is more effective, especially for companies that operate multiple offices, says Sean VanDyk, vice president of sales.
When signing a new customer, the first step is to extract all data from the client's previous system to build a training database and begin learning transactions with their own data. The training database contains the same accounts, shipping locations and other data as the previous system.
Once dispatchers are trained, hundreds of "practice" loads are entered into the database. Meanwhile, other departments spend a couple hours each day training in their respective areas. Once everyone is trained, companies are ready to go live as soon as dispatchers begin entering live loads.
Once users go live, various "help" functions within the software provide users with instant help. PCS Software has a help system for each screen that includes a movie. The company has more than 200 short videos embedded in the software.
PCS customers that purchase its software support package also receive unlimited training along with the latest software release each year. "Companies can request and schedule as much training as they'd like with a new update, whether online or through the phone," VanDyk says.
Since 2009, McLeod Software has incorporated onscreen video training in successive versions of its LoadMaster and PowerBroker software systems. Every command on a screen includes a training video. McLeod's LoadMaster TMS now has more than 150 videos in the system. The videos take less than 5 minutes to watch.
"We try to keep the videos short enough to keep their interest, but detailed enough that it is usable," Brothers says.
Even with all of the improvements with the usability of software and new training methods and resources, implementing a new TMS is by no means a cakewalk, but it has become easier. What used to require onsite visits and months of training to get users at all levels of a company up to speed now takes a few weeks, and in some cases a few days and hours. The faster the technology is implemented, the sooner the return on investment is achieved.