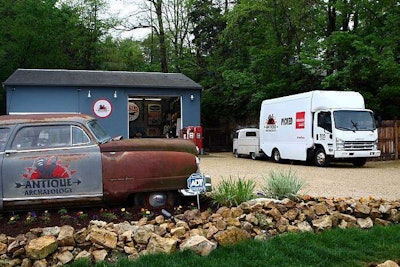 Isuzu Commercial Truck of America Inc. announced delivery of a 2011 Isuzu NPR Eco-Max low-cab-forward truck to Antique Archeology, the nationally known retailer with headquarters in LeClair, Iowa, and an outpost in Nashville, Tenn.
The NPR Eco-Max will support Antique Archeology's founder and owner, "picker" Mike Wolfe, as he scours the country looking for valuable treasures from America's past. The vehicle will be used to store Wolfe's finds and deliver them to Antique Archeology's two locations.
"Mike Wolfe and his team at Antique Archeology have dedicated their lives to finding and preserving the artifacts that tell the story of our nation and our people," says Shaun Skinner, executive vice president and general manager of Isuzu Commercial Truck of America. "We are thrilled that the NPR Eco-Max will provide Antique Archeology with a fuel-efficient, rugged, reliable way to transport their discoveries."
Fans of Antique Archeology will be able to track Wolfe and the Isuzu NPR Eco-Max; Wolfe will post pictures from his travels on his Facebook pages and will tweet his current and upcoming locations via his Twitter feeds. Updates and photos also will appear on Isuzu Commercial Truck's Facebook page.
The NPR Eco-Max uses the 3.0-liter 4JJ1-TC dual overhead camshaft turbocharged diesel engine. Its high-pressure common-rail fuel injection system and intercooled variable-geometry turbocharger help the engine produce 150 hp and 282 lb.-ft. of torque. Isuzu says the 4J can be driven up to 10,000 miles between oil changes and has a B10 durability rating of 310,000 miles, meaning that 90 percent of 4J engines will reach that mileage before requiring an overhaul. Isuzu says the engine meets U.S. Environmental Protection Agency 2010 and California Air Resources Board HD-OBD emissions standards and is clean-idle certified in all 50 states.