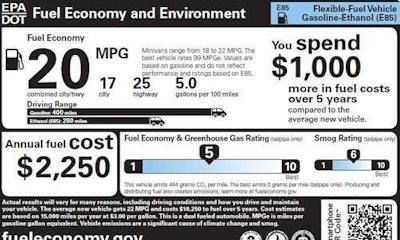 The U.S. Department of Transportation and the U.S. Environmental Protection Agency on Wednesday, May 25, unveiled new fuel economy labels designed to help consumers take advantage of the increased efficiency standards starting this year. The new labels, which are the most dramatic overhaul to fuel economy labels since the program began more than 30 years ago, are designed to provide more comprehensive fuel efficiency information, including estimated annual fuel costs and savings, as well as information on each vehicle's environmental impact.
The new labels are designed to underscore the benefits of the passenger car and truck fuel economy rule adopted by EPA and DOT in 2010 and to will give consumers better, more complete information to consider when purchasing new vehicles that are covered by the increased fuel economy standards.
Starting with model year 2013, the improved fuel economy labels will be required to be affixed to all new passenger cars and trucks – both conventional gasoline-powered and "next generation" cars such as plug-in hybrids and electric vehicles. Consumers will see the new labels in showrooms early next year, when 2013 models begin arriving. Automakers also may voluntarily adopt the new labels earlier for model year 2012 vehicles.
"Our new fuel economy and environmental labels are a win for automobile consumers and for the nation's energy independence," says U.S. Transportation Secretary Ray LaHood. "These labels will provide consumers with upfront information about a vehicle's fuel costs and savings so that they can make informed decisions when purchasing a new car."
President Obama directed DOT and EPA to prioritize the development of new fuel efficiency and greenhouse gas emissions standards, resulting in the standards that will be represented by these new labels. DOT and EPA say the 2010 fuel economy rule, developed with input from major automakers, environmental groups and the states, will dramatically increase the energy efficiency of cars and trucks built in model years 2012 through 2016, saving 1.8 billion barrels of oil over the life of the program and the average consumer $3,000 in fuel costs.
In July, the administration plans to finalize the first-ever national fuel economy and greenhouse gas emission standards for commercial trucks, vans and buses built in 2014 to 2018. DOT and EPA say these standards are expected to save hundreds of millions of barrels of oil over the life of the vehicles covered and promote the development and deployment of alternative fuels, including natural gas. The administration also is developing the next generation of joint fuel economy/greenhouse gas emissions standards for model year 2017-2025 passenger vehicles and expects to announce the proposal in September.
"President Obama's work to shape a Clean Cars program is fostering a marketplace of cutting-edge American vehicles that are more fuel-efficient than ever before," says EPA Administrator Lisa Jackson. "The EPA and DOT are creating a new generation of fuel economy labels to meet the needs of a new generation of innovative cars. Today's car buyers want the best possible information about which cars on the lot offer the greatest fuel economy and the best environmental performance. The new labels provide comprehensive information to American car buyers, helping them make a choice that will save money at the gas pump and prevent pollution in the air we breathe."