Today's medium-duty trucks now are moving under the power of everything from alternative fuels to battery packs, and every option offers unique benefits — and challenges
Vehicles play an important role in a business when the mere mention of their color can anchor a branding message. Look no further than UPS, which famously asked, "What can brown do for you?"
As important as that color is to the fleet's identity, however, the latest UPS equipment also has a decidedly "greener" hue.
The courier giant now has more than 1,900 alternative-fuelled vehicles moving under the power of everything from compressed natural gas (CNG) to liquefied natural gas (LNG), hybrid systems and batteries. But as the number of options continues to grow, this mixed fleet illustrates the biggest challenge to those who want to leave diesel engines in the dust. No single technology works in every situation, says UPS spokesman Michael French.
Every alternative to diesel presents unique benefits and challenges. Hybrid vehicles can improve fuel economy with the help of batteries, but they tend to be clustered in urban areas where stop-and-go traffic and regenerative braking can capture the energy from every drop in speed. Natural gas may be cheaper than diesel, but the fuel is harder to source. Electric trucks eliminate tailpipe emissions, but they use heavy batteries and have limited operating ranges.
Naturally, gas
As revolutionary as this equipment can sound, it often seems surprisingly familiar after a closer look. Natural gas engines, for example, are based largely on diesel technology, says Andy Douglas, Kenworth's national sales manager – specialty markets. "The engines share probably 85 to 90 percent of the same technology," he says. "We just changed the fuel delivery and fuel storage."
Natural gas equipment tends to differ from its diesel counterparts in five ways, says Roe East, president of Cummins Westport, which produces the ISL G engine. A diesel's direct unit injectors or common rail injectors are replaced by low-pressure single-point mixing systems. The gas-related ignition systems also are similar to the coil-on-plug offerings in a passenger car. While diesel engines have compression ratios of 18:1, a CNG engine's ratio is closer to 12:1, offering the added advantage of a quieter ride. The variable geometry turbochargers that help limit diesel emissions are replaced by wastegate turbochargers. And the aftertreatment for a CNG engine comes in the form of a three-way catalyst rather than a diesel particulate filter or selective catalytic reduction.
CNG designs have come a long way since they were introduced. Fifteen years ago, the engines relied on mixtures of air and fuel that generated high exhaust temperatures and sacrificed components like exhaust manifolds, heads, valves and turbochargers. Those gave way to "lean burn" engines that injected more air into the combustion process to remove NOx and reduce exhaust temperatures. Since the lean-burning designs couldn't meet further cuts in NOx levels mandated by the U.S. Environmental Protection Agency, a new generation of stoichiometric engines has emerged, but this time with the support of cooled exhaust gas recirculation.
While the latest diesel engines have come close to matching the emissions of these natural gas engines, there is still a clear difference in terms of fuel prices. Even though the fuel economy of a CNG engine may be 10 to 15 percent lower than its diesel counterpart, the fuel itself costs about $1.75 less per diesel gallon equivalent, says Nadine Haupt, Navistar's product planning director – alternative fuels.
Interested fleets simply need to decide which form of the fuel they plan to use. The tanks on an LNG-fuelled truck are similar in size to those that carry diesel, but this type of natural gas needs to be cooled. Then there is the challenge of finding the fuel in the first place. Only six of North America's LNG stations offer public access, and four of those sites are in Southern California, says David Bryant, Freightliner's vocational sales manager – hybrid. "The LNG product is severely limited." That's why centrally fuelled medium-duty fleets tend to opt for CNG, even though this gas means larger fuel tanks or shorter operating ranges.
A slow-fill CNG station can cost less than one-third of the equipment that dispenses LNG – as long as a fleet can wait two or three hours for a truck to be refuelled. Those on tighter schedules need to turn to fast-fill CNG equipment that can dispense about 10 gallons of fuel per minute.
Like any other piece of equipment on a truck, natural gas engines present some of their own unique maintenance needs. Cummins Westport requires spark plugs to be changed at 22,500 miles. Fuel filters should be drained as often as once a day to look for the oil that can come from a CNG pumping station. The equipment also requires CES 20074 engine oil, which has lower ash levels than traditional CJ-4 oil.
Of course, the choice of alternative fuels is not limited to natural gas. Propane may be less common in the United States, but it is the third-most-popular vehicle fuel in the world. Freightliner Custom Chassis now is partnering with CleanFuel USA to offer GM's new 8.1L propane engine in M2 cabs with gross vehicle weight ratings of 26,000 to 33,000 pounds. Equipped with 60-gallon tanks, these trucks will have a 300-mile range. "We have seen a remarkable change in the product availability that, again, is nothing short of staggering," says Roy Willis of the Propane Education and Research Council. Willis simply faces the challenge of fuel that is priced higher than natural gas.
Hybrid happenings
As popular as alternative fuels have become, they also are competing with the option of hybrid technologies. "These are getting to a proven point," say Seth Deutsch, Eaton's head of global sales, marketing and business development.
Eaton's hybrid systems already have accumulated more than 100 million miles on the road. Earlier this year, Daimler Trucks built its 1,000th hybrid electric vehicle – a business-class M2 106 – incorporating the parallel Eaton Hybrid Electric Drivetrain System.
The number of alternative fueling options continues to grow.
While batteries consumed a massive amount of space in the back of Eaton's first experimental hybrid truck, today's lithium-ion equipment offers higher energy densities, and electronics are better able to manage performance and operating temperatures, Deutsch says.
Medium-duty hybrid systems include an electric motor between the engine flywheel and transmission, and that motor transforms into a generator during braking, creating energy for the batteries. Parallel systems dominate the offerings, with the storage system and engine working together to launch a truck from the curb and add torque during acceleration. Series systems would uncouple the transmission and driveshaft so an internal combustion engine could be shut down when it's not needed. In the world of medium-duty trucks, ePTO offerings also are powering tools such as cherry pickers and even delivering AC power at jobsites.
"We have seen adoption of hybrids with ePTO in a number of applications, including utility, tree service, fuel and propane delivery, towing, rail service and refuse," Bryant says. "As battery capacity increases, we anticipate even longer engine off-time in ePTO mode." Freightliner Custom Chassis also is preparing to produce a walk-in van with a Parker Hannifin series hybrid system, which will use stored hydraulic energy to power the vehicle without the internal combustion engine. Hybrid tools like these already are proving themselves in heavier refuse applications, helping trucks to launch away from the curb.
"It all comes back to fuel economy in the end," says Darren Gosbee, Navistar's engineering director – electric vehicle and hybrid power development.
Hybrid systems require little more maintenance than their diesel counterparts. The electric motor itself will tend to have bearings at the front and back, and some systems include a coolant loop that may need to be flushed. When the battery packs are cooled by air, there may be a need to replace related filters.
Going electric
One of the most radical approaches in alternative fuels has been to replace internal combustion engines with electric motors. The biggest challenge here is a reduced operating range. Navistar's eStar is limited to 100-mile roundtrips on a single eight-hour charge of its 80 kWh power supply. While the truck can carry about two tons of cargo, the battery pack itself also weighs close to a ton.
An electric truck many not meet the needs of someone delivering freight in rural Nebraska, but it can fill a niche in densely populated urban areas like Manhattan, where drivers are delivering 20 to 30 packages into a single building.
Unlike its hybrid counterparts, there also is no need to cool eStar batteries since the vehicle has a peak demand of 75 kWh. "The power that we are pulling out of the battery at any given time for each of the individual cells in the pack, it's very small," Gosbee says. Compare that to the 5 kWh batteries in a hybrid vehicle that can be called on to run 50 kWh equipment.
The big payback
Buyers need to consider carefully what options best meet their operating realities. Deutsch lists some of the important questions: "Am I impacting productivity at all? Am I missing a delivery schedule?" Eaton even likes to examine the average distances between a customer's stops to see if they can take advantage of regenerative braking.
All these alternative technologies represent higher purchase costs when compared to diesel designs. "The payback without incentives makes it more cost-prohibitive," Haupt says, noting how many buyers were attracted to federal credits that had offered up to $32,000 to offset the higher prices of natural gas equipment. Those rebates have been shelved, but the New Alternative Transportation to Give Americans Solutions Act could offer tax credits of up to $64,000 per natural gas truck, delivering $5 billion in subsidies and tax breaks over five years.
Hybrids might face a bigger challenge. Federal tax credits for those were not renewed for 2011, and there are no immediate plans for new credits. When these cuts came, interest in the technologies dropped "rather dramatically," says Jim Gossard, Peterbilt's director of product and marketing strategy. The exception has been California, where related rebates of as much as $25,000 still are available, says Steve Weiner, Peterbilt's medium-duty segment manager. Hybrids still can deliver a return on the investment without the subsidies, Weiner says. "It's just a question of how long it takes and how you use the truck."
Without subsidies, the best hope to improve that return on investment may involve the higher production volumes of passenger vehicles. "The batteries are the most expensive thing and the most important thing on a hybrid vehicle," says Bill Kahn, Peterbilt's manager of advanced concepts. That is particularly true in commercial trucks. A 4,000-pound Chevy Volt passenger car relies on a 15 kWh battery; a medium-duty truck can require more than 10 times that. But the higher volumes of car manufacturers still could play a role in driving down the overall price of lithium batteries.
Deutsch, meanwhile, questions whether higher production volumes actually will lower the price of the batteries themselves. As the demand for lithium-ion batteries increases, so will the related price of rare earth materials and other commodities. Of course, companies will find marketing advantages in being "green leaders" and meeting the demands of customers who focus on sustainability. "But the bottom line is if they're not saving fuel, saving costs, they're not going to do it," Deutsch says. "You're going to be as green as you can afford to be."
Mail call
Aging fleet, alternative fuel mandate loom large for struggling USPS fleet
By John G. Smith
The United States Postal Service fleet is showing its age. The average piece of equipment is 25 years old, and a Government Accountability Office report into the 200,000-vehicle fleet found that unscheduled repairs consume 31 percent of maintenance budgets.
But the struggling service hardly has up to $7 billion needed to cover the estimated cost of a massive overhaul.
"We are truly at a crossroads," Postmaster General Patrick Donahoe said during a May 17 appearance before the U.S. Senate's Subcommittee on Federal Financial Management, Government Information, Federal Services and International Security. Mail volumes continue to drop, financial losses in this fiscal year are expected to reach $8.3 billion, and the service is approaching a $15 billion limit on borrowing.
When it comes to the fleet, ongoing repairs are a "temporary measure at best" and do not offer a permanent solution to future vehicle needs, Donahoe said.
Regardless of how the financial troubles are addressed, alternative fuels have to play a role in upgrades that do emerge. The Energy Policy Act of 1992 requires 75 percent of new vehicles to run on fuels other than gasoline, and that mandate largely has led to flex-fuel equipment that can run on gasoline or E-85 blends of ethanol. But since fuel economy can drop as much as 30 percent when using the E-85 fuel, gasoline still tends to be their fuel of choice.
Upgrades could cost up to $7 billion, and there is still no check in the mail.
Alternative fuels currently account for less than 1.5 percent of the fleet's fuel use. Still, USPS continues to experiment with other options. "We remain eager to explore ways to save fuel and protect the environment," Donahoe told the committee.
In addition to almost 40,000 trucks that can burn E-85, the fleet includes 3,534 vehicles with compressed natural gas engines, 31 propane designs, 914 hybrid vehicles and 35 electric offerings. A pair of test vehicles that ran on fuel cells recently was returned to General Motors.
Regardless of the technology, each option presents challenges, said USPS spokesperson Darlene Casey. With CNG, the need for larger fuel tanks is limiting driving distances, and dedicated fuelling stations have been expensive to maintain. Then there is a matter of a need to recertify fuel tanks and the lack of spare parts for conversion kits.
The 31 propane-powered trucks have proven to be reliable since their carbureted engines were converted in the mid-1990s, but they face many of the same limitations as CNG.
Meanwhile, hybrid electrics and electric vehicles face a higher cost for batteries and lengthy recharging times. "Battery-electric vehicles show some potential impacts on routes with limited daily driving mileage and multiple starts and stops," Casey said. "Hybrid-electric step vans are making the biggest impact on stop-and-go driving routes."
Of course, any talk about widespread upgrades is likely a moot point until financial woes are resolved. "With no remaining borrowing authority, at some point in fiscal year 2012, USPS easily reaches a point where making payroll is no longer possible," Donahoe said. "Unable to pay our employees or suppliers, we are forced to cut back service. We cannot afford fuel for delivery vehicles. The mail delivery system grinds to a halt."
Road Test: Hino 155/195
At this year's Work Truck Show, Hino Motors brass broke tradition with the company's first-ever truck introduction outside of Japan. The launch of Hino's new Class 4 and Class 5 cabover trucks is important for two reasons: The trucks were designed specifically to meet the needs of the North American market, and it ends the company's hiatus in the cabover market in North America since 2003, when it opted to offer a line of conventionals in the larger Class 6-7 markets. Hino expects to reclaim 30 percent of the Class 4-5 cabover market in the next two years.
"The launch of our new light-duty COE will bring us back into the Class 4 and 5 markets," says Yoshio Shirai, president of Hino Motors. "We view this launch as an opportunity to enhance our market presence, focusing on the needs of customers in large metropolitan areas in particular."
Hino invited CCJ to its plant in Tokyo to get an early look at the four new models that include two conventional diesels and two diesel-electric hybrids that employ Hino's sixth-generation hybrid technology.
The Class 4 155 diesel and 155h diesel-electric hybrid models have a 14,500-lb. GVW rating. In the Class 5 market, the 195 diesel and 195h diesel-electric hybrid model carry a 19,500-lb. GVW rating. All models are powered by the Hino J05E Series 5-liter engine rated at 210 hp and 440 lb.-ft. of torque. Using Aisin's A465 6-speed automatic transmission, the Hino hybrid is the first to be packaged with an automatic transmission. Hino uses an optimized selective catalytic reduction system to meet U.S. Environmental Protection Agency 2010 emissions requirements.
While driving the 155h on Hino's test track in Hamura, I found the company's 20-year experience in the hybrid market to be readily apparent. A new hybrid adaptive control system automatically evaluates driving and road conditions and communicates with the engine control unit to improve fuel economy. As another fuel-saving tool, the engine shuts off when the vehicle comes to a stop, and then engages as the operator lifts his foot off the brake pedal.
"With our latest and most advanced generation of hybrid technology, we hope to transform the idea of hybrid trucks, taking it from 'the exception' and making it 'the norm' for urban areas," says Shirai.
The dash contains a hybrid system mode indicator with Eco Drive display that turns green with optimized performance, providing driver feedback to encourage better fuel efficiency.
Hino's design focus for the North American market is evident when entering the cab, which has ample head and belly room for larger operators. The new cab's increased width also provides seating for three and includes a folding center seat with a back console that serves as a desk top, and the cab boasts a variety of organizational storage options. Hino says a crew cab option will be available.
Other design highlights include an angled windshield, narrow pillars and rounded-radius curves for improved aerodynamics and better visibility. A 30-gallon center-mounted fuel tank is standard, and a 33-gallon side-mounted tank is available.
The diesel models are available for order now with an August delivery. Customers can place orders for the diesel-electric hybrid models and crew cab models beginning in September, with December delivery anticipated.
– Jeff Crissey
Road Test: Isuzu Reach
Shaun Skinner, executive vice president and general manager of Isuzu Commercial Truck of America, is certain of two things. One, he sees Class 3-5 truck sales moving forward for the remainder of this year and the foreseeable future. Secondly, he is proud to say that the enormous investments Isuzu made during the depths of the 2008 recession now are coming to market just as the U.S. economy is gaining steam.
A prime example is the new Reach cargo van, which Isuzu developed jointly with North American body builder UtiliMaster. According to John Marshall, vice president of marketing for UtiliMaster, the genesis for the Reach van began when his company's customers – engaged primarily in parcel pickup and delivery – voiced their need for a more capable van. UtiliMaster customers were seeking a large van powered with a small diesel engine to reduce maintenance costs while boosting overall fleet fuel economy. UtiliMaster, in turn, approached Isuzu, and the Reach is the result of that partnership.
The Reach is designed specifically for North America – and that is apparent at first glance. If you're expecting the usual flat-nosed low-cab-forward design that Isuzu made famous, you'll be disappointed. Nonetheless, the Reach has distinctive conventional styling with a forward-mounted 3.0-liter 4JJ1-TC Eco-Max NPR diesel engine, which Skinner quickly points out is logging up to a 30 percent improvement in fuel economy in certain applications compared to pre-2010 NPR diesel engines – a feat that Skinner says is attributable directly to Isuzu's selective catalytic reduction emissions technology.
UtiliMaster and Isuzu worked together to ensure an ergonomic design for fast, efficient movement in pickup-and-delivery applications. Two full-size sliding doors on either side of the van have clearly marked wide steps and integrated handrails to facilitate easy, safe entry and exit from the cab. Skinner says the new design is so efficient that early field testing has shown a 1½-hour productivity gain in P&D applications over the course of a normal workday. A full-size walk-through door puts a driver directly into the large cargo bay, which is 113 inches tall and 88 inches wide.
A high-set driver's seat accents the Reach's already outstanding front and side visibility, with wide easy-to-adjust rearview mirrors providing additional viewing angles. A rear camera – available as an option for about $400 – adds an even higher degree of safety in traffic or when backing.
On the road, the Reach performs well. The Eco-Max diesel is surprisingly punchy, quickly getting the van up to highway speed. Steering is tight, and despite the vehicle's height, it never felt laterally unstable in turns or lane changes. Instrumentation is placed logically with easy-to-read gauges. All major controls are within easy reach, and Isuzu engineers have left plenty of room for file organizers or laptop platforms.
Major P&D companies currently are field-testing and evaluating Reach prototypes, and it will be interesting to see what conclusions they draw. Based on first impressions, it appears that Isuzu has a highly productive and well-thought-out winner on their hands. – Jack Roberts
Road Test: Mitsubishi Fuso Canter FE/FG Series
The often-used phrase "new and improved" is actually a contradiction – if something is new, how can it be improved? But in the case of the 2012 Mitsubishi Fuso Canter, the terminology seems to make sense. While the new Canter shares the same nameplate as the 2010 model, much of the truck itself is completely new.
"This is the most extensive redesign we've undertaken in seven years," said Todd Bloom, president of Mitsubishi Fuso Truck America, at the Canter's unveiling at the 2011 Work Truck Show. Some of the new features for this year's models are a new drivetrain, selective catalytic reduction emissions technology, a bold athletic exterior and a completely redesigned interior.
The 2012 Canter line is comprised of five cabover models from Class 3 through 5: the FE125, FE160 and FE180, as well as a seven-passenger crew cab model (FE160CC) and four-wheel-drive truck (FG4X4). The lineup makes the Canter a contender in a number of vocations, including dry van and refrigerated hauling, urban delivery and landscaping applications.
At the top of the list of new features is the Canter's Duonic 6-speed automatic-manual transmission. The dual-clutch transmission proves its merit on the road, where gear shifts are so seamless they're nearly imperceptible, similar to a passenger car. The Duonic system uses electronically controlled hydraulic solenoids to cycle through transmission gears. A driver-selectable Eco mode predicts shift changes in advance and shifts the engine at the optimal time to improve fuel economy and performance.
Another benefit of the Duonic is a "creep" function that allows the truck to move in forward and reverse at about 3 mph when you take your foot off the brake without the need for a torque converter.
The Canter FE is as nimble as it is easy to drive. The 110.2-inch wheelbase provides a 34.1-foot turning diameter, making the Canter easy to maneuver not just on an obstacle course but also in and around congested urban areas.
The Duonic transmission is powered by the three-liter 4P10 dual-overhead-cam in-line four-cylinder diesel engine with common-rail fuel injection developed jointly by Mitsubishi Fuso and Fiat Powertrain Technology. Mitsubishi Fuso has added Daimler's BlueTec SCR emissions technology to meet U.S. Environmental Protection Agency 2010 emissions compliance.
While the major cab structure and doors largely are unchanged from the 2010 Canter, the front end has been updated with a stylish robust appearance with improved aerodynamic performance. The grill's brow slants in to the middle, and the vertical lines extend through the front bumper for a cohesive integrated look. Compact halogen headlamps allow for sculpted corner profiles and help improve nighttime driving visibility.
Mitsubishi Fuso completely redesigned the cab's interior, allowing more space and maneuverability. A dash-mounted shifter allows complete access between the driver and passenger area, allowing the driver to exit the cab easily from the passenger side when necessary. The center and passenger seats fold down to provide the driver with a workspace.
The dash console features a new multi-information display that allows the driver to cycle through a number of screens, including a diesel particulate filter level gauge, average fuel economy and speed, fluid levels and performance parameters. – Jeff Crissey
Road Test: Ram 5500 Bucket Truck
You'd be hard-pressed to name a vehicle-powertrain combination on the planet that oozes more blue-collar American brawn than a Ram Chassis Cab with a 6.7-liter Cummins turbo diesel. Ever since Chrysler relaunched Ram Commercial Grade Trucks a few years ago, its engineers have been working hard to ensure that its chassis cab models have the durability and toughness required to work all day in unforgiving vocational applications. And if the 5500 bucket truck CCJ received for a weeklong test drive is any indication, they are succeeding.
This Ram was factory-fresh with a Terex articulating crane and bucket on the back, which adds a great deal of weight to the overall vehicle package – and you're aware of all that weight behind you the first time you get behind the wheel. But the Cummins diesel provides plenty of low-end torque – enough to get the big Ram up and moving in impressive fashion. Even better, the Cummins integrated engine brake combined with the Ram's heavy-duty brake system work in perfect harmony when it comes time to slow this big brute down.
Although some lateral sway is to be expected given the weight on this truck, the Ram's heavy-duty frame and suspension do a surprisingly good job of dampening the load. The truck doesn't wander around the lane going down the highway and tracks straight and true in long curves with minimal steering inputs. Given the truck's overall size and weight, fuel economy was good: about 13 miles per gallon in combined city and highway driving, according to the Ram's center-mounted driver information system.
The days when the interior of a commercial grade truck took its styling cues from an Army vehicle are over, and this Ram is no different. Climb into the cab of the 5500, and you're instantly struck by the similarities the appointments have with Ram's sport truck line. That's not to say this interior wasn't designed with work in mind: The floor pan and floor mats are designed for easy cleaning, and the durable cloth seats are stain-resistant. But the dashboard, instrumentation and sound system would be right at home on a consumer-grade truck, and the seats are fully adjustable.
The Cummins diesel engine is surprisingly quiet, even when the truck is just getting under way – and generous sound dampening combined with tight door seals also help make the cab a quiet place to work. There's plenty of leg, belly and arm room – even in the standard cab version – with ample storage space in the center console and behind the seats. Visibility is outstanding both in front and to the sides. Extended extra-wide rearview mirrors make the wide crane body a nonissue when changing lanes in heavy traffic. All told, the Ram 5500 is a well-designed blend of functionality, durability and comfort. – Jack Roberts
Navistar's 4×4 International TerraStar
Navistar's 4×4 variant of its International TerraStar commercial truck, launched last year in a 4×2 format, is designed to deliver additional commercial-duty capability for a wide range of customer needs, including construction, utility, landscape and other off-highway applications. "The design and durability of TerraStar is influenced by our entire lineup of commercial trucks, sharing the same rugged, durable and hardworking DNA," says Jim Hebe, Navistar's senior vice president of North American sales operations.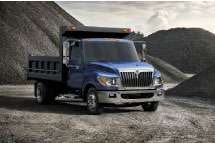 At the heart of the 4×4 International TerraStar is its 300-hp 6.4-liter MaxxForce 7 V-8 engine, delivering 660 lb.-ft. of torque. The engine features a compacted graphite iron (CGI) block designed to offer high strength without added weight. The MaxxForce 7 is matched with a commercial-duty Allison Optimized 1000 Series transmission to optimize its power output. The TerraStar also features MaxxForce Advanced EGR (exhaust gas recirculation) emissions technology.
The TerraStar is designed for premium driver visibility and a 107-inch bumper to back-of-cab (BBC) length for added maneuverability in tight work environments. The interior allows room for three adults to fit comfortably in the front seat. The TerraStar also is available with optional extended cab or crew cab configurations, and an appearance package also is available with a chrome grille and headlight bezel, as well as a painted modesty panel and fender extension. The TerraStar also features a commercial-style tilt-away hood to offer unobstructed access to the engine compartment, easing routine and scheduled maintenance.
The TerraStar features the International Diamond Logic electrical multiplexing system designed to maximize ease of body integration and help deliver a number of smart, customizable features for added convenience and safety, such as automated pretrip inspections, headlights on with wipers, interlocks, programmable switches and more depending on the application.
Nissan NV available in three models
Nissan's first entry into the commercial vehicle market in North America, the Nissan NV (Nissan Van), is available in three models – NV1500, NV2500 HD and NV3500 HD – and in Standard Roof or High Roof configurations. The NV's rugged design combines a full-length hood with engine access to ease service and maintenance, along with signature Nissan styling cues such as large headlights and a vertical grille.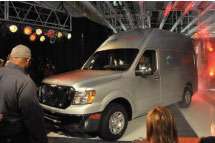 The broad bodysides provide ample room for company logos or advertising messages, while the tall, wide doors offer easy access to the cab and cargo areas. Powering the rear-wheel-drive NV is a choice of two fuel-efficient engines – a 4.0-liter V-6 and 5.6-liter V-8. Both are mated to a standard 5-speed automatic transmission.
Inside the cab is a roomy comfortable interior with wide supportive seating and an expansive instrument panel. The passenger seat includes a fold-down feature, providing a convenient worktable. An available center console offers storage compartments and space to hold binders and a laptop computer. Other convenient storage spaces include a wide overhead console (available with High Roof models) and large door pockets.
The NV has a long, wide cargo floor, square-top wheelwell housings and nearly vertical sidewalls. Along with maximizing cargo space, the sidewalls accommodate aftermarket storage systems without excessive modification. There also are multiple weld-nut attachment points for mounting shelving and racks.
Enhancements for Kenworth T270, T370
Kenworth Truck Co. recently added factory-installed front frame brackets to simplify winch bumper installation on its T270 and T370 medium-duty models. The package is designed to handle downward loads as great as 8,500 pounds for a boom rest or cab guard, and up to 16,000 pounds in the upward direction for outriggers. Kenworth says the frame package can help reduce customer upfit cost and is compatible with popular bumpers used by winch customers.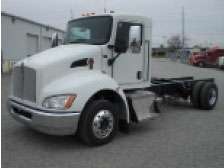 "Kenworth's new front frame bracket package especially targets utility and municipal customers that choose to operate Kenworth medium-duty winch trucks," says Doug Powell, Kenworth medium-duty marketing manager. "With this product addition, we've standardized and simplified the installation of specialty bumpers commonly used in the fire and emergency vehicle markets."
Kenworth also now offers the Hendrickson Primaax EX rear air suspension for its T270 and T370 front drive axle-equipped trucks. The suspension is suited for vocational and severe-duty applications and is designed to offer added durability and component life for enhanced uptime, as well as an enhanced ride by reducing road shock from rugged terrain for less wear and tear on the driver, truck and equipment. The suspension has a 15.5-inch ride height and is available in ratings of 23,000 and 26,000 pounds with a single rear axle.
Freightliner's SmartPlex Electrical System
Freightliner Trucks' SmartPlex Electrical System for the company's 114SD and Business Class M2 platforms is designed to provide added flexibility for truck equipment manufacturers to handle specific body installations. "With SmartPlex, we focused on providing TEMs with the most efficient and reliable solution that will increase the ease of body integration and application programming," says T.J. Reed, director of product marketing for Freightliner Trucks.
The system uses Freightliner's proprietary control modules that connect to the J1939 data bus, controlling power to lights and TEM equipment. SmartPlex also introduces the SmartPlex flex switch and lamp module – with capacity for up to 24 switches located in the overhead compartment – that can be installed, programmed and labeled by TEMs for specific body needs. Laser-etched plastic inserts with icons that are appropriate for each industry and/or the type of truck also are provided, allowing TEMs to simply snap the inserts into corresponding switches.
The system expands the total number of switches and lamps that can be connected to 35, including dash switches, and is accessed using Freightliner ServiceLink software, which communicates directly with the Freightliner proprietary control modules. ServiceLink is designed to allow TEMs to configure programming for unique needs from their own facility, providing traceability back to Freightliner dealers and easing service in the field for trucks with TEM equipment.