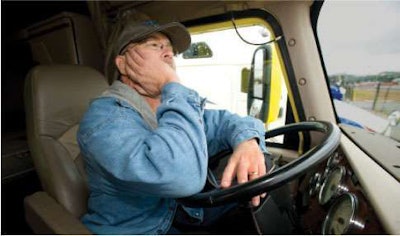 Comdata Corp., a provider of electronic payment solutions, on Monday, June 20, announced the launch of a new set of regulatory compliance solutions that focus on the health of the truck drivers. Comdata says its sleep apnea disease management and fatigue prevention solutions allow transportation companies to increase driver safety while decreasing employer liability and healthcare costs.
Comdata says its solutions allow companies to create a customized sleep healthcare program that includes companywide screenings, nationwide scheduling, single-night testing, immediate diagnosis and treatment of sleep disorders, as well as driver compliance reporting.
"Regulatory compliance programs continue to broaden, especially as safety regulations evolve to include health-related criteria for drivers," says Steve Stevenson, Comdata president. "Our customers rely on us for innovative programs that meet their expanding needs, and our new sleep healthcare solutions deliver timely, relevant programs that add measurable value to their business."
These new sleep healthcare solutions are integrated into Comdata's full suite of regulatory compliance solutions, which includes permits, pilot cars, driver log auditing and fuel tax reporting. Comdata's solutions will be administered by Sleep Access, a provider of health and wellness platforms for the transportation industry.
"Focusing on sleep healthcare makes roadways safer, drivers healthier and companies more efficient," says Evan Bledsoe, Sleep Access executive vice president. "Comdata and Sleep Access share a similar commitment to serving the transportation industry, and we look forward to collaborating with Comdata to deliver these solutions."