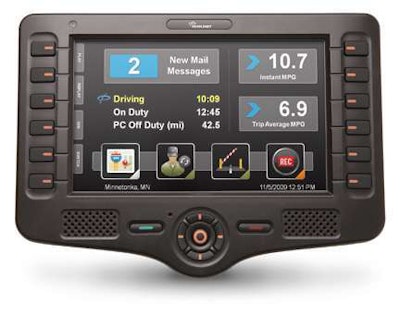 Trimble announced that it has signed an agreement to acquire privately-held PeopleNet, a leading provider of integrated onboard computing and mobile communications systems for fleet management.
PeopleNet provides fleets with software and hardware solutions that help manage regulatory compliance, fuel costs, driver safety and customer visibility. The transaction is expected to close in the third quarter of 2011, subject to customary closing conditions and expiration of the waiting period under the Hart-Scott-Rodino Antitrust Improvements Act.
The acquisition will be reported in Trimble's Mobile Solutions segment. PeopleNet will be heading up Trimble's worldwide transportation and logistics vertical.
"PeopleNet is a key step in Trimble's strategy for addressing the complex regulatory and operational demands of enterprise companies in the transportation and logistics (T&L) market," said Steven W. Berglund, Trimble's president and chief executive officer.
"The PeopleNet management team is enthusiastic about joining Trimble," said Ron Konezny, founder and chief executive officer of PeopleNet. "Trimble provides PeopleNet with significant additional scope that will allow us to build on our tradition of customer-driven innovation, and expand delivery of products and services by improving the performance and functionality of our existing and future offerings. The combination of PeopleNet's product portfolio with Trimble's broad technology base will allow us to create unique solutions that will enable our customers to manage their most important assets."