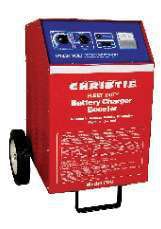 Fleet duty fast charger
Clore Automotive now offers Christie's Model FDC Fleet Duty Fast Charger designed to provide high-performance battery charging to 6V, 12V and 24V systems, with a 70 amp fast-charge mode for speedy all-purpose fleet maintenance and 300 amps for other applications. With multiple charge rates at each of its three operating voltages, the FDC is suited for busy service operations, with safety features that help prevent damage to vehicle electronics from reverse connections and electrical spikes.
Clore Automotive
Visit www.ccjdigital.com/info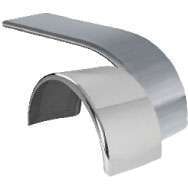 Chrome, stainless-steel parts
TRP Aftermarket Parts offers a variety of chrome and stainless-steel parts, including fenders, bumpers, exterior accessories – kick panels, steps, skirts and toolboxes – and interior accessories such as knobs and panels. TRP also offers various accessories and accessory sets designed specifically for the aerodynamic Kenworth T660, Kenworth T2000 and Peterbilt Model 386, or the conventional Kenworth W900 and Peterbilt Model 389.
TRP Aftermarket Parts
Visit www.ccjdigital.com/info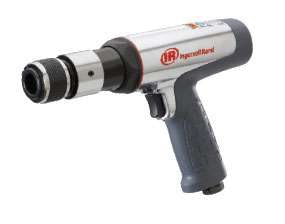 Air hammers
Ingersoll Rand has expanded its Max family of air tools with the 118Max Long Barrel and 122Max Short Barrel Air Hammers, both designed to deliver comfort, power and productivity to help technicians handle material prep and fabrication jobs. An anti-vibration design and improved ergonomic grip help reduce noise output and provide additional comfort during extended use. The air hammers feature quick-change retainers designed to reduce wear and allow for faster chisel changeovers for increased productivity. Both air hammers also are available as part of a kit that also includes a blow-molded case and a chisel set.
Ingersoll Rand
Visit www.ccjdigital.com/info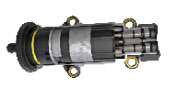 Electrical brushless diesel fuel pump
Federal-Mogul has developed an electrical brushless diesel fuel pump for on- and off-highway engines. The technology suits 12V and 24V applications and is available for diesel engines typically used in the medium- and heavy-duty on-highway sector and in the construction, stationary, marine and agricultural sectors. With electronic communication driving the DC motor, the noncontact technology helps enhance durability and can be mounted directly on the engine. The design, which is easy to install in existing fuel pump packages, also helps reduce the load on the engine.
Federal-Mogul Corp.
Visit www.ccjdigital.com/info

Two super singles
Continental's HDL2 Eco Plus (Heavy Drive Long Haul) super single drive tire, designed for fleets seeking weight savings and low rolling resistance in long-haul highway use, is scheduled for November availability in size 445/50R22.5 and will feature 27/32nds of tread depth, a closed shoulder and regenerating sipes in the middle of the tread blocks. A three-dimensional sipe in the center of each tread block couples the groove under compression to facilitate increased strength while still allowing more block flexibility as the block exits the footprint. The tire's groove geometry is designed to reduce the stress at the groove bottom by placing the element between the two groove bottom radii; this separates the forces at each side of the groove bottom and helps reduce premature wear.
The HDL2 DL (Heavy Drive Long Haul, Deep Lug) truck tire soon will be available in size 445/50R22.5 and is designed for fleets seeking weight savings and low rolling resistance in the mixed long-distance and regional traffic application. At 27/32nds of tread depth, the super single's tread design was copied from existing sizes and provides deep tread depth with the added traction of an open shoulder. The tire also features a bottom groove treatment that helps reduce stone retention and outside groove geometry designed to distribute stress evenly throughout the groove bottom, providing added durability.
Continental Tire the Americas
Visit www.ccjdigital.com/info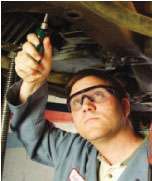 Screwdriver line
SK Hand Tool's SureGrip line of professional-grade screwdrivers features a square handle manufactured from rugged Butyrate that is resistant to shop solvents, oils and chemicals. The handle's contoured design, combined with its no-slip grip, helps mechanics gain leverage and maximize torque. The screwdriver's rust-resistant chrome vanadium shaft has a vapor-blasted tip designed to engage fasteners tightly, even from awkward angles. Select models feature a built-in hex bolster at the shaft top that acts as a turning paver when used with a wrench. The screwdrivers are available individually or in a variety of kits; a nine-piece combo set also is available.
SK Hand Tool
Visit www.ccjdigital.com/info
Wheeled battery charger
Associated Equipment's Intellamatic Model ESS6011 smart 12V/24V 70/35 amp charger is designed to provide a stable power supply to all battery types for extended service procedures or reflashes. The wheeled charger provides 70 amps of charging power in 12V mode, 35 amps in 24V mode, 220 amp boost capability and 70 amps in power supply mode for 12V and 24V flooded, AGM and gel cell batteries.
Associated Equipment Corp.
Visit www.ccjdigital.com/info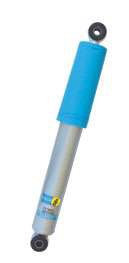 Heavy-duty shock absorber
Bilstein's super-high-capacity gas pressure shock absorber is designed to handle the extra service and ride comfort demands of Class 4-8 heavy-duty trucks, emergency vehicles and military applications. The monotube design with a 60mm internal working piston helps eliminate oil cavitation while adding chassis isolation, damping accuracy, torsional durability and tensile strength. The company's proprietary Comfitrac valving is designed to react instantly to suspension input by self-adjusting for any road condition, helping improve vehicle stability and reduce harshness while providing added control.
Bilstein
Visit www.ccjdigital.com/info

Expanded tool line
Blackhawk by Proto has added 525 items to its mechanics' tool line. The additions range from ratchets and socket sets to screwdrivers, pliers and wrenches. In some cases, the company has expanded the range of available sizes, while in others, it has added features designed to make the tools more versatile and easier to use, including tri-material composite tool grips that are cushioned for more comfort and larger laser-etched markings that are easier to read.
Stanley Proto
Visit www.ccjdigital.com/info
Brake lining
Marathon Brake's HeatStar20 premium-grade brake lining, rated for 20,000-lb. axle loads, is designed for versatility, high performance and long service life, and is suited for a wide range of over-the-road hauling applications. The lining's high-density friction formulation helps improve its ability to hold more heat energy, allowing for more efficient heat dissipation. The company's Hi-Density formula helps provide a stronger structural integrity, making the lining less likely to crack in service while improving resistance to brake fade and water fade.
Marathon Brake
Visit www.ccjdigital.com/info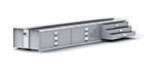 Vertical carousel
The Megamat RS Vertical Carousel from Kardex Remstar features an interchangeable carrier design, allowing parts and service operations to mix, match and change storage configurations more easily. With a standard multipurpose carrier, organizations can add partitions, dividers, intermediate shelves, rollout drawers and a variety of front lip height and depth clips to customize the unit to meet their storage needs. Each carrier comes standard with a 0.3-inch front lip to help prevent stored goods from migrating out. Carrier depth or height clips provide a taller or deeper front lip to help secure various-sized totes or boxes. Each carrier also has a partial top to help prevent overloading.
Kardex Remstar
Visit www.ccjdigital.com/info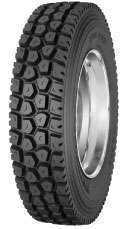 On-/off-road tires
Michelin Americas Truck Tires' two latest tires for on-/off-road applications are the X Works XDY designed for added traction and wear and the XDY-EX2, an aggressive drive axle tire suited for extreme operating conditions such as logging, oil fields and mining. Both tires feature maximum sidewall protection with aggressive tread designs and Co-Ex Technology, which combines a top tread layer of chip- and tear-resistant compounds with a cool base tread layer to preserve the casing and help maximize tread and casing life. The X Works XDY features a more robust directional tread design for added mileage and uptime while improving the efficiency of mud evacuation. The X Works XDY is available in sizes 11R22.5 and 11R24.5, while the XDY-EX2, which has a tread design with more void area for improved off-road and mud traction, is available in size 11R24.5.
Michelin Americas Truck Tires
Visit www.ccjdigital.com/info
All-makes radiator line
Alliance Truck Parts now offers radiator replacements for all makes of medium- and heavy-duty trucks and buses that are all-new construction – not re-cores or refurbished – and are engineered to be "drop in and go." The cycle- and leak-tested all-aluminum radiators help to improve thermal transfer and overall durability while weighing less and helping to eliminate crimping. Rubber insulators are designed to fit the original frame specifications, while clevis pins are used to allow necessary thermal expansion and movement within the frame. Interior tubing is high frequency-welded for added strength and durability.
Alliance Truck Parts
Visit www.ccjdigital.com/info
Top chest
Snap-on's KRA2410 55-inch top chest is an add-on storage solution for the company's roll cab. The top compartment is 5 inches deep to store power tools, standing sockets, bulk cases and personal items, while 10 interchangeable 2- and 4-inch drawers can hold up to 120 pounds each; the 4-inch drawers will accommodate an extra set of slides to hold up to 240 pounds. The durable top chest is predrilled for an optional power strip, while the flip lid is designed for easy operation and uses high-strength gas struts for safe, convenient lifting and shutting.
Snap-on
Visit www.ccjdigital.com/info