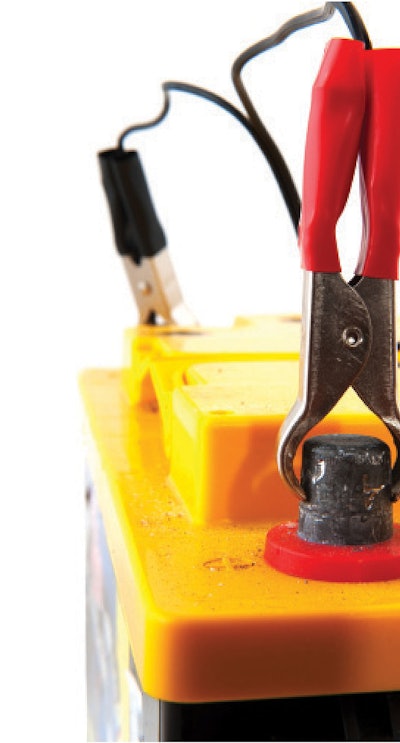 When it comes to battery technology, complex electronic systems on commercial vehicles already are pushing the envelope
Automotive batteries are technological marvels. But for all our dependence on them in both commercial and consumer applications, they largely are forgotten or ignored – until they fail. For most of the past 100 years, automotive battery development has been slow and steady, with most improvements focusing on longer maintenance-free life. Today, rising fuel prices, anti-idling laws, alternative-drive vehicles and an exponential boom in the power requirements on commercial vehicles with U.S. Environmental Protection Agency 2010-compliant diesel engines are driving a frenzy of research and development into automotive batteries.
Experts say the next generation of batteries in trucks and tractors will be smaller and lighter with greater energy storage capacity. Moreover, these batteries will be smarter – controlling and prioritizing energy consumption and acting on their own to counteract temperature extremes. Cold-weather starts soon may be alleviated by batteries that are intelligent enough to warm themselves on a harsh North Dakota morning before a key hits the ignition switch.
Power demands
The proven six-cell 12-volt lead-acid automotive battery – known as an SLI (starting, lighting and ignition) battery – relies on a chemical reaction between the lead and electrolyte solution to create electrons that are converted into useful electricity for automotive applications.
While that solution has worked well for decades, recent headlines regarding hybrid-electric drivetrains, all-electric cars and pickup-and-delivery commercial vehicles contribute to a growing sense that these old lead-acid batteries soon may be obsolete.
But if you agree with that line of thinking, you're already behind the curve when it comes to battery technology, says Brad Bisaillon, sales manager of strategic accounts and transportation for Trojan Battery. In 2001, when the trucking industry got its first taste of EPA's diesel emissions regulations, electronic control modules first began to appear on trucks. "At that time, there was still only a single ECM onboard most trucks," Bisaillon says.
In 2007, more ECMs appeared on trucks to control fuel injection processes and timing sequences to meet stricter emissions standards. 2010 EPA engines have added even more demand. A 2010-compliant Freightliner Cascadia tractor with a Detroit Diesel DD15 engine has nine onboard ECMs. "Just the electronics required to move the vehicle down the road have put a lot more demand on the battery," says Bisaillon.
Factor in anti-idling laws along with a host of electronic gadgets brought into a truck by drivers – everything from high-definition TVs to toasters – and you've got a totally different set of electrical loads pushing the boundaries of what conventional SLI batteries can handle. Thankfully, absorbed glass mat or valve-regulated lead-acid batteries have the additional storage capacity and power density to handle these complex new electronic systems.
"I think many fleet managers kind of understand that power demands on their tractors have changed," Bisaillon says. "But they still have a hard time understanding why their flooded batteries can't keep up with the truck." It's not the battery's fault, he says: Newer highly-advanced internal designs are required to keep up with these new power requirements.
While larger fleets such as Swift Transportation, Crete Carrier Corp. and Wal-Mart are embracing new battery technology, "many smaller and medium-size fleets haven't recognized the need to change their battery types yet," Bisaillon says.
Fleet managers can take heart as battery technology, regardless of the chemistry, is continually improving. "These improvements are likely to be evolutionary rather than revolutionary, unless a new chemistry explodes on the alternative energy scene," says Kaylan Jana, development support manager of specialty markets for Odyssey Battery.
Future breakthroughs in materials technology must overcome physical constraints such as the impact of high temperature on the life of a lead-acid battery, a characteristic of the chemistry itself and independent of the materials.
Manufacturers have to factor in cost, availability of raw materials and the state of manufacturing technology as they adopt any new battery technology. "One may have the theoretical outlines of a viable new battery chemistry, but if manufacturing processes and technology are unable to bring it from the drawing board to a finished product, it wouldn't be of much use to the consuming public," Jana says.
Can lithium ion save the day?
A number of application-specific battery technologies now are being developed that will be commercialized in the coming years. "When you think about the commercial side of things, you have to also take a step back and take a look at what you're asking that battery to do," says Alan Nelson, research and development director for Dow Energy Materials. "In the transportation sector today, that means hybrid-electric vehicles, plug-in electrics – vehicles that have a primary need for batteries that supply auxiliary power to run heaters, the radio and other systems."
These batteries have different technologies compared to the batteries that would run or be used with a conventional drivetrain. "A lot will be dictated by the end use and the end application – whether you're looking at supplementing the power in the drivetrain versus the aux power," Nelson says.
Perhaps no new battery technology has as much buzz as lithium-ion batteries, which have been driven on the consumer side by vehicles like the Chevy Volt and the Nissan Leaf. "I absolutely think this is a viable technology for commercial vehicles and will be the next step in power options for many fleets," Nelson says.
Lithium-ion batteries generate power when lithium ions move from the negative electrode to the positive electrode during discharge, and back when charging. This technology has been a boon for the consumer electronics industry because it allows for greater energy capacity than conventional batteries; more energy can be stored in a more compact package. "The advantages of concentrating high volumes of energy in a much smaller package than you can in a conventional battery are obvious in fleet applications," Nelson says.
The main disadvantage with lithium-ion batteries today is their high cost. "When we look at battery technology today, most decisions at the implementation level are really driven by cost versus performance," Nelson says. "It's all about dollars per kilowatt hour and how we as manufacturers can reduce that ratio for consumers."
Jana says that lithium rechargeable batteries will become safer and offer higher power and energy densities, but that their availability may suffer from a depressingly familiar scenario. The availability of raw materials required to manufacture lithium-ion batteries likely will become an issue in the future – not because of physical scarcity, but because of the political climate prevailing in global regions rich in lithium deposits.
While it almost is certain costs initially will be higher for lithium-ion batteries, the economies of scale should catch up and costs should go down. "What may skew this normal relationship is the possibility that some raw materials may experience artificial shortages due to political reasons," Jana says. "If this happens, then the normal lowering of costs as demand picks up may not be seen for that technology."
Still, the status quo for vehicle batteries already is changing and will continue to do so at a rapid rate. "You're not going to see changes overnight," Bisaillon says. "I think that certainly within the next 10 years, battery technology will be very different from what it is today."
Like any new technology, education and an open mind will be critical for fleets as they deal with changes related to batteries. But a willingness to adapt will give fleets access to new power sources to meet tougher applications as vehicle electronics grow more complex and new battery-dependent vehicle types arrive.