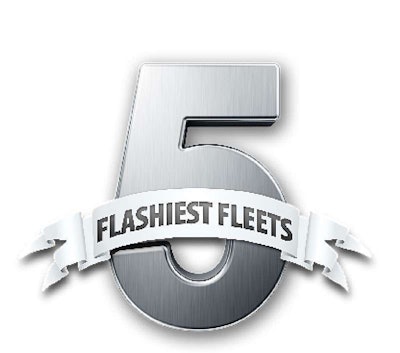 While many carriers get by with a simple corporate logo on their trailer fleets, for those willing to spend the extra money for fleet graphics, these moving billboards provide opportunities to set themselves apart from their competition by telling their brand's story. Fleet graphics also help demonstrate a commitment to a fleet's corporate image and create a positive public perception of the trucking industry.
Compared to years past, this year's crop of entrants showed an increasing trend for tractor-trailer integration – some of which made the final cut for this year's recognition. They did so with bold lines and dramatic color combinations that tie the tractor and trailer together into a single well-planned package.
Since 1978, Commercial Carrier Journal has been proud to recognize excellence in fleet graphics design and execution. The judges for this year's competition include CCJ's editorial staff as well as editors and art directors from its sister publications Truckers News and Overdrive. Each judge ranked their top 10, and scores were weighted to determine a final ranking.
Here are this year's Five Flashiest Fleets whose outstanding graphics best represent their products and services and enhance public perception of the motor carrier industry
#5 A new face
Carrier:
Big Freight Systems, Manitoba
Graphics designer:
The FaQtory, Manitoba
Graphics producer:
The Sign Source, Winnipeg
Being family-owned and -operated and having built its reputation for more than 60 years, Big Freight Systems was looking to capture its history while creating a modern look and design for its new truck fleet. The three stripes on the tractors represent Big Freight's three core competencies – logistics, freight management and supply chain solutions.
"The overall concept represents big, bold and dynamic," says Kristin Kuik, marketing and business development coordinator. The mint green is the most associated truck color used since the mid '50s, and the dark green was the original color of the fleet in 1948. "Our new trucks truly reflect the Big Freight brand while incorporating over 60 years of history. Our company drivers are chomping at the bit to be driving one of the freshly branded trucks."
#4 Promoting a warm feeling
Carrier: Quarles Petroleum, Fredericksburg, Va.
Graphics designer: Coburn Creative, Glade Spring, Va.
Graphics producer: Art & Sign FX, Fredericksburg, Va.
Looking for a way to keep its advertising message for its home propane and oil heating simple and fun, Quarles developed its "Warm & Happy" campaign designed to make people smile when they think of the company brand. "When a family is looking for a home heating supplier, brand fondness combined with Quarles' history and price translates directly into new customers," says Lee Coburn, president of Coburn Creative.
" 'Keeping Customers Warm & Happy' is exactly what the homeowner wants, and what Quarles happens to do best," says Tammy Balch, Quarles' marketing director. "Our new look and googly eyes have caused lots of positive commotion amongst our drivers. I think they are fighting over who gets to drive the new orange trucks."
#3 Over the border and on tap

Carrier:
Harbor Distributing, Anaheim, Calif.
Graphics designer: Creature, Seattle
Graphics producer:
Epic Media Group, El Segundo, Calif.
With print, mural and multimedia advertising, trailer graphics are just part of the "Pacifico on Tap" ad campaign to launch the product in southern California and Mexico. The trailer advertisement uses high-resolution graphics and visuals that show the product inside and out.
The new ad campaign required use of bold colors and thirst-inducing imagery. According to Crown Imports, which imports Pacifico beer, "These graphics effectively drive consumer awareness that Pacifico beer is now available on draft – the Pacifico 'Tide Is In' in California."
#2 Energy in advertising

Carrier:
Valero LP, San Antonio
Graphics designer:
Epic Media Group, El Segundo, Calif.
Graphics producer:
Epic Media Group, El Segundo, Calif.
The eye-catching graphics for Valero LP's U-Force Sport and Energy drinks boldly illustrate their electric power. For the products to stand out, designers used a dark background in contrast to the light-colored products.
"We were able to create the perfect image describing the electric power of U-Force Sport and Energy drinks," says Caroline Mowen, senior brand manager for Valero's retail division. "The energy and imagery of the lightning connecting the two drinks was a great visual as our distribution trucks traveled the Texas highways."
#1 On solid ground


Carrier: Wilsonart International, Temple, Texas
Graphics designer: Epic Media Group, El Segundo, Calif.
Graphics producer: Epic Media Group, El Segundo, Calif.
As a market leader in high-end kitchen countertops, Wilsonart understands the importance of brand image for its customers. The great use of dead space and striking tractor-trailer combination allow the viewer to get an up-close look at the finer points of the company's solid-surface countertop material.
"The concept was to highlight the attributes of Wilsonart HD Countertops – detailed countertops with high color depth," says Moses Kamau, creative director for Epic Media Group. "The final printed graphic had to live up to the product's name, HD – High Definition."