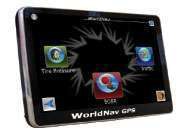 GPS with tire pressure monitoring
TeleType now offers an integrated touchscreen tire pressure monitoring system for its high-resolution commercial WorldNav Truck GPS models. The system offers flow-through valves that allow air to be pumped into the tire without the need to remove the sensor. The receiver plugs directly into the WorldNav GPS and provides real-time feedback on the temperature and pressure of each tire being monitored. The receiver can be placed as far away as 100 feet, making it possible to use the tire sensors on trailers as well as the cab. If an alert appears, the driver can touch the screen to display the location of the tire in question. Other features of the navigation software include updated maps, extended address recognition, lane assist and junction view, offering realistic images of upcoming interstate intersections with a directional arrow. Version 11 also offers an electronic onboard recording system, a database of weigh stations and truckstops, a state mileage odometer for fuel tax reporting and additional trip statistics for faster, easier recordkeeping; a traffic antenna is available as an option. The WorldNav 5200 and 7400 series offer 5- and 7-inch high-resolution screens, respectively.
TeleType
Visit www.ccjdigital.com/info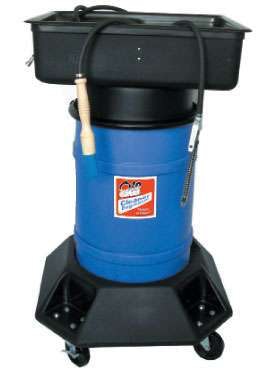 Brake washer
Oil Eater's air-powered professional brake washer is designed to clean brake parts without using electricity. It can be used on alignment lifts, ramp lifts or on the floor and also can be used as a portable parts washer. The brake washer includes a cover that also functions as a catch basin.
Oil Eater
Visit www.ccjdigital.com/info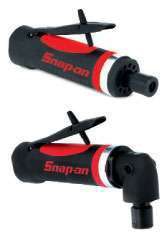 Heavy-duty grinders
Snap-on offers two grinding tools for heavy-duty jobs: the PT400 (Heavy Duty Inline Die Grinder) and the PT410 (Heavy Duty Angle Die Grinder). The 1½-pound PT400 offers 25,000 rpms of free speed, while the 2-pound PT410 offers 12,000 rpms. Both grinders are 7½ inches long and have a 1-hp thermally balanced air motor, a dual-taper collet system and an ergonomic comfort-grip handle.
Snap-on
Visit www.ccjdigital.com/info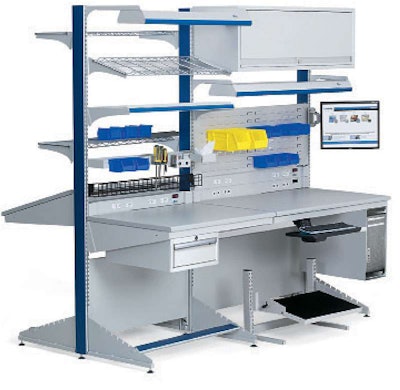 Workstation system
Lista's Arlink 8000 Modular Workstation System is designed ergonomically for added flexibility to accommodate changing or future needs. Suited for a variety of applications such as assembly, computing environments, service, repair, research and technical work, the workstations are available in five widths and in three heights up to 84 inches and can be configured in a variety of heights and lengths to meet specific needs. The "starter and adder" system, with the option of back-to-back configurations, is designed to enable multiple layout possibilities to adapt to specific space or process requirements. The system is available on casters to create mobile workstations or parts carts.
Lista International
Visit www.ccjdigital.com/info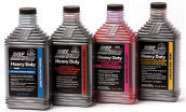 Lubricant product line
International Lubricants' LubeGard heavy-duty product line includes LubeGard Heavy-Duty Engine Protectant, Gear Protectant, Power Transfer Protectant and Heavy-Duty 2-in-1 Coolant Treatment. The products can be purchased individually or as a boxed kit. The engine, gear and power transfer protectants are engineered around the company's LXE technology that has a negative polarity attracted to the positive polarity of metals, creating a single-layer bond for added heat transfer, lubrication and anti-wear protection, all helping to improve power, fuel economy and shifting while reducing component wear. The coolant treatment is formulated to provide added temperature reduction and corrosion protection.
International Lubricants
Visit www.ccjdigital.com/info

Engine oil drain valve
Fumoto's N-Series Engine Oil Drain Valve is designed to replace standard oil drain plugs to help simplify oil changing. The forged-brass ball valve allows the operator to drain oil by turning the lever, and then turning it back to the locking position to prevent accidental opening. A small amount of oil also can be drawn for oil analysis sampling. For engines with limited clearance, the valve comes with a hose connector that allows the operator to drain oil away from the unit.
Fumoto Engineering
Visit www.ccjdigital.com/info
CSA repair kit
Phillips compiled its CSA Qwik-Fix Kit to help reduce Compliance Safety Accountability violations by packaging repair parts used regularly in a handy carrying bag. The kit includes 12 parts to fix most electrical problems quickly at roadside, and because it has additional room for more parts, it can be customized for different applications.
Phillips
Visit www.ccjdigital.com/info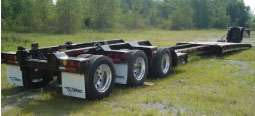 Multipurpose telescopic trailer
Talbert's multipurpose 55-Ton Hydraulic Detach Telescopic Trailer extends from 30 to 50 feet and is adaptable to a variety of self-supporting loads such as steel tanks and large generators. Its spread-axle capabilities allow a 2+2 or a 3+1 configuration, and its tandem axle features connections for a third axle that can be flipped or removed; the unit also is equipped with connections for a fourth axle and a pinned, hinged gooseneck extension that can be flipped. The trailer has a 20-inch loaded deck height, an air-ride suspension, aluminum outer wheels, strobe lights at the rear of each axle and a battery backup that powers lighting when the trailer is disconnected from the truck cab.
Talbert Manufacturing
Visit www.ccjdigital.com/info
Hydraulic fluid
Terresolve's EnviroLogic 115 is an ISO 15 grade hydraulic fluid and is a direct replacement for synthetic-based arctic hydraulic fluids. EnviroLogic 115 is designed to withstand an extremely broad range of temperatures from -60 to 200 degrees Fahrenheit. The nonconductive fluid is designed for use in equipment that may be operating near high voltage, which helps provide safety to the machinery and workers. The fluid also is formulated to offer high anti-wear performance, water separation and protection against corrosion and rust, as well as low foaming and air release characteristics. EnviroLogic 115 is readily biodegradable, which means if it is spilled or leaked during use, it will break down within 28 days into carbon dioxide and water.
Terresolve Technologies
Visit www.ccjdigital.com/info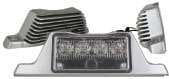 LED perimeter lamp
Truck-Lite's LED Perimeter Lamp uses white-light LED technology to provide added visibility to a trailer's exterior side- or rear-door liftgate areas, illuminating loading and unloading areas and increasing operator safety. The lamp, which extends 2½ inches from the vehicle's surface, uses four diodes and offers 365 lumens of light output to direct about 20 square feet of illumination to areas that may not receive direct lighting.
Truck-Lite
Visit www.ccjdigital.com/info
LED flashlights
Snap-on's high-output flashlights are designed for work in dark areas such as service bays or under the hood. The flashlights feature high-output LED lighting as well as an anti-roll design and rubberized non-slip grip.
Snap-on
Visit www.ccjdigital.com/info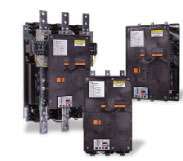 Soft start controller
Eaton is expanding its soft start controller solutions for construction and OEM customers. Gradually accelerating and decelerating the load, the S611 soft starter minimizes shock to mechanical components while lowering energy requirements. Featuring an integrated bypass, the S611 helps reduce installation time and cost while limiting heating losses; the design also eliminates the need for an external contactor. The soft starter is designed to protect against overload, undervoltage, overcurrent, phase loss, jamming and stalling. An open chassis design helps simplify service, while the modular design helps minimize downtime and improve service life. With both open and enclosed configurations, the S611 is available in six frame sizes for current ranges from 26 to 414 amperes; it can take 230V to 600V from 40 to 350 hp.
Eaton Corp.
Visit www.ccjdigital.com/info

Heavy-duty caster
Hamilton Caster's Ultra Maxi-Duty series, with a load rating of up to 40,000 pounds per caster, has a 14-by-14-inch 1-inch-thick mounting plate and a main load-bearing assembly with two precision-thrust bearings for smoother swiveling. Three robust wheel types are offered in both single-wheel and dual-wheel versions: Poly Press-On, forged steel or Nylast (high-capacity cast nylon).
Hamilton Caster
Visit www.ccjdigital.com/info
Barcode reader
Datalogic's Gryphon GM4400 2D barcode reader is an area imager designed to provide true omnidirectional reading of both 1D and 2D barcodes regardless of label orientation. The lightweight, ergonomic device features the company's Motionix motion-sensing technology. The GM4400's imager has a visible four-dot aimer, Datalogic's proprietary "Green Spot" technology for good read feedback and full image-capture capability that aids in identifying poor codes, damaged packaging or missing items. The rugged device also features 5¾-foot drop resistance, a lithium-ion 2100 mAh battery offering 60,000 scans per charge, downloadable configuration software and Datalogic's Star Cordless System radio with secure narrow-band real-time two-way communications.
Datalogic Scanning
Visit www.ccjdigital.com/info

Side-turn lamps
Grote's family of six side turn lamps comes in a variety of mounting designs and connector options suitable for multiple applications, including aerodynamic skirts, restricted space between frame rails and locations where a separate mounting flange is not practical. The lamps come in three styles, each with a choice of a male pin or hard shell connectors. The grommet-mount version is suited for direct replacement of existing grommet-mount installations, while the integrated low-profile flange-mount version is designed for easy installation and comes with a matching mounting pad. The compact surface-mount version has the smallest footprint, lowest profile and lightest weight.
Grote Industries
Visit www.ccjdigital.com/info
Diesel winter treatment
Gold Eagle's Heet Diesel Winter Treatment is formulated to protect diesel engines during cold weather by preventing fuel gelling while cleaning and protecting the fuel system. The solution, enhanced with cetane booster to facilitate faster starts and improved fuel economy, treats up to 35 gallons of fuel.
Gold Eagle Co.
Visit www.ccjdigital.com/info
Low-voltage switchgear
The Power Xpert CX is Eaton's factory-build IEC withdrawable low-voltage switchgear up to 4000 A. The system provides motor control and power distribution functionality and is a compact, flexible low-voltage solution for applications where the supply of energy is vital for business processes. In line with form 3b and 4b, the withdrawable units can be exchanged without having to disconnect power or control cabling.
Eaton Corp.
Visit www.ccjdigital.com/info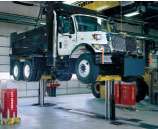 Updated inground lift
Rotary Lift has added two saddle adapters and updated the control console for its MOD30 environmentally friendly inground lift. The two adapters are designed to provide greater vehicle clearance and flexibility for lifting a wider range of heavy-duty vehicles. The MOD30 raises trucks using two or three hydraulic posts. Rotary Lift has developed a lower-profile version of its universal saddle adapter for the front post that offers the same reach as the standard saddle while providing greater clearance between the lift and the truck, making it easier to pick up vehicles with low ground clearance such as snowplows; the adapter can be retracted fully into the ground for zero obstructions when the lift is not in use. For the lift's rear post, fleets can choose between the standard universal saddle adapter or a six-pack adapter featuring six receptacles that can hold multiple inserts that not only swivel 360 degrees but also slide left and right for added lift range. The console's graphical display has been improved to make it easier to match the screen image to the lift layout. The console's access panels also have been redesigned so the units can be installed flush against a wall if desired.
Rotary Lift
Visit www.ccjdigital.com/info
Personnel strip door
TMI's Personnel Strip Door is designed for doors up to 40 inches wide to help control temperatures within a workspace and is suited for warehouse offices and other common areas with consistent traffic. The economy-grade strip door is designed to be easy to clean while controlling the penetration of dirt and grease due to its low-profile hardware design, which uses 8-inch-wide PVC strips that attach to a system engineered for quick installation.
TMI
Visit www.ccjdigital.com/info
Impact tool
Ingersoll Rand's W7150 ½-inch high-torque cordless Impactool weighs 6.8 pounds and measures 9.4 inches from tip to tail, and offers 780 ft.-lb. of reverse torque and 1,100 ft.-lb. of torque. The W7150 also features a high-power magnet motor, a steel-lined aluminum hammer case and a chemical-resistant metal-reinforced housing for added durability. The tool also has a robust all-metal drivetrain and hammer mechanism optimized for added power and efficiency, and a variable-speed switch with an electronic brake for more control. The IQV20 series features a high-powered lithium-ion battery power plant designed to deliver high-charge capacity and low internal impedance for added power delivery. The platform also features a mountable smart-charging station with an auxiliary USB port and an intelligent battery management system designed to provide power-level and flow-rate control from the battery to the switch to the motor.
Ingersoll Rand
Visit www.ccjdigital.com/info

Reprogramming device
DG Technologies' DPA 5 Quad-CAN is designed to provide fast access to up to four CAN networks for OEM and component diagnostic and reprogramming applications. The device is engineered to provide simultaneous reflashing of four electronic control units/modules, allowing for reduced reprogramming sessions.
DG Technologies
Visit www.ccjdigital.com/info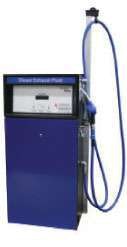 DEF dispenser for warmer climates
Gasboy's Warm Weather Atlas DEF dispenser shares the same components as the company's standard Atlas DEF model but does not include a heated cabinet required for locations that can see temperatures approach the diesel exhaust fluid freeze point of 12 degrees Fahrenheit. Fleet operators can integrate DEF control and management seamlessly into their existing cardlock, reporting and management infrastructure. The dispensers are designed to minimize space on existing islands or skid tanks and have the same rugged construction as all Gasboy Atlas models. The mass flow meter and hydraulics are stainless steel to help protect against DEF's corrosive characteristics; special hanging hardware also is designed for DEF.
Gasboy
Visit www.ccjdigital.com/info