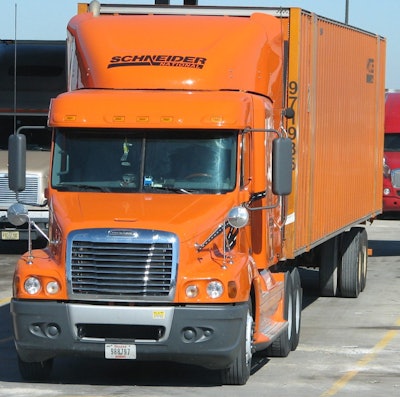 Meritor Wabco on Thursday, Jan. 12, announced that Schneider National has selected the OnGuard Collision Safety System as standard equipment for all new Class 8 commercial vehicles within its fleet. OnGuard is an "always on" collision mitigation system designed to provide vehicles with an active braking system regardless if the cruise control is engaged. The order involves more than 2,500 OnGuard systems, Meritor Wabco says.
Meritor Wabco's SmartTrac Stability Control System also is standard equipment on Schneider-owned vehicles. "Schneider continues to take a progressive position related to safety," says Mark Melletat, director of field operations, Meritor Wabco. "It was one of the first major fleets to adopt Meritor Wabco's SmartTrac Stability Control System as standard in its operation back in 2004. OnGuard further confirms Meritor Wabco's commitment to safety systems as an industry leader, providing drivers with an additional safety measure in thousands of units operated by fleets across the country."
OnGuard, which is designed to assist drivers in recognizing and responding to potentially dangerous driving scenarios that could lead to a rear-end collision, is available on vehicles from three of the four major truck manufacturers in North America. The system includes Collision Warning, Adaptive Cruise Control with Active Braking and a Collision Mitigation System.
OnGuard features a forward-looking radar sensor designed to monitor the distance, speed and deceleration of a vehicle ahead and, if necessary, alert the driver to take appropriate action through an in-cab display. If the driver doesn't immediately decelerate the vehicle in response to a potentially serious rear end situation, the Collision Mitigation System integrated within OnGuard is designed to dethrottles the engine automatically and provide up to a 50 percent full-service brake application to help the driver avoid or reduce the severity of a rear-end collision.
"We operate first and foremost with the safety of our drivers and the motoring public in mind," says Don Osterberg, senior vice president of safety and security at Green Bay, Wis.-based Schneider National. "Investing in new equipment, technology and training to make the industry and our highways safer overall is simply the right thing to do. While there's no substitute for well-trained and disciplined drivers, we're optimistic that the OnGuard technology will reduce rear-end crashes or mitigate crash severity by decreasing collision speed."