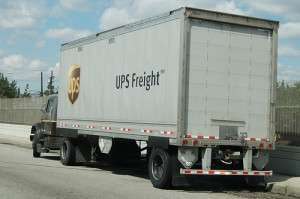 United Parcel Service on Tuesday, Jan. 31, posted lower fourth-quarter net income of $725 million compared with $1.02 billion last year. However, on an adjusted basis, non-GAAP net income grew to $1.25 billion from $1.07 billion, including a change in pension accounting. Total revenue increased 5.6 percent to $14.17 billion from $13.42 billion.
For the full year, excluding charges on a reported basis, net income increased to $3.8 billion from $3.34 billion a year earlier. Revenue climbed 7.2 percent to $53.1 billion.
"UPS delivered record fourth-quarter results in volume, revenue and profitability," said Scott Davis, UPS chairman and chief executive officer. "In short, the quarter was a testament to the power of UPS's global model and the company's ability to operate efficiently in evolving markets."
For the company's Supply Chain and Freight segment, compared to the prior-year period, adjusted operating profit for the fourth quarter grew 11 percent to $199 million on revenue growth of 2.1 percent. On a reported basis, operating profit declined to $22 million and operating margin was 0.9 percent primarily as a result of the mark-to-market adjustment for pension plans.
UPS Freight led the segment with revenue growth of 9.0 percent on slightly lower daily shipments. Strong gains in less-than-truckload revenue per hundredweight, up 8.9 percent, and productivity improvements contributed to operating margin expansion during the quarter. Distribution experienced margin expansion and increased operating profitability as the business unit continued executing on its global strategy; during the quarter, UPS acquired Pieffe Group, an Italian pharmaceutical logistics company.
"UPS achieved record earnings per share in a volatile global operating environment where trends varied by region," said Kurt Kuehn, chief financial officer. "This was made possible by our balanced world-wide presence, broad portfolio of solutions and the best people in the business. Looking to 2012, our expectations are for mixed economic growth around the world, with modest improvement in the U.S. However, UPS projects another strong year of earnings."