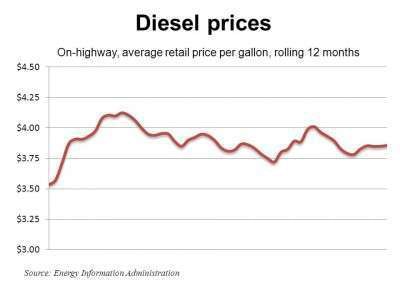 The U.S. average diesel price increased six-tenths of a cent to $3.856 a gallon for the week ended Monday, Feb. 6, according to the U.S. Department of Energy's Energy Information Administration. The latest price is 34.3 cents higher than the same week last year.
All but three regions — the Lower Atlantic, Gulf Coast and West Coast excluding California — were higher than the previous week. The largest increase was 1.7 cents a gallon the Midwest, followed by 1.3 cents in New England. The decreases were small with the Lower Atlantic and West Coast tied for the largest drop at two-tenths of a cent. The highest average price remained California at $4.128. The Midwest had the lowest average price at $3.751, but the Gulf Coast was close behind at $3.775.
Complete diesel price information is available on EIA's Website.