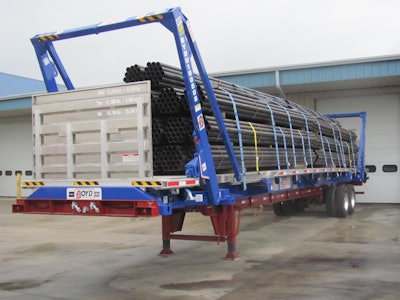 Boyd Intermodal, in conjunction with its partner Raildecks Intermodal, on Tuesday, Feb. 28, announced the launch of its Boyd/Raildecks flatbed intermodal product designed to allow industrial freight such as steel and aluminum coils to be transported by railroad.
Class 1 railroads can enable the flatbed industry to create capacity "when the only way previously was to add a trailer and a driver," said Chris Cooper, chief operating officer of Boyd Bros. Transportation, at a press event held in Birmingham, Ala. "This has never been done before now."
Because railroads traditionally have not accepted flatbed trailer loads on the rail system, some of the heaviest bulk loads of steel and other metals have been required to travel over the highways. Clayton, Ala.-based Boyd Bros. and Raildecks sought to develop a system whereby flatbed shippers could use the U.S. railway network for long-distance shipments.
The companies worked with BNSF and Fontaine Trailer over time to develop the double-stack intermodal flatbed. Raildeck was looking for a customer for its product at about the same time that Boyd Bros. was seeking an intermodal solution, and BNSF put the two companies together, said Rick Jocson, Raildecks chief executive officer.
After many prototypes were tested and 240 loads were shipped successfully, the new product now is ready for wider use, the companies say. Jocson said that while some European companies already are using a similar system, this is the first time a U.S. company has introduced the product.
Raildecks' intermodal flat trailer can be transported over short distances via highway on a chassis. Once inside an intermodal yard, it can be lifted onto intermodal trains for longhaul transport to its destination, where it is drayed to its final consignee.
Taking higher-risk cargos off interstates and putting them onto rail also lessens the hauler's liability exposure to possible accidents, the companies say. And by facilitating shorter local runs to railyards instead of making longhaul trips for delivery, the service is driver-friendly.
By placing the units into service, the companies say they are contributing to less traffic and stress on the interstate infrastructure, a much smaller carbon footprint and less fatigue on its drivers. The companies say other available options for the product include flatbed loads on barge or container ship.
Under the agreement, Boyd Bros. has first call at any new technology developed by Raildecks. Boyd Bros. initially is looking to have 60 raildecks up and running within the next four months, and Raildecks hopes to have as many as 500 produced by the end of this year. "We're looking at this to take off a couple of years from now," said Richard Bailey, Boyd Bros. president.
The intermodal flatbeds – which are being built by Fontaine Trailer of Jasper, Ala. – presently have a 44,200-pound capacity, with plans to reach 46,000 pounds as new lighter technologies comes to market, said Steve Colley, Boyd Bros. vice president of sales. Most of the current units will be hauled by lighter daycabs, Colley said.