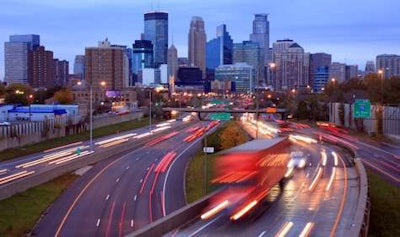 The National Automobile Dealers Association and American Truck Dealers on Thursday, March 8, released a report that calls into question the U.S. Environmental Protection Agency's cost analysis of emissions control requirements for model year 2004-2010 commercial trucks. The mandates resulted in substantially higher prices for commercial vehicles, depressed sales and delayed the environmental benefits that EPA originally sought, the groups argue.
"Until now, few studies have ever compared the EPA's cost predictions to the actual cost of meeting its motor vehicle emission mandates," the groups said via a joint statement. "The study, which looks back at the 2004-2010 medium- and heavy-duty truck emissions mandates, reveals that the EPA underestimated actual compliance costs on average by a factor of two to five. It shows what can happen when a regulatory proposal – based on far- in-advance predictions – seeks to set mandates far in the future. Importantly, the study documents the real-world market disruptions that can occur as a result."
In 1997, 2000 and 2001, EPA published rules establishing a series of new emissions mandates for heavy-duty trucks to be phased-in between model years 2004 and 2010. NADA and ATD say the adoption of these new "technology-forcing" control strategies and technologies directly resulted in higher prices for new heavy-duty trucks; these mandates also resulted in significantly higher operating costs, attributable largely to increased maintenance requirements, reduced reliability and lower fuel economy.
The groups say these higher prices and operating costs together led to significant disruptions in the new truck marketplace, including significant layoffs caused by unprecedented truck prebuys and sales "cliffs," capital constraints for truck and engine manufacturers, suppliers and dealers; and the departure of certain businesses from the heavy-duty truck market.
According to Doug Greenhaus, NADA/ATD chief regulatory counsel for environment, health and safety issues, "Some Western Star invoices listed an engine emissions escalator of almost $4,200. Some of the Volvo invoices listed a 2007 EPA 2007 surcharge of $7.500." In addition, according to the report, a dealer bulletin issued by Peterbilt indicated that "effective if the January 1, 2010 price level, a surcharge will be added to the invoice of chassis built with a 2010 EPA complaint after-treatment." The surcharge was for as much as $9,250.
The report argues the degree to which, and possible reasons why, EPA's estimated regulatory impact dramatically underestimated real-world costs of the regulation. According to the report, an analysis of actual sales data, including cost escalators associated with the MY 2004-10 standards, shows that EPA underestimated compliance costs by a factor of 2 to 5; these higher-than-projected costs resulted in, among other things, significantly lower-than-projected new truck sales, which necessarily reduced the environmental benefits associated with these standards. The groups say the paper does not attempt to quantify the degree to which EPA's projected environmental benefits were not realized, but that it remains an important issue.
NADA and ATD say the lessons learned from their report apply directly to the proposed MY 2017-2025 fuel economy regulations for light-duty vehicles. "That rulemaking, combined with previous Obama administration fuel economy mandates, will raise the average price of a vehicle by $3,000, according to EPA and National Highway Traffic Safety Administration estimates," the groups say. "When faced with unreasonable federal regulatory mandates that increase motor vehicle costs, buyers of light-duty vehicles – similar to what commercial truck buyers experienced – will seek out less expensive alternatives in the marketplace."