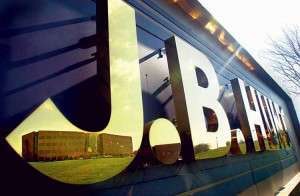 J.B. Hunt Transport Services Inc. on Thursday, April 12, announced record first-quarter 2012 net earnings of $67.7 million compared to first-quarter 2011 net earnings of $50.0 million. Record first-quarter total operating revenue was $1.17 billion compared with $1.0 billion, with all four of the Lowell, Ark.-based company's segments contributing.
Load growth of 16 percent in Intermodal and 14 percent in Integrated Capacity Solutions helped drive a 20 percent and 30 percent increase in segment revenue, respectively. Dedicated Contract Services and Truck segments increased operating revenue by 7 percent and 8 percent, respectively. Total operating revenue, excluding fuel surcharges, increased 13 percent.
Operating income totaled $117 million vs. $90 million. DCS and ICS operating incomes increased by about $11 million combined or more than 50 percent primarily due to increased revenue, utilizing assets in more profitable accounts, better overall cost controls and productivity gained from a more experienced work force. JBI operating income increased by about $17 million on higher load volume, customer price increases and fuel surcharge recovery.
"Changes in packaging, fuel costs, inventory levels, replenishment and end consumer point of purchase behaviors, among others, have had an effect on how our customers manage logistics," said John Roberts, JBHT president and chief executive officer. "We continue to operate under our long-stated strategy of directing investments towards solutions that customers need and are willing to pay for with reasonable rates and structured contract terms. The results of the first quarter provide ongoing confirmation for this disciplined and balanced strategy."