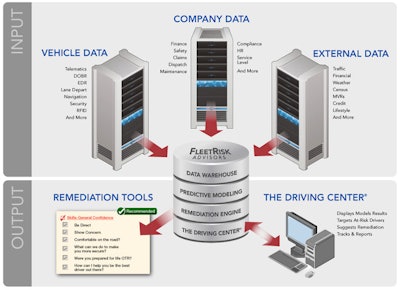 Vikas Jain, vice president and general manager for FleetRisk Advisors, a business unit of Qualcomm Enterprise Services, paid a visit to Commercial Carrier Journal's editorial staff to discuss the company's advancements in predictive analytics to improve accident mitigation. FleetRisk Advisors aggregates more than 9,000 data points to determine the likelihood of specific drivers to have an accident before it occurs, allowing driver managers and dispatchers an opportunity to counsel and coach the driver beforehand.
"Drivers aren't safe or unsafe — they are safe and unsafe," says Jain. "There are times when they can become unsafe for a number of reasons. What we need to think about as an industry is why that happens. When we understand why, we can anticipate when a driver is going into a phase that will make him an unsafe driver and then take action before something happens."
While driver scorecarding and dashboard analytics show past and real-time driver performance, Jain says predictive analytics identifies root causes of driver stress and anticipates the likelihood of a preventable accident occurring, a worker's compensation claim or an driver leaving employment in the next 28 days.
"In-cab alerts are the last line of defense against an accident occurring," says Jain, noting that safety personnel at larger fleets should think more broadly in terms if accident mitigation. "We would like to change the paradigm where you would anticipate the risk — by taking advanced action, you can actually prevent these events from even happening in many cases."
The company currently offers predictive analytics for the following categories:
Driver fatigue
Fleet safety
Driver's worker's compensation
Driver recruiting
Driver retention
Currently, FleetRisk Advisors' predictive analytics technology is suited to larger fleets (600-plus drivers) that can generate enough data to create accurate assumptions. However, Jain says the company is working on a solution for medium-size fleets starting at about 200 drivers. He expects the product to be ready by yearend.