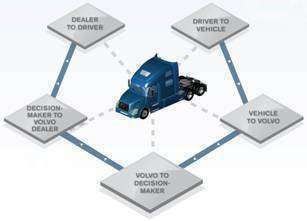 Volvo Trucks on Friday, May 18, announced plans to launch its own 13-liter liquefied natural gas engine for North America in 2014. The company also launched its Remote Diagnostics aftermarket service for North America to provide a seamless, dynamically connected system of vehicle management tools to help maximize vehicle uptime.
Volvo said the LNG engine's advanced high-pressure diesel ignition technology will provide significant fuel efficiency gains compared with current natural gas products. Combined with the company's previously announced offering of compressed natural gas-powered Volvo VNM and VNL model daycabs, the new engine will provide customers with a wider range of natural gas-powered transportation solutions.
"Despite the near-term infrastructure questions regarding widespread adoption of natural gas as a heavy-duty truck fuel, it's clear this segment will grow over the next several years," said Ron Huibers, president of Volvo Trucks North American sales and marketing. "We're already delivering factory-built CNG-powered trucks, and as the long-haul fueling infrastructure develops, the advanced technology in our new LNG engine will provide increased range and improved fuel efficiency in a seamlessly integrated Volvo powertrain."
Volvo said the LNG engine will deliver a 30 percent fuel efficiency improvement compared with spark-ignition (SI) engines, making it a viable alternative for demanding long-haul applications, and also will reduce greenhouse gas emissions by about 20 percent compared with current diesel products.
Volvo also is testing another fuel that can be produced from natural gas, DME (dimethyl ether), for the North American market. The Volvo Group has conducted hundreds of thousands of miles of customer field testing of trucks equipped with DME, which can be produced from natural gas.
Volvo said the results – from 10 vehicles operating in a variety of applications in Europe – indicate DME holds promise as a heavy-truck fuel and could become a viable alternative in North America to CNG or LNG when it comes to performance, environmental impact, safety and distribution.
Remote Diagnostics will be standard on all Volvo-powered VN model highway trucks. "Remote Diagnostics maximizes vehicle uptime by reaching far beyond proactive diagnostics to deliver total connectivity among the vehicle, Volvo and the decision-makers responsible for maintenance," said Stephen Roy, Volvo Trucks senior vice president, aftermarket and soft products. "As part of our integrated business solution, Volvo Trucks Support Services, and bundled under Connected Vehicle services, Remote Diagnostics leverages Volvo's support network and service management tools to rapidly address service issues before they occur."
Volvo said it field-tested Remote Diagnostics for nearly a year with motor carriers in the United States and Canada, drawing on the feedback from 15 customers operating more than 1,300 Volvo VNs with the service designed to provide proactive diagnostic and repair planning assistance with detailed analysis of critical diagnostic trouble codes. The remote communication platform facilitates live dealer and customer communication through Volvo Action Service, Volvo's 24/7 support team.
Proactive diagnostics streamline service procedures with confirmation of parts on hand before a truck arrives at a service location, increasing uptime. Remote Diagnostics also provides service case communication and documentation among Volvo Action Service, dealers and customers through ASIST, Volvo's Web-based service management tool, which comes free of charge for two years with the purchase of all new Volvo trucks.