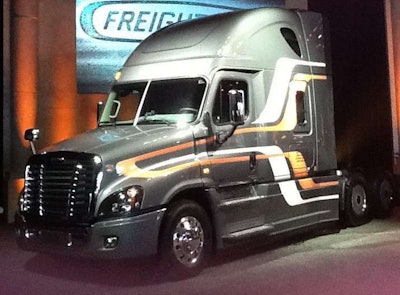 The next step in Daimler Trucks North America's continuing quest for more fuel-efficient trucks appeared at a press conference on Wednesday, May 30, on the eve of Freightliner's annual dealer meeting in Washington, D.C. The 2014 Cascadia Evolution is designed to be what its model name implies: a sophisticated and well-designed step forward in terms of fuel efficiency and powertrain optimization, building upon the company's successful Cascadia highway tractor.
"Our customers are looking for some very specific things from truck manufacturers based on the daily challenges they face," said Mark Lampert, senior vice president of sales and marketing for Freightliner. "Rising fuel prices, driver shortages and slim profit margins all play a part in their buying decisions. Trucking is a penny business – we know that even the smallest improvements to a truck's overall efficiency directly benefit our customers' bottom lines." Lampert said the 2014 Cascadia Evolution delivers a 7 percent fuel economy improvement over the current base Cascadia model and a 5 percent fuel economy improvement compared to the current Cascadia with an optimal aerodynamics package.
David Hames, DTNA general manager of marketing and strategy, said several key advancements have made these fuel economy increases possible for the Cascadia Evolution – which will be the standard Cascadia spec beginning in 2014 – including upgrades to DTNA's Detroit DD15 diesel engine that include a new ACRS fuel rail system, a new water pump design to reduce parasitic engine drag and an asymmetric compounding turbocharger. These enhancements are combined with an enhanced exterior aerodynamic package to achieve fuel economy gains that Hames said have been validated in wind tunnel, closed-track and real-world test conditions.
The Cascadia Evolution also will include a premium-fuel-efficiency specification model that includes extras such as an integrated automated manual transmission, wide-base single tires, wheel covers and trailer aerodynamics. This model, Hames said, achieved a fuel economy average of 10.67 miles per gallon while pulling a 76,000-pound trailer during a Type IV test run on Continental Tire's test track in Texas. "We had heavy rain during the early part of the run, and that affected our performance somewhat," he said. "I feel like if we'd had fair weather the entire run, the Evolution would have easily achieved 11 miles per gallon during the test."
Further validation testing was done during the truck's Evolution Efficiency Tour, which compared a current Cascadia's performance with an Evolution tractor in a coast-to-coast run from San Diego to Gastonia, N.C. Hames said that by trip's end, the Evolution tractor – set to enter production in the first quarter of 2013 – had averaged a 7 percent increase in fuel economy running in a variety of real-world driving conditions.