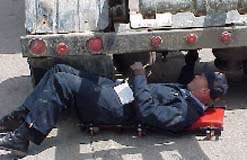 The Commercial Vehicle Safety Alliance and its members across the United States, Canada and Mexico on Tuesday-Thursday, June 5-7, enforced compliance with commercial vehicle safety regulations and removed high-risk carriers from the roads. This year, Roadcheck placed specific attention on two areas: enforcing compliance with hours-of-service regulations and educating drivers and fleets about preventing driver fatigue; and, checking brake system operations and brake adjustment.
"Consistently, every year we are seeing hours-of-service logbook violations leading by an overwhelming percentage of all driver violations cited – a total of 52.5 percent of all driver out-of-service violations," said David Palmer, CVSA president. "Hours-of-service rules are designed to reduce driver fatigue, which can be a contributing factor in many large truck and bus crashes. Enforcement of hours-of-service limits is essential to ensuring compliance and combating driver fatigue."
To do this, law enforcement during Roadcheck emphasized checking driver logbooks and underscoring to drivers the importance of maintaining their logbooks, taking breaks, preventing fatigue and driving without distractions. CVSA members also conducted Level I inspections and recorded results for later comparison with past years' results.
"For 25 years, the Federal Motor Carrier Safety Administration has joined forces with CVSA to support the world's largest targeted inspection and enforcement effort aimed at commercial vehicles and their drivers," said FMCSA Administrator Anne Ferro. "Trucking is a difficult job, and a big rig can be deadly when a driver is tired and overworked. We want to prevent fatigue-related crashes and save lives by enforcing the hours-of-service requirements."
Several jurisdictions also used Roadcheck as an opportunity to address a trend of poor vehicle maintenance and noncompliance with driver hours of service in oilfield and natural gas hydraulic fracturing operations, which have increased in number because of higher oil and gas prices and customer demand. These operations require significant commercial vehicle support, often in areas unaccustomed to heavy truck traffic. CVSA said many of these vehicles have been found to be poorly maintained, and drivers are oftentimes in violation of the legal hours-of-service limits.
Results from Roadcheck 2012 will be announced Aug. 7 at CVSA's North American Inspectors Championship in Minneapolis.