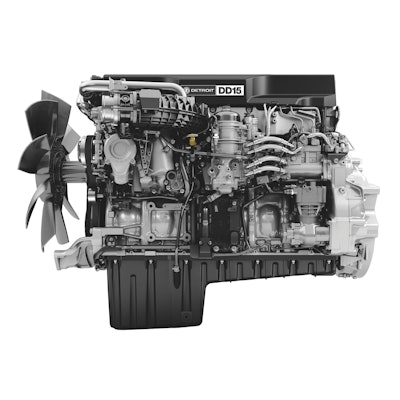 Detroit Diesel announced a number of changes to its family of diesel engines to meet the Greenhouse Gas 2014 (GHG14) regulations passed last August by the U.S. Environmental Protection Agency and the National Highway Traffic Safety Administration. Earlier this year, Daimler Trucks North America announced EPA certification of its complete portfolio of model-year 2013 on-highway, vocational and medium-duty vehicles as fully compliant with the regulation.
"We will certify early to GHG14 on Jan. 1, 2013, with the engines," says Mark Groeneweg, director of truck engine product engineering for Daimler Trucks.
In Detroit's engine lineup, the DD15 will receive the most technology enhancements, including a proprietary asymmetric turbocharger with a new amplified common rail system, a variable-speed water pump and and optimized oil pump. "We've upped the pressure capability in the system to 2,500 bar injection pressure, and with this system, we can change the rate at which fuel is delivered to keep formation of NOx low but get the fuel in fast," says Groeneweg.
In addition, Detroit announced a new oil control ring in its piston design to reduce oil consumption, and a new fuel filter system that will extend changes to miles to 100,000 miles.
In its aftertreatment system, Detroit is moving away from the air-assisted diesel exhaust fluid dosing system to a liquid-only system that eliminates the use of compressed air from the engine.
"With the modifications we've made to the DD15, we are not only meeting compliance standards, but we're providing our customers with a reliable solution that can provide significant fuel economy gains," says Brad Williamson, manager, engine and component marketing for Daimler Trucks North America.