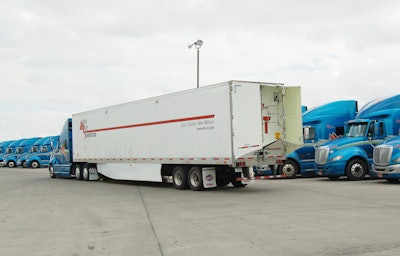 ATDynamics, a supplier of tractor-trailer rear-drag aerodynamics technologies, and Mesilla Valley Transportation jointly announced that MVT has completed the retrofit of its entire fleet of 4,000 tractor-trailers with TrailerTail aerodynamic technology manufactured by ATDynamics.
MVT has operated the TrailerTails in its fleet of 4,000 trailers for more than one year. Retrofitting took place at the rate of 12 trailers per day at its maintenance facility in El Paso, Texas. MVT estimates that the fleetwide deployment of TrailerTails will save in excess of one million gallons of diesel fuel annually, resulting in a payback period of less than 14 months on the capital investment.
TrailerTail is a lightweight thermoplastic composite fairing installed at the back of a tractor-trailer to streamline airflow behind the trailer, reducing aerodynamic drag and reducing fuel consumption by 6.6 percent at 65 mph, ATDynamics says.
"We were an early adopter of this technology when, nearly two years ago, many of our industry peers raised an eyebrow at our decision to retrofit our entire fleet with TrailerTails, but today virtually every sizable fleet on the road is evaluating or beginning to adopt ATDynamics' technology," says Royal Jones, chief executive officer of Mesilla Valley Transportation. "ATDynamics' TrailerTails have been an integral part of our strategy to operate 25 percent more efficiently than the industry average in order to benefit our bottom line, our drivers' compensation, the national economy and consumers' wallets."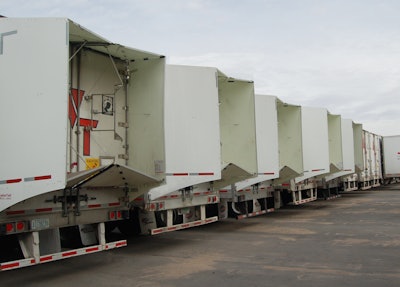 TrailerTails are compliant with the U.S. Department of Transportation's length restrictions for tractor-trailers, which allow up to a five-foot non-cargo bearing extension for aerodynamic fairings. In addition to fuel savings, TrailerTails improve highway safety for both truck drivers and the public, ATDynamics says; TrailerTails are designed to improve trailer stability in high winds, improve visibility for drivers through reduced trailer spray in wet conditions and reduce injuries and vehicle damages from rear-end collisions with tractor-trailers.
A TrailerTail requires less than 45 minutes to install and in one year will offset the annual average fuel consumption of a typical passenger vehicle, the company says.