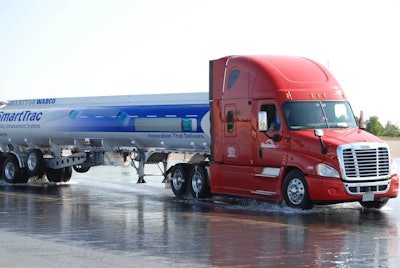 Meritor WABCO, a provider of integrated safety systems and efficiency components for the North American commercial vehicle industry, on Wednesday, Aug. 15, introduced ESCsmart technology designed to help advance the performance, functionality and flexibility of its Electronic Stability Control safety system.
Meritor WABCO also:
• Introduced the next generation of its OnGuard collision safety system, featuring advancements in its radar-based technology;
• Announced that its Electronically Controlled Air Suspension will be available in September to the North American market; and
• Announced that its next-generation Lane Departure Warning system, including the SafeTraK technology by Takata Corp., will be available for fleet installation starting in October this year.
ESCsmart, to be included in Meritor WABCO's next-generation ESC when it is released in 2014, builds upon the current "self-learning" capability whereby the system is designed to automatically adapt to changes in vehicle characteristics and wear without the need to reprogram a separate electronic control unit.
"We continually look at ways to improve base technology so that we can offer the industry more value," said Jon Morrison, president and general manager, Meritor WABCO. "ESCsmart is a significant step in the evolution of electronic stability control. The technology advancements with self-learning will not only help save manufacturers time and cost in the validation and application process, but fleets can reduce downtime due to the need for reprogramming the ECU every time they have a truck and/or trailer configuration change."
ESCsmart's continuous learning functionality is designed to consistently monitor vehicle characteristics and make adjustments to the performance of the ESC, which allows for:
• Reduction of the validation process for manufacturers. The system is designed to be programmed on the line and be driven away immediately, thereby eliminating the need for a calibrating driving procedure. This also saves manufacturers cost on tools and labor for physical validations;
• More flexible adaptation to multiple vehicle types, including vehicles with more than three axles, vehicles with steerable axle lifts and straight trucks that tow trailers;
• Elimination of a fixed driving calibration procedure each time an ECU is replaced in the field. The system is designed to adapt automatically to the specific vehicle parameters during the normal driving process; and
• Constant tuning of the system as parts wear and vehicle characteristics change over time. ESCsmart is designed to adapt automatically to the changes in the steering ratio to maintain integrity of the ESC system.
The improved OnGuard collision safety system, which integrates collision warning, adaptive cruise with active braking and collision mitigation, will be available on every vehicle ordered with OnGuard after Oct. 1.
"Our next generation of OnGuard is a step change in the functionality of collision safety systems, and we believe it represents a significant technological leap forward in reducing crashes involving commercial vehicles," Morrison said. "With more than 3 billion miles logged on more than 25,000 OnGuard units in the market, our depth of experience in this technology takes us to the next level to further reduce the risk of rear-end crashes on our roads and highways."
The new OnGuard system, which features improved object tracking performance and immediately available stationary object warning capability, is designed to integrate stationary object braking capability in the near future. Improvements include:
• Advanced radar resolution and tracking designed to minimize false warnings from small, inanimate objects;
• Evasive maneuver check, giving the system visibility into adjacent lanes. If the system recognizes the potential for a rear-end collision and detects an object in an adjacent lane, it is designed to detect that the vehicle cannot perform an evasive maneuver and apply the brakes sooner. The earlier the system brakes, the higher the likelihood of avoiding a crash;
• Auto alignment, which makes the radar more resistant to misalignment to ensure robust operation. This feature is designed to eliminate the need to perform small, manual adjustments during installation and over time due to normal operating conditions; and
• Improved driver display with a larger higher-resolution screen shaped for easier orientation on the vehicle dashboard.
More than 3 million WABCO ECAS systems have been sold worldwide, and Meritor WABCO said it is adapting the product to meet the growing interest in North America for the tractor, motor coach and bus markets.
ECAS is designed to improve a vehicle's air suspension control system by electronically maintaining a set ride height between the axle and chassis as road and vehicle characteristics change. The pressure control of the air springs is adjusted only when there is a change in the load, so normal axle vibration during driving does not cause height adjustment or consume air; reduced air consumption decreases the compressor duty cycle, resulting in improved fuel economy.
ECAS offers automatic load transfer, reducing drive axle wheel spin and traction control events during periods of aggressive acceleration. This feature addresses lower tractive effort of 6×2 vehicles versus 6×4, providing improvement in traction on low-friction surfaces to improve performance.
"This is a highly differentiated approach to 6×2 applications, which provides several cost benefits to the fleet owner at the point of purchase and over the life of the vehicle," said Morrison. "The ECAS system will not only improve 6×2 traction and reduce fuel consumption, but will also decrease axle wear and tear requiring less maintenance in addition to several safety benefits."
Meritor WABCO's LDW, powered by Takata's SafeTraK technology, is a forward-looking vision-based system designed to monitor the road and the vehicle's position in the lane, audibly warning the driver if the vehicle unintentionally leaves its lane.
Drivers are alerted if the system detects lane drifts, weaving or lane changes without a turn-signal application. Advanced image analysis algorithms enable the Meritor WABCO LDW to detect a wide variety of lane markings, such as dividing lines on the highway, even in unfavorable lighting or weather conditions where there are limited visible solid, dashed or reflective lane markings. The Meritor WABCO LDW is a fully integrated compact unit with automatic calibration and integrated diagnostics that help simplify setup and operation.
The Driver Alertness Warning function is designed to provide a warning when the system determines that the driver is drowsy, which helps drivers stay aware of dangerous driving situations caused by fatigue.