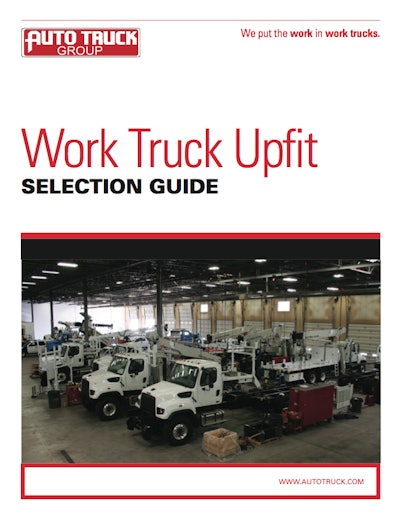 A guide to effective work truck upfitting is now available to fleet managers. The 10-page manual details considerations for the increasingly complex process of specifying and building work trucks (known as upfitting) for all types of applications and requirements.
The Work Truck Upfit Selection Guide takes decision-makers through a process of evaluating the most important considerations when selecting a work-truck upfitter. Each of the evaluation criteria is described, and a list of key questions is provided that can be used like a checklist regarding:
• The qualifications of the upfitter when it comes to certification and regulatory compliance;
• The degree of knowledge and experience the upfitter has regarding your specific industry or vocation;
• The design and engineering capabilities of the upfitter;
• The array of products, technologies and services offered by the upfitter;
• The willingness of the upfitter to develop cost-saving solutions;
• The degree of commitment the upfitter demonstrates with regard to safety standards and accident/injury avoidance; and
• The upfitter's knowledge of fleet procurement, maintenance and replacement procedures
Sponsored by Auto Truck Group, a work truck upfitter, the Work Truck Upfit Selection Guide addresses the expanding role of the fleet buyer/manager and the knowledge gap caused by staff layoffs and job consolidation/reassignment resulting from the economic realities of the last several years. In addition, new strict government regulations and the introduction of sophisticated technologies now impact work-truck owners and operators at even the most basic levels.
The guide assists both novice and experienced large and small truck buyers, business operators and fleet managers by providing up-to-date information and describing the growing role of the upfitter in the truck buying and truck maintenance service sectors.
The guide includes charts and illustrations; references pertinent study data; provides a list of industry resources and links for more information; and offers 10 quick tips for making the upfit process go smoothly. The Work Truck Upfit Selection Guide is a downloadable PDF available at by registering at www.worktruckguide.com.