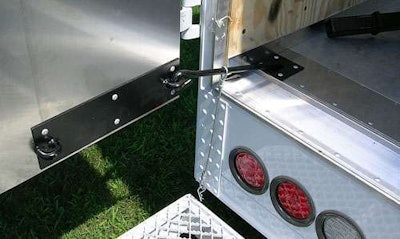 The National Highway Traffic Safety Administration has denied Morgan Olson's petition for an exemption after the company determined that some of its walk-in van-type trucks did not fully comply with federal door lock and door retention component standards.
Morgan Olson had determined that some of its 2009, 2010 and 2011 models having a gross vehicle weight rating of more than 10,000 pounds and manufactured between Sept. 1, 2009, and Jan. 18 of this year did not fully comply with paragraph S4.2.1 of Federal Motor Vehicle Safety Standard No. 206, Door Locks and Door Retention Components.
Morgan Olson said about 6,430 trucks did not contain a primary door latch system or door closure warning system as prescribed in the standard. The company filed a report dated Jan. 19 and petitioned for an exemption from the notification and remedy requirements on the basis that the noncompliance was inconsequential to motor vehicle safety.
NHTSA published a notice of receipt of the petition, with a 30-day public comment period, on March 29 in the Federal Register; no comments were received. The agency decided that Morgan Olson's petition did not meet its burden of persuasion that the noncompliance described was inconsequential to motor vehicle safety.
NHTSA said Morgan Olson must notify owners, purchasers and dealers and provide a remedy. To view the petition and all supporting documents, go to www.regulations.gov; the docket number is NHTSA-2012-0028.