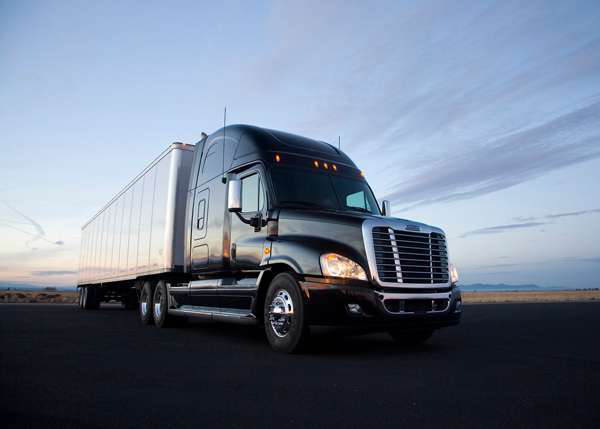 CCJ editors Jeff Crissey and Jack Roberts sat down at the Mid-America Trucking Show with Martin Daum, president and CEO of Daimler Trucks North America, and Andreas Renschler, outgoing chief of Daimler Trucks and Buses, for a private interview to discuss equipment trends and their outlook for DTNA in the near future.
CCJ: With the continued development of optimized powertrains from OEMs and now Cummins and Eaton, what is your five-year forecast for integrated engine-transmission combinations?
Daum: In five years, AMTs in the on-highway business will be standard. With lower displacement engines, I don't see that trend. The only trend I see is that the whole industry gets more sophisticated. That means everybody wants tailor-made drivelines. The needs are different: lengths of haul, tonnage, terrain, etc. There are so many variables and the shippers have so many different needs I would say we just follow the needs of the industry. You have to give all of those segments the absolute right product.
CCJ: What is your forecast for adoption of the DT12 in the North American market?
Daum: In my opinion, the AMT is absolutely necessary for several reasons. For one, why don't we see manuals in passenger cars? There are good arguments for not having stick shifts in passenger cars.
Secondly, if you see how much we invest to get 3 to 5 percent improvement in fuel efficiency – not just us but everybody out there – do you really want the driver influence which has a spread of about 10 percent in fuel efficiency between a good driver and a bad driver, do you still want that as an influence? You want every driver to be the best driver. An automated transmission is as good as the best driver in a competitive mode. If you have one piece of equipment that can move your entire fleet to the level of your best driver, why would you give that up?
But we will always offer a manual transmission. Just like on the car side, there are still customers that love a stick shift.
CCJ: What are your thoughts on some fleets moving down into Class 6-7 and baby 8 trucks as lengths of haul?
Daum: This is potentially the trend- competition is so tight in the transportation business that anybody who over-spec's a truck might make no money. Our customers get forced by their customers to tailor-spec the truck for the application. That's potentially the reason why in the last five years we've seen more day cabs, more lighter baby 8s and Class 6-7 trucks. Nobody carries excess weight, excess horsepower because the margin for error isn't there anymore. But that doesn't matter to us. We have such a flexible production. I don't have a truck I love more than another. My job is to bring the perfect truck for a customer's transportation.
CCJ: You announced that Cascadia Evolution orders now exceed 10,000 units. Was the initial demand primarily from large fleet customers?
Daum: Fleets are always the first ones. Fleets are the toughest to convince. They run testing departments as thorough and as sophisticated as our testing departments. If they want the product, they run it and test it, then they may buy two. If they get convinced, they may buy 20, and then 100 percent. And they were convinced. The smaller fleets that don't have those sophisticated departments look at what the big fleets do because they know the big fleets don't make those mistakes.
CCJ: This industry is becoming more open to new ideas like the Cascadia Evolution because the margin for error is less. Do you get the sense that customers are more willing and open to try new ideas and technology?
Daum: Yes, certainly the big players in the industry. Those are investment decisions and we are their single biggest purchase at the start of the year. That decision is well-thought-out and well-researched and we have regular technology exchange with our customers. With this exchange of ideas, we get their input and feedback. A lot of ideas never materialize because it doesn't interest them and we shelf it. Other ideas come out of the blue and they want to do it.
CCJ: What do you think the next generation of trucks will look like?
Daum: First of all, the aerodynamic shape will change. Secondly, certainly a huge piece that is out of our control in aerodynamics is the trailer. If you measure the drag coefficient and air resistance, the biggest two causes for air resistance is not any longer how the truck enters the wall of air with the hood, it's the gap between the trailer and the truck, where we can help with side extenders, and the end of the truck. For us to improve fuel economy, it's an evolutionary process. If you look at truck design in 20-year increments, you see huge steps. If you look at trucks year to year, they look absolutely similar.
CCJ: What are some of the challenges your fleet customers are facing other than fuel prices?
Daum: Safety is one thing. Then we have reliability- downtime is a huge issue for fleets. In the last four years we have had tremendous improvement there. Nearly every truck we sell today comes with an extended warranty where we guarantee the first five years or 500,000 miles and we have very sophisticated processes in place which can minimize any event which can happen in that time. If something happens, we need to act extremely fast and get it out of the system.
CCJ: What specifically are you doing to ease maintenance frustrations for fleets?
Daum: We just launched a system called Uptime Pro. You run a fleet as a dispatcher and you have every status of the truck on your system. If the truck goes into the shop and stays longer than a set period of time, the truck icon turns red so he can call his dealer who can contact the dealer doing the service and get the truck back on the road. If we see patterns at a certain dealer where they have a lot of instances of red trucks, we take action with the dealer. I can tell you which dealers have all green trucks and which don't. We have our Virtual Technician and the Uptime Pro system which are two perfect instruments to prevent maintenance issues and if an event happens to monitor it and improve turnaround.
CCJ: Mr. Renschler, as you exit the truck side of the business, what do you envision for what the North American truck market looks like in the next five to 10 years in terms of technology and truck improvements?
Renschler: I think one of the biggest innovations in the coming years is we know ahead of time what parts should be changed when somebody starts the truck before a maintenance event occurs. This sounds easy but there is a lot of work to be done because you have to guarantee that a certain part change is actually necessary at that time. We have been working on that for a couple years now.
It's tough to say what will happen within five to 10 years exactly, but the direction is simple. We will see a service commitment that 80 percent of cases when a truck breaks down it will be serviced in two hours. There is a lot of potential there that can really increase the uptime for our customers.