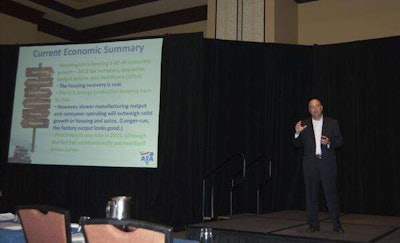 Choppy growth remains the primary characteristic of the U.S. economy at the moment, but that hides a lot of potential that before long could lead to an accelerated recovery and sustained boom in the economy and in trucking, says Bob Costello, chief economist for the American Trucking Associations.
Speaking Tuesday at CCJ's Spring Symposium in Hoover, Ala., Costello outlined several key factors — both positive and negative — that are affecting the trucking industry right now. But for the first time in several years, he believes the positive economic aspects outweigh the negative ones.
The government is the primary factor holding back economic growth, Costello argues, pointing to tax increases, the sequester, budget debates and lingering uncertainty over the implementation of the Affordable Healthcare Act next year. Economic hostage-taking, brinkmanship and last-minute deals are all sapping consumer confidence, he says.
But there's good news, and far more of it. For starters, Costello says, evidence shows now that the housing recovery in the country is real and has legs. He notes that the housing market saw about 24 percent growth over the last year and expects to see another 25 percent growth next year. "It's been a choppy recovery," he says. "But very good for flatbed haulers and other vocational trucking segments."
Even better, Costello says, home prices are rebounding, increasing at the fastest pace since 2006. Meanwhile, home affordability is the highest it's been since at least 1981. The bottom line is that there just aren't that many homes on the market now for sale, even though demand is rising. Moreover, banks are now les likely to foreclose on some lenders as the values of their homes are coming back — although not yet to the point where they're not upside-down on their mortgages.
Costello says factory output is up a "fair" amount: 3.4 percent this year, with another 4 percent growth likely next year. Even better news, he says, is that thanks to technology increases, the U.S. is now competing evenly with China, India and Brazil in factory output. This trend, combined with cheaper energy prices puts the United States on the verge of the most robust expansion of factory output since the 1960s, Costello argues. And that will naturally generate a lot of truck freight in the coming years.
For now, though, Costello cautions that business investment spending is still sluggish and not anywhere near levels anyone would like to see. This is primarily a natural reaction to the uncertainty over pending healthcare costs possibly coming next year. But pent-up replacement demand will drive companies to invest in modernization and updating of systems of equipment — another positive trend for trucking.
Another strong positive indicator is the current boom in U.S. energy production — a boom so strong that the country could be totally energy independent by as soon as 2020, Costello says.
"Last year saw the greatest surge in crude oil production in this country's history thanks to fracking," Costello explains. "And that is very good news for trucking — particularly the heavy freight segments of our industry. If these current trends continue, there is a real possibility the U.S. could be the largest oil producer on the planet by 2020 while our current energy consumption levels are the lowest they've been in 17 years."
Sudden and sharp increases and decreases in energy prices no longer affect trucking capacity as they once did, Costello says. Instead, the aging of the current fleet and increasing costs of new equipment are fulfilling that role. "Equipment costs are pushing some players out of this industry," he says. "Many fleets have older equipment than the would like to, but are forced to trade in two trucks to get one new vehicle. Leasing is going up as a result of this trend. But I think escalating equipment costs have the possibility to push carriers out of business as they get nickel-and-dimed to death with older equipment but can't afford to purchase new equipment."
This equipment trend, combined with a persistent driver shortage, makes Costello worry that a capacity crunch is looming — perhaps as early as next year — when the economy takes off and fleets lack the drivers and equipment to manage the sudden boom in freight.
"All in all," Costello says, "I am very excited about our economic prospects going forward; I just think we're going to have a wait just a little bit longer before this economic recovery finally takes off. We'll see slow, choppy growth for a while longer. But there is a lot of potential out there — and a lot of cash still on the sidelines and not yet in play."
Earlier in the session, Avery Vise, Randall-Reilly's executive director of trucking research and analysis, presented research showing that for-hire trucking executives are experiencing the choppy market that Costello discussed. According to the company's latest monthly tracking survey known as Randall-Reilly MarketPulse, nearly half of the 115 executives reported that business conditions were unchanged in April from March. And while 32% said conditions had improved, 20% said business had worsened. In comments, a number of MarketPulse participants reported that April was an OK month but that they were not being pushed on capacity the way they had expected to be.
Looking ahead, carriers are slightly optimistic about business conditions by yearend with 55% reporting that they believed business conditions would be better, adjusting for seasonality, while 42% believed business would be the same.
The availability of qualified drivers remains the top issue for trucking companies has it has consistently over the past two years in the MarketPulse survey, Vise said. Drivers are the top challenge for both larger and smaller carriers, but it's particularly vexing for larger carriers, according to the April survey. The April 2013 Randall-Reilly MarketPulse report is available through Randall-Reilly's TruckGauge industry analysis website.