With long-haul driver turnover now fully in the "uh-oh" turn in the cycle, many over-the-road carriers are turning to truck driving schools to help fill empty seats. But all CDL school grads are not created equal, as anyone who's been around for a driver shortage or two knows all too well.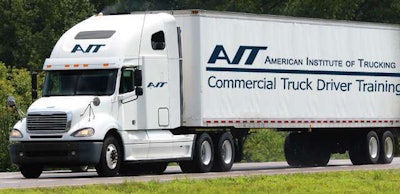 And while Werner Enterprises President and COO Derek Leathers recently cautioned fellow trucking industry executives about taking on drivers with no experience – warning that the process can be "painful" to get into, with "lots of bumps in the road" – his company has been doing it for 25 years, and must know a little something about getting it right.
So I called around to find a source of Werner's entry-level drivers, and I simply asked what makes for a good driver-training school?
"Almost any school can teach someone how to get a CDL, but are they preparing them for a career in the trucking industry or are they just preparing them to pass the test?" says Chuck Wirth, president of the American Institute of Trucking.
Essentially, any curriculum must be "truly designed for over-the-road positions," adds Wirth, who represents the Commercial Vehicle Training Association on the board of the Professional Truck Driver Institute. (Follow either of those links for significantly more information on trucking schools and recommended coursework.)
AIT, which graduated about 1,200 students from locations in Phoenix, Las Vegas and Denver last year, has been around for more than 20 years and has placed more than 10,000 drivers with carriers.
And, as Wirth explains, the training and placement process is very much a two-way highway.
For its part, AIT carefully screens all students.
"Our entrance requirements are basically the same as the hiring requirements of a carrier, as far as driving records and criminal backgrounds, those types of things," says Wirth. "We won't put anybody in school if we don't think they're employable in the industry."
The admissions interview includes a real-word explanation of the duties of an over-the-road driver. AIT also requires that "significant others" come in for orientation "so that the family knows what they're getting into and what to expect when the student becomes a professional truck driver."
AIT also screens carriers and limits the number it allows to recruit students. Among the requirements, carriers must have tuition reimbursement programs paid directly to the tuition lender and they must commit to pre-hires "so students know they have a job before they ever enter the training program."
AIT's "main carriers" are Werner, Swift Transportation and Covenant Transport. Werner takes close to 50 percent of AIT's graduates, Wirth reports. "We've had a working relationship for the last 22 years."
Carriers also participate in the AIT advisory board. The carriers review the curriculum and keep the school updated on industry trends and training needs.
Programs range from 4 to 24 weeks in length, depending on the amount of time the student is able to commit each week. Currently, the typical student is in his early 30s and has worked in blue-collar jobs.
"They've probably figured out they can't raise a family on $10 an hour, but they're not inclined to spend two years to get an associate's degree or go to college," Wirth says. "Truck driving gives them an opportunity to get trained in a short period of time and make a decent living with corporate benefits."
Once the resident course work and practical training are completed, trainees move on to externships with AIT's preferred carriers to continue expanding proficiency and experience. In turn, AIT keeps tabs on student progress, with weekly reports from the carrier-trainers on specific driving skills.
"If for some reason in the six-week period the trainer can't improve on a student's deficiencies, we'll bring them back into the school and retrain them on the particular area," Wirth says. "And at the end of the six-week period, the trainee will send us an evaluation of his or her trainer, and we can give that information back to the carrier."
Technically, AIT has a 100 percent placement rate, since students must have a job to graduate. But, practically, Wirth says about 80 percent of those who start the program end up in the trucking industry.
More critical to the long-term, AIT prides itself on teaching trucking's "soft skills," or "over-the-road management," Wirth adds.
"Far and above what you need to get a CDL, how do you take care of your family and how do you live on the road?" he says. "Our philosophy is to produce professional, money-making drivers. Carriers say our students are ready for that change in lifestyle. That's really what makes students successful."
Wirth admits he's concerned that a rebound in housing and construction will reduce the student pool, but because Las Vegas and Phoenix were hit so hard by the housing collapse those markets have been slow to recover.
It's the big picture that really worries him, as it should trucking.
"It's getting tougher and tougher to find people who want to get any kind of training," he said.
Uh-oh.