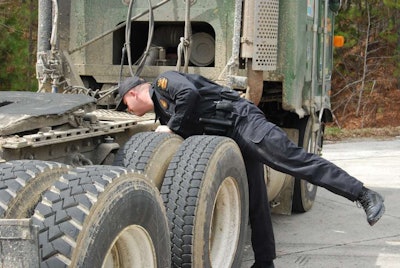 In light of four deadly crashes that it has investigated within the past year, the National Transportation Safety Board has recommended to Department of Transportation Secretary Anthony Foxx that the Federal Motor Carrier Safety Administration be audited on its oversight capabilities of motor carriers and trucking companies.
NTSB says its findings "raise serious questions about the oversight of motor carrier operations." The findings come in response to investigations into four accidents in which collectively 25 people were killed and 83 more injured.
In all four accidents, NTSB investigators identified "safety deficiencies and noted red flags had been present prior to the crashes," the board said in a press release, and that the red flags either were not noticed or not acted upon by FMCSA.
"Our investigators found, that in many cases, the poor performing company was on FMCSA's radar for violations, but was allowed to continue operating and was not scrutinized closely until they had deadly crashes," said NTSB Chairman Deborah Hersman.
FMCSA in a statement said it increases each year the number of carriers it shuts down for unsafe practices, saying in 2012 it shut down 47 carriers, compared to just 10 in 2011. Here's the agency's statement:
"Increasing safety to save lives and prevent bus and truck crashes is at the heart of our mission at FMCSA. In the past three years, we have more than tripled the number of unsafe companies and drivers we have taken off the road through more comprehensive investigations. We have also brought together key safety, industry and enforcement organizations to ask for their help and support our efforts. We are continuously looking for new ways to make our investigation methods even more effective so we shut down unsafe companies before a crash occurs and will thoroughly review the NTSB's findings."
NTSB says its investigations raised issues about both FMCSA's "thoroughness and quality" of compliance reviews and the agency's "increasing reliance on focused compliance reviews," as they focus on just a narrow portion of a carrier's operation.
ATA said NTSB's findings reinforces points that FMCSA must improve the CSA program to better target carriers who have high crash risk. "FMCSA must improve its CSA program to better identify carriers more likely to be involved in future crashes. We look forward to the forthcoming Government Accountability Office and DOT Inspector General CSA audit reports and hope they emphasize the need to ensure that the program accurately measures crash risk and focuses on unsafe fleets," said ATA Chairman Phil Byrd, president of Bulldog Hiway Express in Charleston, S.C.
ATA president and CEO Bill Graves said the findings also reinforce the need for an electronic log mandate.
Here are the four crashes NTSB says raised the flags, along with FMCSA's corresponding actions:
Motorcoach wreck in Pendleton, Ore., December 2012: In a bus crash in which nine people died and 37 were injured, NTSB says its investigation showed the bus driver was operating over the 70 hours allowed by FMCSA for passenger carriers, had the bus's transmission retarder engaged and was driving with a tire not rated for highway operation. The carrier, Mi Joo Tour & Travel, had been cited previously for hours-of-service violations, with one resulting in an out-of-service order, NTSB says.
NTSB also said the carrier had "longstanding and systematic" issues with safety, dating to passing its entrance audit in 2007. But FMCSA had given the carrier a "Satisfactory" rating in an August 2011 compliance review. Directly after the accident, FMCSA declared the company an imminent hazard and placed it out-of-service for "wholly [failing] to take basic measures to ensure its drivers are properly rested…," noting it did not comply with drug and alcohol testing requirements, driver qualifications requirements, hours regulations or vehicle maintenance standards.
According to NTSB's request to Foxx to audit FMCSA, "This fatal crash might have been prevented if the FMCSA had exercised more effective federal oversight of the carrier during the CR process."
Motorcoach wreck in San Bernardino, Calif., February 2013: A bus crash that killed seven and injured dozens more was caused by defective brakes, NTSB said. All six of the bus's brakes were defective, by North American Standard Inspection Program out-of-service criteria, NTSB determined.
The Mexican-owned company received permanent U.S. operating authority in October 2012 and had vehicles placed out-of-service in six of 19 inspections in 2011 and 2012 — a 42.8 percent rate. The actual bus involved in the crash had been inspected roadside five times in 24 months and had been placed out-of-service three of those five times for brake violations. Because its CSA scores were too high, FMCSA conducted a compliance review, but was unable to receive all of the required documentation because some of it was at the company's headquarters in Tijuana, Mexico, and some was written in Spanish.
FMCSA gave the company a "Satisfactory" rating at that compliance review, which took place less than a month before the deadly crash.
Immediately after the crash, FMCSA shut the company down for failing to upkeep its vehicles to federal standards.
Truck crash in Elizabethtown, Ky., March 2013: A truck driver in somewhat severe violation of hours-of-service rules — and who had been keeping two logbooks — crashed into an SUV on the Interstate, killing six passengers. FMCSA had investigated the company the week of the crash, due to an alert int he CSA system in the Unsafe Driving BASIC. The carrier had also previously had alerts in the Hours of Service BASIC.
FMCSA did not give the carrier a rating in the February, 2013 compliance review, but the agency solely focused on the Unsafe Driving alert and ignored driver-related violations, like hours-of-service compliance.
In the post-crash investigation, NTSB discovered all eight of the Highway Star, Inc.,'s drivers kept falsified logs and that the carrier scheduled drivers to violate hours regulations. FMCSA shut the carrier down after the crash.
"FMCSA had evidence long before the crash, via roadside inspection and CR information, that Highway Star had a history of HOS violations. Nevertheless, it took no significant action against the carrier for such violations before the fatal crash took place," NTSB writes in its recommendation to Foxx.
Truck crash in Murfreesboro, Tenn., June 2013: The driver of a tractor-trailer slammed into stopped traffic in Interstate 24 in a wreck that killed two and injured six others. The driver was operating over the 70-hour limit, and upon NTSB review after the crash, the company's drivers regularly operated in violation of hours rules and falsified logs.
Roadside inspections cited drivers 19 times between April 2012 and May 2013 for logbook violations, resulting in nine out-of-service orders. The carrier, H & O Transport, had CSA alerts in the Hours of Service BASIC 18 out of 30 months from November 2010 to May 2013.
However, in 2011, the company had a focused compliance review on the Unsafe Driving BASIC, which it received a non-rating for. NTSB says the compliance review should have also focused on the Hours of Service BASIC.