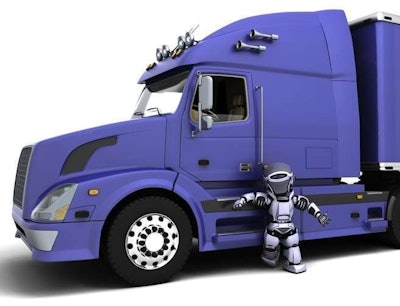 A congressional subcommittee heard testimony Nov. 19 that self-driving vehicles are years away for consumers, but lawmakers should begin shaping policy to encourage this technology.
People usually think of driverless or autonomous vehicles as driving them to a destination after simply giving a command, said David Strickland, National Highway Traffic Safety Administration administrator.
GM's Michael Robinson, however, told the panel autonomous vehicles are still some time away.
"Let me say for the record, that these types of systems are a significant distance into the future," he said.
Rep. Tom Petri, Highways and Transit Subcommittee chairman, said the hearing's purpose was to discuss advanced levels of vehicle autonomy potentially available to motorists in 10 -20 years.
"The most advanced level of autonomous vehicle is capable of navigating roads with limited or no action from the driver by utilizing a variety of optical sensors, radar, and computer algorithms," the Wisconsin Democrat said. "The sensors deliver environmental data of the road and surrounding vehicles into the computer algorithm which then determines the appropriate driving maneuver."
Ideally, autonomous vehicles could improve safety, decrease congestion and create more efficient infrastructure use, Petri said.
Autonomous vehicles should be supported by a federal approach that addresses operating requirements, guidelines and standards, said GM's Michael Robinson. Lawmakers should foster an environment that promotes development and implementation of the technology in the U.S., rather than in other countries, said Robinson, vice president of GM's sustainability and global regulatory affairs.
The hearing focused on passenger vehicles, although Strickland mentioned commercial vehicles in summarizing recent agency efforts to improve crashworthiness. Before discussing autonomous vehicles, he outlined NHTSA work with these technologies, including Cooperative Adaptive Cruise Control.
The Federal Highway Administration has been working to support development of a cooperative vehicle-highway system that enables vehicle automation, Strickland said. This includes studying platooning commercial vehicles through Cooperative Adaptive Cruise Control. CACC uses vehicle-to-vehicle communication to detect the speeds of vehicles in front of the driver's vehicle. As vehicles ahead speed or slow down, the driver's vehicle adjusts speeds accordingly.
"This control will allow significant reductions in the headway between connected-automated vehicles with improved safety at highway speeds, greater use of existing lane capacity, and improvements in fuel economy," Strickland said.
Raj Rajkumar, co-director of Carnegie Mellon University-General Motors Autonomous Driving Collaborative Research Lab, testified about the lab's work. Rajkumar noted Rep. Bill Shuster's (R-Penn.) Sept. 4 ride in a 2011 Cadillac SRX equipped with the lab's autonomous vehicle technology. While a human was in the driver's seat as a precaution, the technology took the House transportation chairman on a 33-mile drive in the Pittsburgh area.