As I mentioned earlier this week, the trucking industry in Mexico looks and operates like the Wild West compared to U.S. and Canadian operations. In many respects, safe trucking operations happen by choice rather than mandates and regulations.
Take for example Transportes Monroy Schiavon, a truckload and dedicated carrier with 843 vehicles, including 553 Class 8 power units – placing it as the 16th largest carrier in Mexico. TMS, based in Cuautitlan on the outskirts of Mexico City, has a rich heritage in trucking. Until 2001, its tire-hauling business comprised 90 percent of its freight as it delivered for Goodyear. But when the tire maker ceased plant operations in 1998, TMS was forced to diversify.
Today, 82 percent of TMS business is domestic and 18 percent international. The company's customer portfolio includes some of the biggest companies in Mexico –Wal*Mart, Proctor & Gamble, Ryder Logistics and Unilever – as well as international transborrder alliances with U.S.-based carriers including Schneider National, Con-Way, Celadon and Werner Enterprises.
With a portfolio such as that, TMS has had to create and maintain an impeccable image and strong safety culture.
"Our vision is to be recognized as the most reliable alternative to provide transportation and logisitics services, both domestically and internationally," says Laura Mandujano Valdes, TMS commercial director.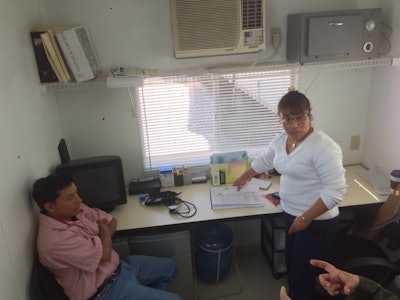 TMS takes great pride in maintaining a professional image to its customers. The company continually invests in new equipment and technology when it can (as evidenced by its order of 100 Volvo VNL tractors with I-Shift automated manual transmissions, the first in the country). Presently, TMS' fleet replacement cycle is only three years on average. When in operation, tractors and trailers are washed each time they depart the terminal for a delivery.
When TMS develops special safety and security procedures for international business, it adopts those procedures domestically as well. Indeed, TMS' efforts in driver safety and training are on par or better than many large safety-focused fleets in the North America. Standard procedures include extensive background checks on new hires, stringent driver training including the use of a simulator, random drug testing and limits on hours of service.
But one safety measure stood out as truly unique. Within an hour of leaving on a route the terminal, drivers must submit to a pre-trip medical test. The three- to five-minute procedure includes testing blood pressure levels, heart rate and other measurables. The nurse makes final determination on a driver's health before releasing him to begin the route.
Other safety and security procedures TMS has in place include:
Daily driver safety briefings
Mandated rest time between trips
Random anti-doping tests
24/7 monitoring of loads in transit to assure stops only at authorized sites
Specialized coaching for poor-performing drivers
Better routes, prizes and recognition for safe drivers