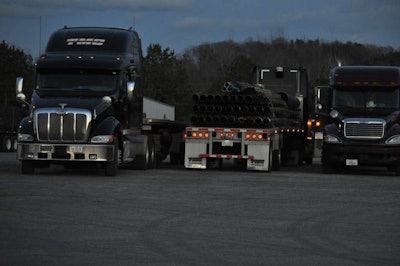 Trucking faces the largest concentration of regulatory changes in its history beginning next year, economist Eric Starks said Wednesday.
The changes include CARB trailer regulations, hours of service changes, new greenhouse gas/mpg regulations, as well as potential mandatory electronic onboard recorder and speed limiter requirements, said Starks, president of FTR Associates. He was among speakers at CCJ's 2013 Fall Symposium in Scottsdale, Ariz.
"It's hard to calculate the impact these changes will have," Starks said. "The problem is not so much the regulations themselves. It's the fact that they're all happening at once. But make no mistake, these regulations will be game-changers."
Some data suggest the effect of these regulations will require hiring an additional 1.5 million drivers to allow fleets to maintain current productivity levels, he said, though he feels that number will be 150,000 to 200,000 drivers.
Starks believes the new regulations will create significant barriers to entry for new fleets. They also will spur mergers between fleets seeking to manage the changes efficiently.
"It will create a tougher business climate for small- to medium-size fleets," he said. "Larger fleets will find it easier."
Starks expects a 6 percent increase in truckload rates by the second quarter. "This is a good number, but not as dramatic as the initial data suggests" because those rates dropped this summer.
Starks forecast 2 percent GDP growth and sees a mixed bag of economic signals for 2014. Non-trucking indicators, such as housing starts, construction, mortgage rates, lead him to be "somewhat optimistic," although not confident enough to predict a "gangbuster" economy.
"This economy is shows resiliency, but not acceleration," Starks said. "It has withstood significant impediments, such as the government shutdown, while continuing to move along. But there is no big up- or down-side we can point to that gives us a firm idea of that to expect."