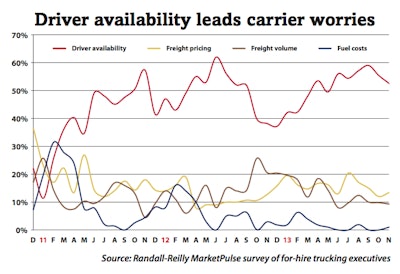 In early 2011, driver availability surged past freight pricing, freight volume and fuel costs to grab the top concern of fleet executives in the monthly Randall-Reilly MarketPulse survey and has remained there since. The responses from participants in the CCJ 2014 Economic Outlook survey certainly back that trend.
According to the November 2013 MarketPulse survey, 45.4 percent of respondents said they plan to add full-time employees, and 32 percent said they plan to hire independent contractors in the next six months, while only 38.1 percent indicated they would only maintain current employment levels.
Citing ATA figures, Phil Byrd Sr., ATA chairman and president of Bulldog Hiway Express, told attendees at the 2013 CCJ Fall Symposium that in order to keep up with expected demand for drivers, the industry would need to add roughly 100,000 drivers per year over the next 10 years. If current trends continue, ATA forecasts the driver shortage to be about 239,000 by 2022.
Starks says the cumulative extra hires required due to current and pending regulations could be as high as 1.3 million between now and 2017, with the largest impacts coming as a result of CSA, health-related regulations and treatment, new HOS rules and mini- mum insurance requirements. But he adds that number could come down significantly as the industry continues to become more productive and the supply chain becomes more efficient.
"We are facing easily the largest collection of regulatory changes in history," says Starks. "There are 20 regulations that already started or are coming into play that either take a driver out of the system or cause a productivity dip that requires adding another driver."
"The new HOS rules are unfair and unjust to not only trucking companies but the overall industry, shippers and consumers," said one MarketPulse survey respondent. "This new rule will only make the driver shortage more of an issue. We are asking safe long-term drivers to drive less and thus make less money. We are asking the industry to hire more drivers to handle the same amount of freight. This new rule will cause older drivers to retire earlier and add another reason why not to enter an industry that wants more regulations."
These are the top four developments to watch in 2014 as carriers battered by continuous regulations and Washington rhetoric continue to climb back to pre-recession profit figures. The fear
 of dipping into another recession – a much larger topic of discussion in 2011 and 2012 – is less likely as time moves on, but frustrations over slower growth rates and choppy economic conditions likely will temper business confidence, at least in the short term.


Fill out the short form below to download the 2014 trucking outlook.